Online shopping has indeed made life easier for us. Instead of going to physical stores and making purchases, you can just quickly add items to your cart and have them delivered to you.
But despite the convenience it brings, online shopping limits us from simple things we typically do when we shop, like see the items before we buy them and check for quality, etc.
If you're planning to purchase an office chair, you want to make sure you buy the right kind. Also, it's probably going to cost you a few hundred bucks, so you need one that will be worth your money.
Fortunately, you can try an office chair before you buy it.
In this article, we will tell you where you can test an office chair for yourself before purchasing. No more depending on video reviews on the Internet, see them for yourself before you buy them.
'Where can I try an office chair?', you ask. You can always visit any office supply store or furniture retailer with a showroom. Instead of gambling on an online purchase, trying before you buy is the best thing to do as it also helps you find out which type of office chair suits you, as well as explore other options.
Where can I try every kind of office chair?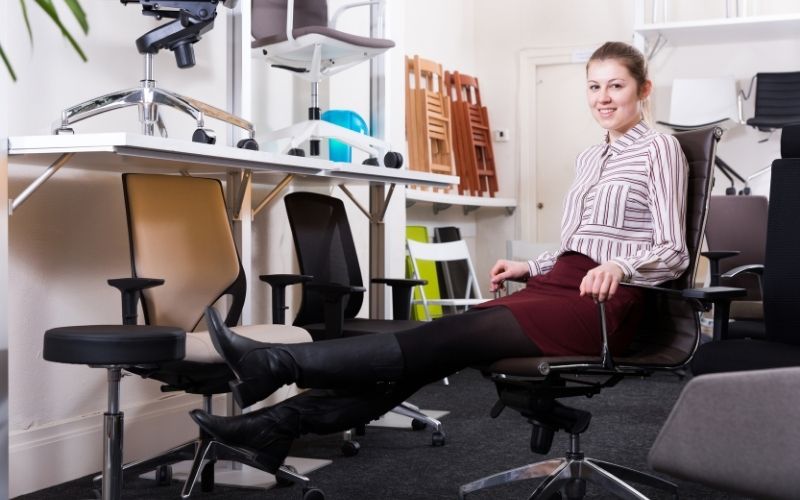 When you're looking for the best office chair that suits your needs, preferences, and your budget, you might make the mistake of rushing the buying process.
Instead of immediately purchasing whichever is the cheapest or most popular online, do some research first, measure your space to make sure the furniture will fit, and most importantly, test out the product in person before you buy.
So, where can you go to try every kind of office chair to explore your options?
If you have a specific brand in mind, you can check their website for store locations or showrooms. Visiting either will help you determine whether an office chair suits you or feels comfortable.
Some chairs can only accommodate certain heights, so if you are relatively tall, you will want to test one in person to make sure it fits you. After all, you will be using it for a long time, and you want it to be worth every penny.
If you cannot find any near you, look for authorized retailers or dealers. While most dealers nowadays are found online, there are still some that have physical stores and showrooms.
Remember to check, though, if they are properly authorized, so you don't have to worry about warranty provisions should your purchased chair need repairs or replacement.
In the following sections, we will provide you with several places in the US you can visit to try office chairs.
Where can I try Herman Miller's chairs?
Herman Miller is one of the world's most trusted brands when it comes to office chairs. Its products are engineered and scientifically proven to provide comfort, correct posture, and improve overall user experience.
Every Herman Miller chair is made from high-quality materials and features many adjustments that make it tailored for every user. The Aeron chair, in particular, has become an icon in the office furniture industry.
If you plan to purchase a Herman Miller office chair but would like to try it out for yourself first, you can either visit any of their stores or showrooms.
Herman Miller has 49 stores all over the US and two in Mexico, where you can customize your office chair design and learn more about their products. Use the store locator to find a Herman Miller near you.
For an even more extensive Herman Miller experience, you can visit one of their showrooms, which features the company's latest designs and technology. Below is a list of Herman Miller showrooms in the US:
California
Address: 3641 Holdrege Avenue Suite 100 Los Angeles, California 90016
Phone Number: (310) 736-3650
Address: One Kearny, 23 Geary Street Suite 900 San Francisco, California 94108
Phone Number: (415) 433-2900
District of Columbia
Address: 900 G Street, NW Suite 100 Washington, District of Columbia 20001
Phone Number: (202) 289-0180
Georgia
Address: 916 Joseph E. Lowery Blvd., NW Suite 7 Atlanta, Georgia 30318
Phone Number: (404) 479-3600
Illinois
Address: Fulton Market 1100 W. Fulton Market Chicago, Illinois 60607
Phone Number: (312) 822-8473
New York
Address: 251 Park Avenue South New York, New York 10010
Phone Number: (212) 753-3022
Texas
Address: 2811 McKinney Ave. Suite 18 Dallas, Texas 75204
Phone Number: (214) 855-0200
Herman Miller also has showrooms in key cities worldwide, including Shanghai, Tokyo, Ontario, Paris, London, Dubai, and Sao Paulo. You can check the company's website for a virtual tour of their showrooms located overseas.
Out of all of their locations, the New York City Flagship Store is perhaps the largest. It is housed in a Renaissance-revival building located in Flatiron District and has two floors dedicated for the Herman Miller showroom.
Most of Herman Miller's stores and showrooms are open from Monday through Sunday, but we recommend you schedule an appointment. The company follows local and COVID19 guidelines to ensure you have a safe visit and shopping experience.
Where can I try Steelcase's chairs?
Steelcase is another highly popular office chair brand in the US. Like Herman Miller, many Steelcase chairs often come with hefty price tags but are well worth the investment.
Steelcase chairs are best known for providing incredible support, offering high adjustability and maximum comfort. In fact, the Steelcase Series 1, a mid-range option from the brand, stood out as the overall best in CNN's Best Office Chairs of 2021.
The Steelcase Leap Chair, however, was the highest-rated chair on the high-end side of the scale.
If you would like to try a Steelcase chair before you buy it, you can do so at any of the company's authorized in-store retailers.
West Elm is one of the largest and most popular furniture retailers in the US. Twenty of its locations, including stores in Atlanta, Boston, Chicago, Miami, New York, Philadelphia, and San Diego carry most of Steelcase's bestselling chairs.
West Elm offers a wide variety of Steelcase chairs. Whether you're looking for a high-back office chair such as the Steelcase Gesture with headrest, or a mid-back such as the Steelcase Think Office Chair, West Elm has got it for you.
For a complete list of West Elm stores where you can test out a Steelcase chair for yourself, click here.
Steelcase chairs are also available on The Back Store's website as well as at its main office:
The Back Store Main Office and Showroom
Address: 13840 Stowe Dr, Poway, California 92064
Phone Number: 1-800-315-3496
The above location is open from Monday through Friday from 8 AM to 6 PM and on Saturdays from 10 AM to 5 PM. You can also call to schedule an appointment on a Sunday.
Alternatives: Other Good Chair Brands and Where to Try Them
While there is an abundance of e-commerce stores offering office chairs, IKEA is another good place to visit to try some good ones first, before you buy. IKEA is a Swedish furniture maker that has outlets all over the US and in major cities across the globe.
IKEA's quality office chairs are highly affordable. One of its bestsellers is the Markus, which is a high-back chair with a mesh backrest and a padded seat.
Fun trips to IKEA are often depicted in movies due to their aesthetically pleasing furniture displays, so why don't you visit an IKEA store to try out some office chairs?
There are over 50 IKEA locations in the US. Use the online store locator to find one near you.
OfficeMakers Making Workplaces Better Since 1989
If you are from Texas, another place you can visit to try office chairs is OfficeMakers, an office furniture design, sales, and installation company that began in 1989. It carries several brands, including HON Office Furniture, Cherryman Industries, and CorpDesign.
Its store is located at 1005 Katyland Dr, Katy, Texas, 77493. Its showroom is open from 8 AM to 5 PM from Monday to Thursday and 8 AM to 4 PM on Fridays.
You can also schedule an appointment by calling (281) 574-3800. Apart from Texas, its service areas include several cities in Louisiana, as well as Oklahoma City, Oklahoma.
Conclusion
An office chair is an essential part of your workspace. Hence, you must choose one that is not only attractive but also functional and sturdy.
Apart from doing enough research by reading online reviews, taking the time to window-shop by visiting stores and showrooms can help you explore your options and let you see, touch, and try the office chair in person. After all, experiencing it firsthand is one of the best ways to determine whether a chair will be worth purchasing or not.
While customer reviews are indeed helpful, people have different tastes and preferences. It's always smart to try something first before you buy it.
Because of the COVID19 pandemic, though, we recommend that you always practice precautions and follow protocol when you visit an office store or showroom to ensure your safety as well as your family's.