Are you having a hard time moving across the carpet with your office chair?
You need to exert so much effort, don't you?
This doesn't only take time to move around, it also causes back pain and leg strain.
You should avoid that!
The good news is that you can get rid of this problem yourself.
We're here to help you do just that.
We'll explain why office chairs have a hard time rolling on carpets. Then, we'll give you 3 solutions to solve this problem. And finally, we'll recommend some great products in the markets today.
So let's get to it!
Why Can't Office Chairs Roll on Carpets?
It all has to do with the casters' wheels.
Since carpets are soft, you can probably tell why a soft wheel won't be able to move around freely.
It won't have enough impact on the carpet.
Don't put soft against soft.
What if your casters' wheels are hard but it still requires effort to roll?
That's because of the type of carpet you use.
If the carpet has hairs or fibers, hard casters, which are usually twin-wheeled, will get caught in it.
The result of that is either the wheels get stuck or the carpet gets damaged.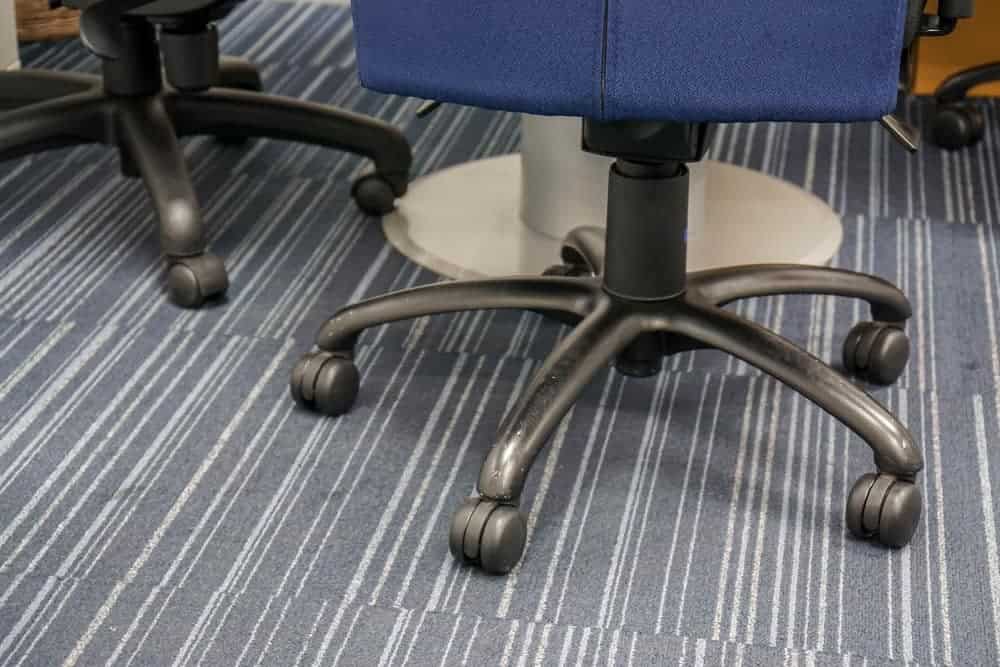 Now that you know the cause, let's get to the solutions!
How Can You Solve This Problem? – the 3 Solutions
There are 3 solutions – protecting the carpet, replacing the casters, and searching for a carpet-rollable office chair.
Let's take a close look at each of these.
1. Protecting Your Carpet
When we say protecting, what we mean is to place a carpet protector mat under your office chair.
This is the easiest and cheapest solution.
What's great about this is that it's a 2-in-1 solution.
The mat is hard enough to let soft wheels roll on it. And, it prevents hard wheels from getting caught on the carpet's hairs and fibers.
So it doesn't matter whether your office chair's wheels are soft or hard, this will do the trick.
A quick tip: If your carpet is thick, you should go for a thick mat as well.
However, this solution comes with some downsides.
For one thing, even though it's transparent, it might ruin the carpet's looks.
Another downside is that, if you move across the room, you'll need to buy a BIG carpet protector mat.
Finally, the mat will break and crack over time. You'll always need to replace it.
A quick tip: You can make your own carpet protector mat for an even more affordable price.
If you're interested, check out this video that shows you how you can do that.
Build An Office Mat Tutorial - Easy & Cheaper Vs Rubber Chair Pad
2. Replacing the Casters

Another solution is to replace the casters.
Does your office chair have soft wheels?
Then replace it with hard ones.
But what if your carpet is hairy and fibery?
In this case, the best replacements are the ball casters.
These ball casters are usually made from metal or hard nylon. It has the impact needed to freely move around soft carpets.
The wheels are also ball-shaped. This means there's no danger of hair or fiber getting caught and damaging the carpet.
The best part is that it's super easy to replace casters. If you want to learn how to do that, click here.
3. Searching for a Carpet-Rollable Office Chair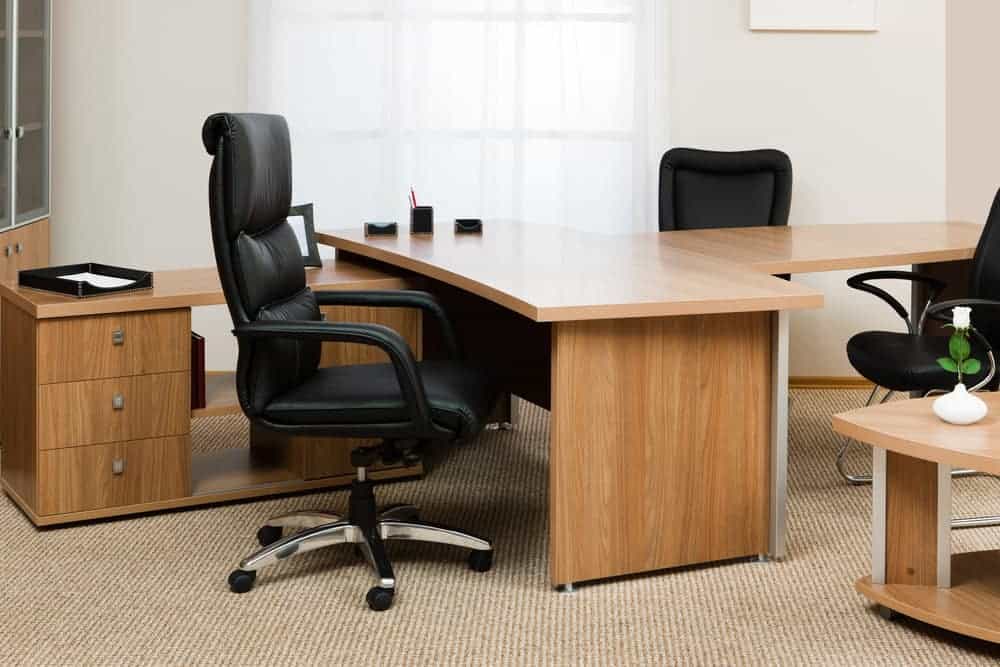 The third solution is to search for an office chair that fits the carpet.
Now, we're pretty sure you'd rather replace the casters than buy a new office chair. That's why we're directing this solution to people that don't have office chairs yet.
People that are still searching for one to complete their office setup.
If this is you, then great! We're here to help you find a good office chair that doesn't have to go through the "doesn't roll on the carpet" problem.
Why not get one that works for your carpet already, right?
To do that, always keep these points in mind…
Don't buy office chairs with soft wheels if your office or room is carpeted.
If your carpet is smooth, the hard, twin-wheeled casters will do. This is great because these are the most common casters.
If your carpet has hair and fiber, search for office chairs that have ball casters. Or, you can also search for an office chair with twin-wheeled casters with no openings in the middle.
Finding an office chair becomes a lot easier when you know what you should look for.
Our Recommendations
Now, we'll recommend the best products in the markets today for each solution.
So whatever solution you decide on, you can buy them right away.
Carpet Protector Mat
For the carpet protector mat, we recommend ES Robbins Vinyl Chair Mat.
What we love about this mat is that it has cleats.
These cleats cling on to the carpet to secure it. It won't move around along with your office chair.
Not only that, but the cleats are also soft and gentle. You don't need to worry about it destroying the carpet.
Another thing we love is that it's made from renewable plant sources.
It helps your office chair roll freely, protects the carpet and the environment as well.
What's not to love about that?
We will say, though, that it's on the more expensive side.
If you're interested, make sure you check the size and the carpet thickness for best results.
Ball Casters
Titan 2" Hooded Caster Wheels with Swivel Stem, 80 lb Load Capacity, Brass (2 Pack)
HIGH QUALITY - Titan Hooded Caster Wheels with Swivel Stem are crafted using high quality materials and meet a wide...
MULTI-SURFACE - These Titan swivel caster wheels are safe to use on carpet, concrete and tile surfaces
VERSATILE - Use these small caster wheels on desks, TV stands, carts, bed frames, dressers, chairs, tables, stools,...
These casters are great because of their quality.
The ball is made from polypropylene while the caster itself is made from metal.
It can carry heavy weights and withstand abuse and overuse through the years.
And of course, it's great for carpets, no matter what type!
What else?
It has a swivel feature. You'll be able to change directions quickly.
Not to mention, it's beautiful with its brass metal color and black wheels.
If we were to state one downside, it's that the package comes with only 2 casters. You'll need to buy 2 or 3 more to complete a 4 or 5 legged office chair.
Office Chair
Sale
This office chair has a hard, twin-wheeled caster perfect for smooth carpets.
It might only have the basic adjustments, but it makes up for that with its comfort and mobility.
The mesh backrest makes it more "breathable". You won't ever feel hot and sweaty with this office chair.
The seat foam is also soft enough to provide comfort and sturdy enough to support you.
The saying "built for comfort" has never been truer.
As for mobility, this doesn't just mean it allows you to move around. It means it has an ergonomic design perfect for gaming, working at the computer, or in a meeting for hours.
What's more, you can choose from many different colors and it's BIFMA certified.
Conclusion
You don't have to suffer from forcing your office chair to move across the carpet.
With these 3 solutions, you not only get your office chair rolling, but you also protect your carpet.
We hope that this has been a great help to you!
For other common office chair problems, click here for solutions.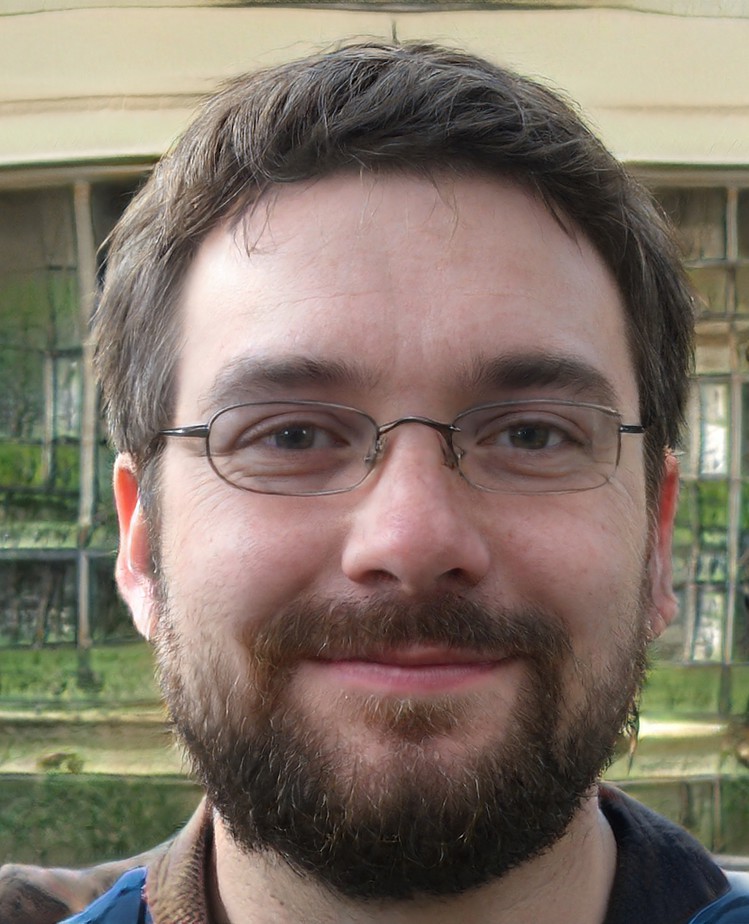 My name is Vance, and I am the owner of To Ergonomics. Our mission is to improve your workflow by helping you create a supportive and welcoming environment. We hope that you'll find what you're looking for while you're here.