Whenever we buy office chairs, there's almost always an advertisement or video that tells us that we need to get an office mat. Do we really need to, or is that just a marketing strategy to get us to buy more stuff for our office setup?
Office chair mats are necessary to preserve your floor or carpet and to avoid having their warranties voided. To know what size you need, you need to assess how large your desk is and the area you will be moving on.
To know the thickness needed, you will need to assess your carpet pile; the thicker your carpet, the thicker the mat should be.
So we really need office chair mats and having them gives us several benefits too.
Let's talk about why they're worth it and how you can pick the right size and thickness for your office space.
How do you measure for an office chair mat?
Chair Mat 101: How to Choose the Right Chair Mat
To measure for an office chair mat, you need to consider the size of your workspace. This isn't just limited to the size of your desk.
First, you want to know how wide your desk is. This is usually the minimum space that you move around in.
Second, think about the areas that you would normally go to while sitting on your office chair. Do you stray a few inches away from your desk?
If you do, then you should account for that space. The best way to do this is to sit in front of your desk and imagine the areas that you'll go to.
This exercise will give you a more concrete idea of how big your office chair mat should be.
Another consideration is other office equipment around you. If you think you will need to roll towards equipment near you, then consider that space too.
However, remember that office chair mats are not meant to cover very wide spaces. They shouldn't be placed under furniture either.
Placing furniture over the mat might void its warranty.
There's no standard size that fits everyone's office space. But that you would most likely move around in.
How do you measure the height of a carpet pile for a chair mat?
The height of a carpet pile will help determine the thickness of the office chair mat. So if you're using a carpet, it's best to measure its height before selecting a mat.
To measure the height, you'll need to use a paper clip. Straighten one end of the paper clip so that it looks like one straight clip.
On a vertical height, press down the paper clip onto the carpet. Make sure that you're not flattening any part of the carpet when doing so.
Mark the area where the topmost height of the carpet is on the paperclip. Then, grab a ruler and measure this thickness.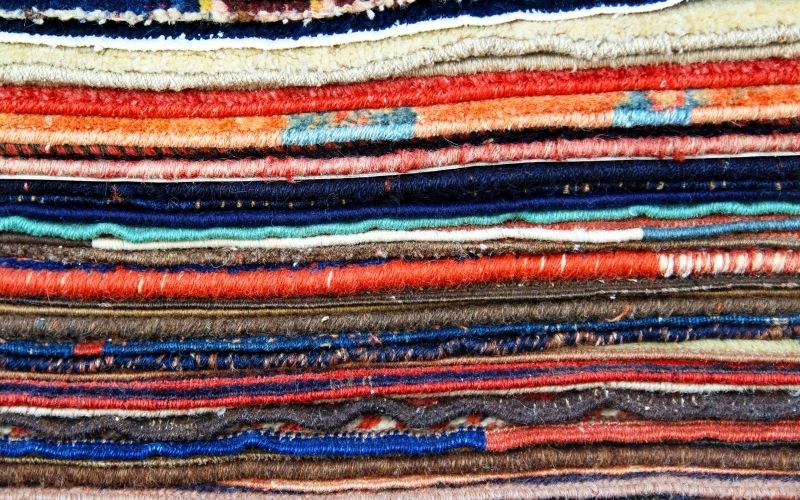 There are four kinds of carpet thickness. If it measures ¼ inches or less, then it's a commercial carpet. If it's higher than that but less than ⅜ inches, it's a low pile.
If it's from ⅜–¾ inches, then it's a medium pile. But if it's more than ¾ of an inch, it's a high pile carpet.
What size/How thick of an office chair mat do I need?
Now that you know the height of your carpet and the kind of carpet you have, you can now pick the right thickness of your office chair mat.
If you're using a carpet, make sure that you're picking an office chair mat designed specifically for carpets. Chair mats for hardwood floors are different.
The general rule is that the thicker the carpet, the thicker the office chair mat should be. A very thin office chair mat placed on a thick carpet will only damage the mat.
This will also prevent you from moving freely across the surface.
As for the size, there are three common sizes—rectangular, with a lip, or tear-shaped.
Rectangular office chair mats are best for office tables—those that don't have cabinets underneath. But if you have cabinets under your desk, a mat with a lip will be better at covering the space under your table.
And if your table is in the corner, then a tear-shaped office chair mat will help cover the whole corner area.
Are chair mats worth it?
If you're aiming to keep your floor's or carpet's warranty and want to prevent damage to your flooring, then yes, chair mats are worth it.
Some floor and carpet manufacturers void their warranties if you don't use an office chair mat. While this isn't the case for all manufacturers, it's in your best interest to keep that warranty so you can avoid unnecessary expenses down the road.
Rolling casters can damage floors in the long run. Whether you use a carpet, a hardwood floor, or tiles, casters can leave dents and marks on your floor.
Another reason why you should invest in an office chair mat is so you can increase your productivity. Office chair mats are much easier to glide on than furry carpets.
They also increase your mobility and lessen the time that you'll struggle to push and pull your chair around.
The goal of office chair mats is simple—to protect your floors and to increase productivity.
Since floor repairs or ruining a perfectly good carpet is a big cost, it makes sense that you take advantage of the benefits of an office chair mat. And if you want to increase productivity, then this isn't a bad investment either.
Conclusion
Chair mats are worth it simply because they prevent you from spending repairs on your carpets and floors. They also make sure your chair, carpet, and floor warranties aren't voided.
Mats come in different shapes, sizes, and thicknesses. To know which is best for you, measure the area where you move and the thickness of your carpet (if you have any).
This way, you can pick an office chair mat that covers the area where you work and move.