An office chair is a staple to any workplace. But did you know that you have other alternatives to the traditional mesh chair or executive leather chair?
Instead of the usual office chair, there are at least 10 other options that you can choose from. And what's great is that they might even be a better choice in terms of design, style, and multi-tasking capabilities.
If you're curious about what these office chair alternatives are, then keep on reading.
1. Balance Ball
A balance ball, also called a yoga ball, is exactly what it is – a large ball that you use to balance yourself on.
This is commonly used in gyms and training studios, but it can also be used as office chairs. And what's great about it is that it helps you exercise while working.
The concept of a balance ball is for you to practice your balance through core strength and endurance. And because you're going to be constantly trying to maintain your balance as you sit upright, this will serve as your core workout for the day too.
Balancing on a yoga ball can be difficult at first but it all comes down to the right size of the ball. The ideal size should allow you to sit with your legs and knees touching the ball without having to lean forward.
How to use a stability ball as an office chair
This size will allow you to have the right distance from you and your office chair.
And if you're having trouble balancing, here's a tip: sit on the ball and roll the ball towards your heels. This way, you're still sitting upright but your legs can prevent the ball from rolling.
2. Balance Ball Chair
What if you're not confident you can consistently balance on a yoga ball? This won't be a problem when you have an exercise ball placed on a stand.
This has the same concept as a balance ball but for added stability, it has a stand placed underneath it. This stand will hold the ball in place so that it doesn't roll at all.
Designs of a balance ball vary and some will have a backrest while the others won't. If you're looking for additional back support, then choose a balance ball chair that has a backrest attached to the actual stand.
TOP 4: Best Balance Ball Chair for Home and Office Desk 2021 | Premium Ergonomic Chairs
However, sitting on a balance ball chair will be slightly different than when you're sitting on a balance ball without a stand.
Since the balance ball chair already looks more like a chair, you should be able to have your knees and legs at a perpendicular angle to the floor. You should also be able to sit farther back since the ball won't roll forward when you do so.
3. Balance Stool
A different take on a balancing chair is the balance stool. But unlike the other two chair alternatives above, this stool allows for mobility while maintaining your balance.
A balance stool works by having its center of gravity at the base of the stool. This allows the chair to go back to the middle after you've stood up and left the chair.
This chair alternative works like any other stool except that you can swing it in all directions. And you won't be afraid of slipping!
Balance stools have a rubber base so they won't slip even when you're sitting in a slanted position.
The only problem with balance stools is that they reinforce slouching. Since it has no backrest, you can easily slouch while sitting on the stool.
Over time, you might find yourself slouching forward especially when you sway the balance stool towards your desk. This angle will be too close to the desk that your shoulders and upper back will tend to hunch.
If you're thinking of buying this kind of chair, I suggest looking for a model that allows you to adjust the seat height. This is because the height adjustment can also let you lean on the stool even when you're working on a standing desk.
Should You Buy an ERGONOMIC STOOL? Autonomous ErgoStool Review
You should also remember that while this is a mobile chair, it's not the most ergonomic.
4. Saddle Stool
A saddle stool isn't your conventional chair, nor is it your conventional stool. Just like the name suggests, it's as if you're sitting on a saddle when you sit on this type of chair.
A saddle stool looks exactly like a saddle when riding on a horse. And the posture that this design reinforces is a straight back and legs widened at a 135-degree angle.
Although a bit awkward at first, the saddle stool has many benefits for your body.
The purpose of the upward curve at the back of the saddle stool is to push your pelvis forward. And when this happens, the lower part of your back will automatically curve inward – following the spine's natural curvature.
Moreover, the reason why the chair encourages your feet to be wider apart is that your thighs will be able to stretch. In turn, this forces your pelvis to move forward to straighten your back.
The best way to maximize the ergonomic benefits of the saddle stool is to make the chair slightly higher. This will help stretch your legs so that it reaches the floor.
The extra height will also make you lean slightly forward so that you can work closer to your desk.
5. Kneeling Chair
Another unconventional-looking office chair is the kneeling chair. The kneeling chair is designed to encourage your back to sit up straight and to widen your pelvis so that your shins are stretched.
The kneeling chair looks like a stool with shin pads in front of it. When you sit on a kneeling chair, the seat is just at an angle slightly leaning forward.
However, there are shin pads right in front of it to prevent you from sliding to the front. These shin pads also allow you to stretch your shins so that they prevent bad posture.
A common problem with kneeling chairs is that they're hard to stand up from. Compared to office chairs, you will have to remove your legs from the pads, which isn't the fastest way to get up.
My tip is that you can attach office chair wheels underneath the legs of the kneeling chair so that you don't have to stand so often. This works best for people who always find themselves getting up.
Benefits Of Kneeling Chairs - Huntoffice.ie
You can also look for a kneeling chair that has adjustable heights so that you can customize it to fit you. This way, you won't have to worry about the chair being too tilted to be uncomfortable.
6. Standing Desk
While not exactly a chair, standing desks are a great alternative for working with more mobility and less bad posture. It has great benefits including reduced health risks.
Standing desks are designed to allow you to bring the table up to the front of your torso when you're standing up. It has a button that you press to bring the table up or down.
Top 7 Health Benefits Of Standing Desks
You can always alternate this with sitting. You can pair this standing desk with some of the chair alternatives you've seen here too!
The best part about a standing desk is that it allows you to take a break from sitting. And if you didn't know, prolonged sitting can strain our back and neck muscles.
Moreover, standing up once in a while can also reduce health risks such as diabetes and cancer. The reason for this reduction in risks is mainly the increase in the activity you get when you use a standing desk.
The right way to maximize the benefits of your standing desk is to know how to adjust it to your own height. Here's a tip: the right height is when your hands and elbows are parallel to the floor.
How to Properly Use a New Standing Desk
7. Stationary Bike / Treadmill Desk
Want to hit two birds with one stone? Use a stationary bike desk or a treadmill desk.
These kinds of desks have one thing in common – the ability to let you do your cardio workout while you're working. However, these two have slightly different designs.
Stationary bike desks come with a seat and a small table where you can sit comfortably while you work. Underneath the table will be the stationary bike pedals with straps to hold our feet in place.
A variation of the stationary bike desk is the under desk bike pedal. This is just small pedaling equipment that you can place underneath any office desk.
On the other hand, the treadmill desk is slightly different. Since the treadmill requires you to walk, jog, or run, you won't have any seat as part of the desk.
You'll get a desk attachment to be placed on top of your treadmill like the photo below:
Needless to say, the treadmill itself is sold separately. And to find the right desk for you, you should measure the distance between the two arms supports so that you know the right width of the desk you will purchase.
Among these two cardio-encouraging desks, the best one is the type of desk that offers to do your preferred cardio exercise.
8. Reclining Chair
A lot similar to an office chair is a reclining chair. It looks a lot like the reclining chairs you see in the dentist's clinic, but this time, it's specifically made to feel like an office chair.
The purpose of a reclining chair is for you to be able to lie down or lean backward during your breaks. The reclining chair has more benefits than you think, and it's not just to encourage sleep.
One of the benefits is that a reclining office chair will lessen the pressure on the disks of your spine. Contrary to popular belief, a 90-degree position isn't the best since it adds so much weight and tension to your spinal cord.
Of course, the reclining chair should also have lumbar support to further decrease the tension on your spine. The lumbar support can be built-in or you can purchase a separate lumbar support cushion.
When picking a reclining office chair, look for the lumbar support feature and find one that has the support adjustable. This way, you can increase the support or place it at the right height for your back.
And take note that just because these chairs are called reclining chairs means that you have to look for a chair that can be converted as a bed. No, you don't really need that, but what you need is a chair that you can tilt at least 110 degrees back.
Should We All Be Using Reclining Chairs?
9. Anti-Fatigue Mat
Another alternative to an office chair that prompts movement and stretching is the anti-fatigue mat.
An anti-fatigue mat can be made of materials like wood, vinyl, and rubber. What makes this different from regular mats is that these mats are designed to encourage slight movement to your calves and feet.
And if you're wondering why you just can't stand on the floor and you need a mat for that, it's because anti-fatigue mats are ergonomic.
Their designs aren't flat so that there is less pressure on your feet even when you stand straight for a few hours. So if you want to improve your standing work position, then an anti-fatigue mat can help reduce pain and tension in your lower limbs.
10. Dining Chairs
And lastly, we have our dining chairs. If you don't want to invest in office chairs for your home just yet, you can always make use of your dining chairs as office chair alternatives.
Dining chairs come in different designs and sizes. And the downside to using them is that they're not exactly made to become ergonomic.
You'll notice that even the best-designed dining chairs don't have the capabilities of an office chair. They won't often have adjustable features such as tension, height, and armrest adjustments.
Nonetheless, they're affordable alternatives since you don't have to buy a different chair to use when you work from home.
If your chair isn't ergonomic, you can always add a lumbar support cushion behind your back so that you aren't encouraged to slouch.
Lumbar support cushions follow the inward curve of your spine, so your back can relax while staying in the proper posture. When buying a lumbar support cushion, choose the right size to fit your back so it only covers the lower back portion.
Conclusion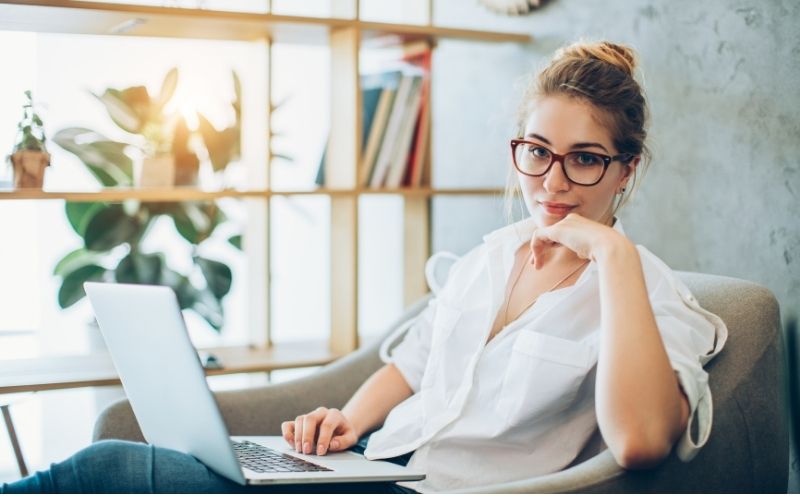 There are many office chair alternatives that we can use if we're not too sold to buy a traditional office chair.
These ideas will help you find the best alternative that fits your preferences and mobility. Some chairs on the list are ergonomic and some are not.
So when picking a chair from these options, don't forget to consider how ergonomic these options are.