These days, it's so hard to buy something and know that you got the best deal on the market.
Funnily enough, this could be a result of us being spoiled with too many choices. So it seems like having too many options is not a good thing at all because, in the end, it's you, the buyer, who has to dig through all the products to find the glowing gem.
This rings especially true when buying products like chair mats where you probably don't know what to look for in a market the size of grandpa's memories.
Luckily, we prepared this 6-point guide to instantly turn you from someone who barely knows anything about chair mats into a chair mat buying guru.
Who knows, by the end of this article, maybe you will be your friends' go-to person for advice on buying chair mats.
Let's begin.
Type of Floor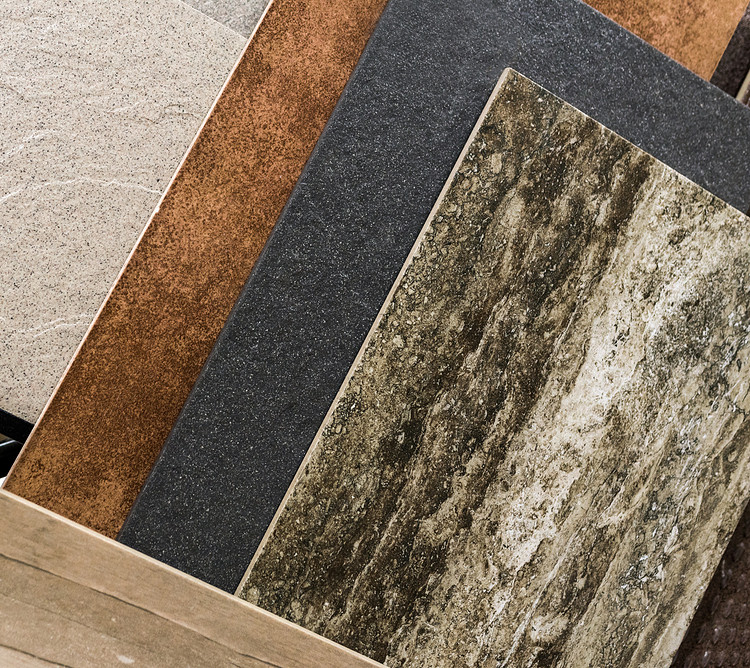 Before you go hunting for your floor's or carpet's next best friend (I'm talking about a chair mat here), you need to know where you will place it and what type of flooring you will use it on.
The reason for this is that different floor types need different types of chair mats. For example, soft floors like carpets need mats with tiny pins on the back for a better grip.
On the other hand, chair mats for hard floors like hardwood and tiles don't have pins on the back because they need seamless contact with the floor.
So you should keep a lookout for this when you are buying your mat. Otherwise, your chair mat will crack within weeks if you pick the wrong kind of chair mat for your floor.
Chair Mat Material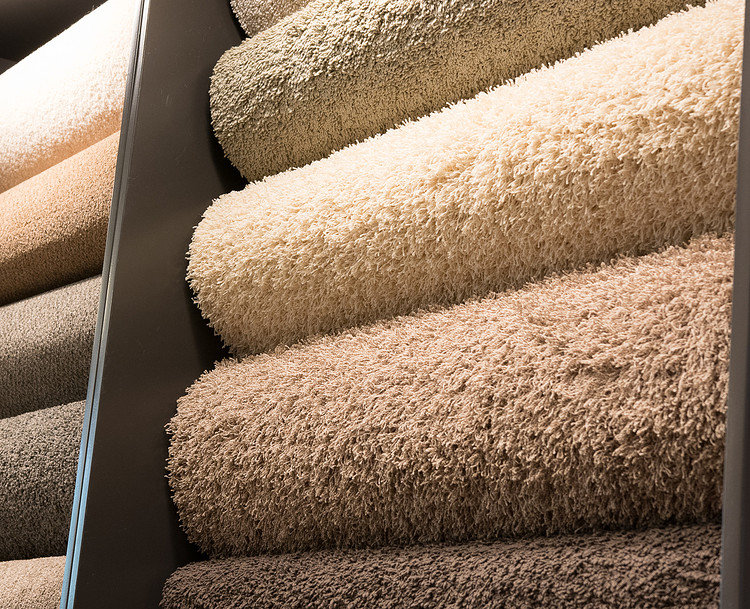 Most chair mats on the market today are made of vinyl, a material known to crack after a certain period. So if you buy a vinyl chair mat, do so knowing that you might need to replace it soon after.
Heavy users should keep in mind that their vinyl mat can crack within three months of use.
In this case, it might be wiser and cheaper to buy a strong mat made of tough materials like polycarbonate and tempered glass. In the long run, it might be cheaper than tearing through three to four chair mats a year.
Chair Mat Shape and Size
We come in different shapes and sizes, so it makes sense that we also work in workspaces of different shapes and sizes.
For example, some people work on L-shaped desks, others on rectangular desks. Some people even choose to work on more exotic-shaped desks.
As you might have already guessed, you also need to buy a chair mat with a shape and size that matches your desk and your chair's zone of activity.
It's not a good idea to buy several mats in order to have the right mat coverage. Instead, you are better off buying a single mat as it will last longer.
You need to measure your workstation so you can buy the ideal chair mat that has matching dimensions and won't get in the way.
To learn more about chair mats, watch this five-minute YouTube video.
Chair Mats - The Essential Item for your Home Office
Load Bearing Capacity
Flexible mats can not bear as much weight as their stiffer companions. In addition, flexible mats tend to develop depressed zones in areas most stressed by your wheels.
So if you are on the heavier side, you are better off buying a stiff mat that can bear more weight and is less likely to develop dents or depressions.
Even if you are a lighter person, you might want to avoid the eventual depressions that will form on a flexible mat.
That being said, flexible mats still have their use. For example, if your chair's caster wheels need a soft, flexible mat.
Type of Chair Caster Wheels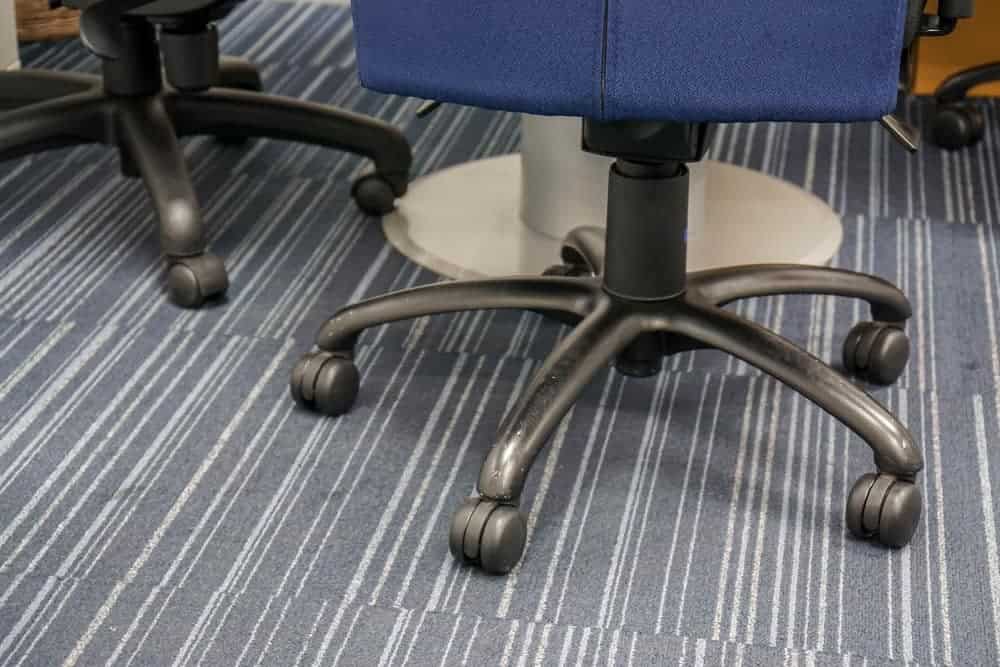 As mentioned before, the type of your chair's caster wheels plays a part in picking a chair mat.
In general, if you have soft caster wheels, you need to buy a stiff chair mat.
On the other hand, if you have a chair with hard caster wheels, you need a softer mat.
Picking the right mat to match your wheel type enhances your chair's feel, comfort, and rolling movements.
But suppose you have your heart set on a mat that doesn't match your wheels. In that case, you can replace your chair's wheels with more suitable ones for your mat.
Floor and Chair Mat Thickness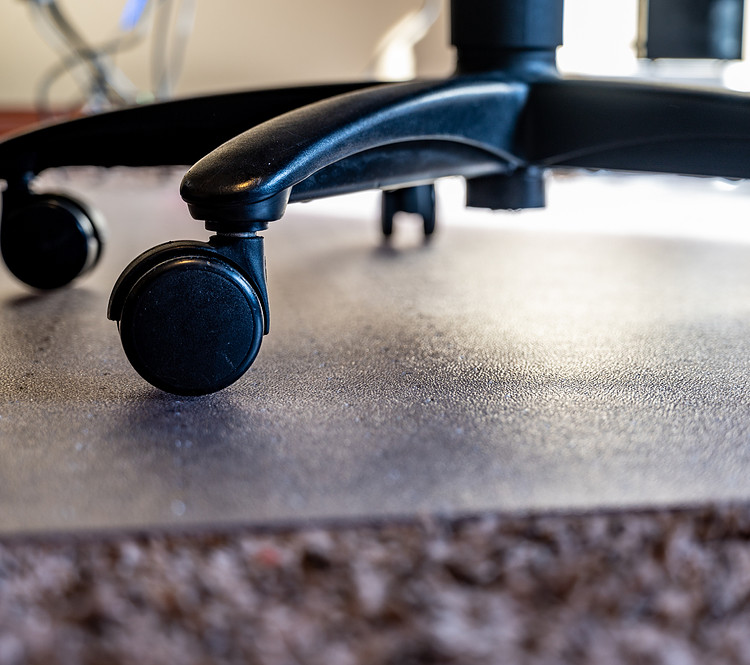 Another key thing to watch out for when buying a chair mat is the thickness. The thickness of your floor and the thickness of your mat should increase together for the best results.
Below is a table you can use as a guide for picking the right chair mat thickness, depending on your floor type.
| | | |
| --- | --- | --- |
| Type of Floor | Thickness of Floor | Thickness of Chair mat |
| Hard Floor | Nil | ⅛" (one-eighth of an inch) thick chair mat. No bottom cleats that wear away your floor's finish. |
| Low Pile | About a quarter-inch thick. | ¼" (quarter inch) thick chair mat. |
| Medium Pile | Approaching three-quarters of an inch in thickness | Your chair mat should be around ¾ inch thick. |
| Plush Pile | Over three-quarters of an inch in thickness. | Over ¾ inch thick chair mat. |
As a rule, try to get a chair mat that's equal to or greater in thickness than your floor.
Conclusion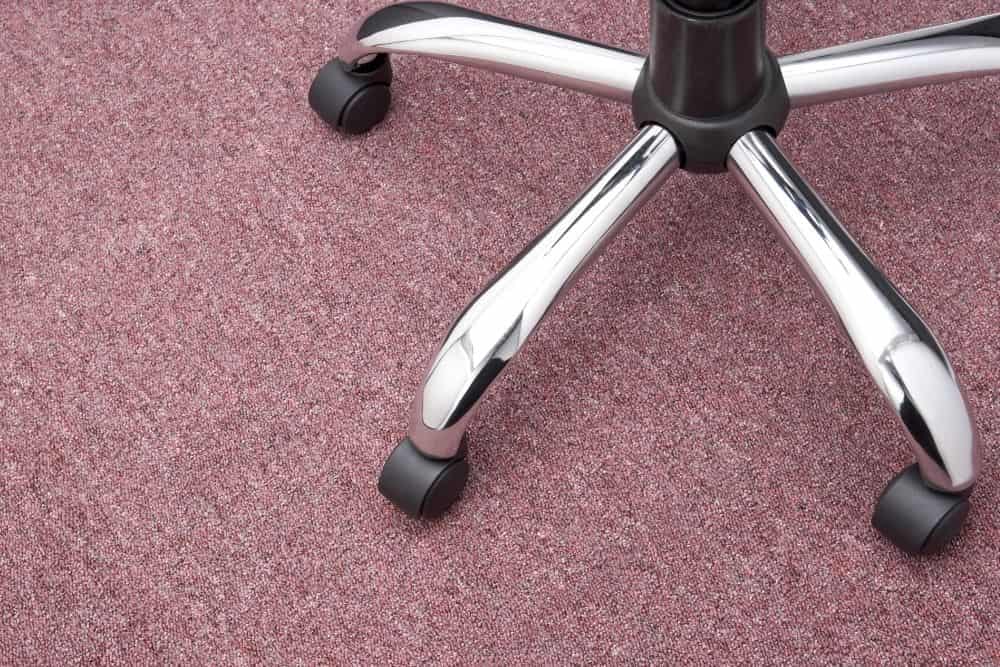 In today's home or office workspace, chair mats are proving to be a handy and necessary piece of furniture to have around. Once you get a feel for what they offer, you probably won't be able to do without one.
Here are some of the uses people have found for chair mats.
A floor and carpet protector from damage such as wear and tear
A decorative piece
A floor insulator from dirt, spills, scuffs, scratches, and dents
An ergonomic-enabling floor that improves chair movements and state
So it's an excellent idea if you are thinking of getting one.
To summarize, there are 6 things to look for when buying a chair mat.
Chair Mat Material: For long-lasting mats, avoid vinyl and favor polycarbonate or tempered glass mats.
Chair Mat Shape: Buy a mat that matches your desk shape and size.
Chair Mat Thickness: As floor thickness or pile increases, your mat's thickness must also increase. Softer floors need thicker chair mats.
Load Bearing Capacity: Flexible mats develop depressions and crack easily. To avoid dents, buy stiffer mats.
Type of Chair Wheels: Soft wheels go well with stiff mats and hard wheels go well with soft mats.
Floor Type: Carpets need chair mats with tiny pins on the back. Hard floors need mats without cleats or pins on the bottom.
Thanks for reading!