Whether you're working on-site or from home, your desk chair is something you use daily. With the number of hours you spend in front of your desk, you must remain comfortable to remain productive.
Fortunately, you no longer have to suffer sitting in an uncomfortable chair as you do your work. There are various types of chairs available in the market, one of which is the mesh desk chair.
If you're exploring the possibility of using one, you've come to the right place. We'll take a deeper look into this type of desk chair—why it may be more suitable for prolonged use, the level of comfort it brings, its durability, and other aspects that you should consider.
Are you ready? Let's go!
How Much Comfort Does a Mesh Office Chair Bring?
Let's start with the vital question—what is a mesh desk chair? Like other office chairs, its body comprises other materials such as metal or heavy-duty plastic. What sets it apart is the material used for its backrest.
Mesh isn't a specific type of fabric. It refers to any material having multiple connected strands of fiber, resulting in a web-like appearance.
It's this feature that makes mesh breathable—it allows air to pass through it, keeping you well ventilated even if you stay seated for long periods. Whether you realize it or not, it also allows you to maintain higher productivity since it prevents your back and legs from getting sweaty, preventing distraction and discomfort.
That said, there are some things about mesh material you need to consider.
Some mesh fabrics can be abrasive and damage clothing in the long run. We recommend you choose a chair using high-quality mesh material to avoid incidents like these.
Sometimes, the mesh is tighter and sturdier to increase the chair's lifespan. It often results in a less comfortable experience. If you're going to get a mesh chair, make sure you don't base your decision on looks alone—take the time to try it out to see how well your frame fits in it.
Comparing the Leather or Mesh Office Chair—What's More Comfortable?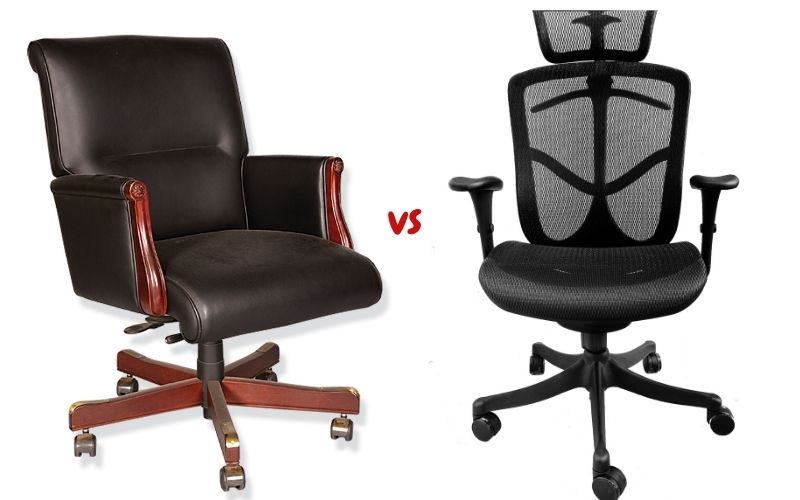 As we all know, having the right kind of chair creates a lasting impact not just on your performance but on your overall health. Before the mesh desk chair entered the scene, leather chairs were the preferred choice of businesses and individuals. So how does the mesh office chair measure up?
Here are some direct comparisons between leather and mesh office chairs covering the following areas:
Breathability
Ergonomics
Design
Maintenance
Cost
Breathability and Ventilation
Because of the mesh fabric, air flows easily between the chair and your body. It becomes an advantage if your home or office tends to get warmer during specific hours during the day. It ultimately makes mesh desk chairs more comfortable to use.
A leather seat doesn't offer the same benefit. Leather, especially if it's real, tends to get hotter as the temperature rises.
Ergonomics and Comfort
Mesh office chairs are a very comfortable seating option. Although they aren't as plush as leather chairs, they were made to provide lumbar support and promote good posture. Some mesh chairs even come with a headrest that protects your neck if you use it for prolonged periods.
The padded armrests and backrest of a luxury chair provide a sense of luxury and comfort. As it wears down, however, it may not be as cozy as when you first had it.
You can't fully recline either of these chairs, but you can adjust both to fit your preferences. Seating options include the height of the seat and at what angle the chair tilts.
Design and Style
You can move both chairs around without much effort, but mesh chairs are often lighter. It makes them slightly more popular for smaller spaces.
Mesh desk chairs offer more ergonomic benefits, while leather ones are attractive because of how they look. Mesh chairs lean towards a more modern and airy look. In comparison, leather seats offer a more traditional and classy feel.
In the end, it will depend on what you consider a priority when choosing a seat.
Maintenance
Both chairs are relatively easy to maintain. Mesh office chairs, typically made of durable plastic or metal, can be cleaned by wiping their surfaces. You can clean leather chairs using a mix of soapy water and wet cotton cloth.
Cost
One of the prime advantages of a mesh chair is its price. Though leather chairs give off a highly professional look, their cost makes them less available to most people. High-end ones, made with genuine leather, can cost a few thousand dollars.
Mesh desk chairs, on the other hand, are considerably more affordable. Although there are some available for under $50, we wouldn't recommend them. A high-quality mesh desk chair may be more expensive—around $200 to $300, but it's still cheaper compared to leather ones.
How Long Do Mesh Office Chairs Last?
Mesh desk chairs are typically easy to clean and maintain, which helps extend their lifespan. If you use it continuously, however, it may begin to get battered and bruised. The mesh fabric may start to lose elasticity, and its plastic body parts may gather nicks and scratches if it's often moved around.
Your body type also affects how long your mesh chair lasts. The plastic components of a mesh office chair may start to sag under your body weight and begin to break. Some brands try to circumvent this by making the mesh fabric firmer, but this affects the level of comfort you experience.
Compared to a leather chair, whose leather parts are integrated with its body, you may need to have a mesh office chair repaired more often.
Conclusion
Different consumers look for various things. Based on what we've found, a mesh desk chair gives you several advantages—from providing better ventilation to being more cost-effective.
That said, there are also some aspects you will need to think about—such as a mesh chair's durability. Although it costs less than a traditional leather office chair and is relatively easy to maintain, having to regularly repair it may cause you to replace it sooner than you prefer.
It's no secret that your desk chair is an integral part of your daily routine. Choosing the right kind of chair can have a significant impact on your work and health condition.
So carefully consider the different areas covered in this article and make the selection that best suits you. Good luck!