Do you sit in your office chair all day long?
Is it not giving you maximum comfort?
Are you getting aches in your body because of that?
A lot of people think that office chairs solve their comfort problems right away…
…They won't feel tired sitting down all day anymore…
…They won't have any more backaches, neck aches, or other aches.
Yes, office chairs are comfortable. But it might not be enough to give you the comfort you're looking for.
This is why, here, we're going to tell you about 5 ways you can improve on your office chair's comfort.
So let's get to it!
How Do You Make Your Office Chair More Comfortable?
Why doesn't my office chair feel that comfortable?
There are 2 possible reasons.
One is that you're not using it the right way. Another is that you need something else to complete that comfort level you're looking for.
The 5 ways we're going to mention here all have to do with these 2 reasons.
What are the 5 ways to make your office chair more comfortable, you ask? These are posture, chair adjustments, footrest, back support pillow, and other accessories.
Let's take a close look at each one.
1. Posture – Stop Slouching!
If you slouch or have a bad sitting posture, it won't matter how comfy your office chair is. You'll feel backaches, neck aches, and other discomforts all around.
So before you blame your office chair, try to see first if the problem isn't because of you.
Now, you might be thinking, "but it's comfortable to slouch or place my legs on top of my chair."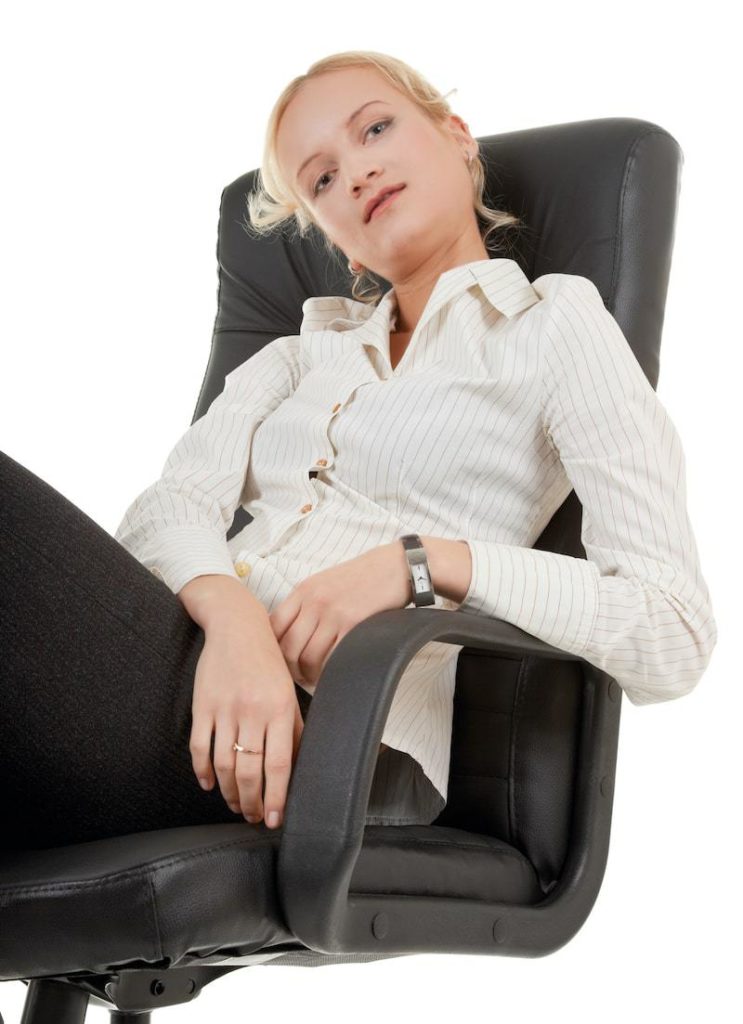 It might be…for a short time only.
In the long run, you'll start to feel the discomfort. Maybe not so much in the position, but definitely in your aching body.
Do you want comfort from your office chair?
Make sure your feet are flat on the ground and your back is straight and tall.
2. Chair Adjustments – Don't Ignore the Knobs and Levers
If your office chair adjustments are all wrong, that'll remove a lot of its comfort.
Think about it. An office chair too tall means your feet will dangle. Or, an office chair too short means your legs press against the seating's edge.
In both cases, not only do you feel uncomfortable. It's also not healthy as your leg's blood flow gets blocked.
What about if the backrest is too far back? You won't have any support for your lower back, causing discomfort and backaches.
You get the idea.
The good news is that almost all office chairs are adjustable!
There are knobs and levers that help you re-adjust the height, backrest, armrest, and all that. Click here to learn more about office chair adjustment knobs.
If you get the adjustments right, you won't complain that your office chair doesn't provide enough comfort.
Read more: How To Level Chair Legs?
3. Footrest – Your Feet Needs to Snuggle, Too!
There are many products out there that provide more comfort to your office chair. One of these is the footrest.
Even if your office chair is at the perfect height, you might still feel some discomfort.
For one, your thighs are still touching the seat's edge, isn't it?
Another thing. Having your feet in the same position without moving it will give a tingling feeling after a while. If you've ever felt it, you know it's not comfortable at all!
A good footrest, though, will counter all those discomforts.
Your legs and feet can completely relax with a footrest. This is because it's elevated. You won't need to press it against anything anymore.
Footrests can also give your feet the movement it needs. Many footrests today can rock back and forth, have many foot placements, etc…
If you're interested in getting a footrest, we recommend Scriptract Ergonomic Footrest.
Face it upwards and you get a soft and comfy elevation. Face it downwards and you get a fun and relaxing rocking footrest. You can even change the shape for more foot placements.
For other great footrest recommendations, click here.
4. Back Support Pillow – Say Goodbye to Backaches
If you sit upright, your back curves outward a bit. If your office chair doesn't have support for that, the muscles there will strain.
This isn't only uncomfortable. It's the main cause of those backaches you get while sitting too long.
Well, adding a back support pillow is pretty self-explanatory. It'll give your back the support it needs.
That's not all!
Back support pillows also help with good spine alignment… have more padding for more comfort… and a whole lot more!
It aims towards better health and comfort.
What's a good back support pillow?
Try Xtreme Comforts Memory Foam Pillow. Its design makes sure that unhealthy and uncomfortable sitting positions go away.
Its body active memory foam is soft enough to conform to your shape and dense enough to support it.
The best part is that you can secure it to any office chair. Whether you're using a cheap office chair or a high-end one, this back support pillow can go along with it.
Click here for even more back support pillow recommendations.
5. Other Accessories – Wait, There's More!
There are many other accessories that'll make you want to stay in your office chair a while longer.
Do you work in a cold office? Do you want to add a stylish look to your office chair?
If yes, then why not get a fur chair cover! RUGLUSH offers a fur rug that you can drape over your office chair. It's soft and comfortable and can be even used as a blanket.
Not to mention, it'll make your office chair very fashionable!
Read more: How To Cover An Office Chair Without Sewing?
Another great accessory that adds more comfort is armrest pads. Who said our arms don't need rest?
When you take a short break from work and lean back on your office chair, you'll want your whole body to be comfortable. Especially your arms that have been typing away at your computer.
Aloudy Ergonomic Armrest Pads are so soft and snuggly. The cushion will relieve the pressure from your arms and elbows.
Not only that, but it can also help you type away for longer without complaining about arm aches or stiffness.
Finally, for the ultimate relaxation and comfort, get a heated massage pillow.
It'll improve your blood flow, help your muscles and mind relax, and provide a wonderful, comfortable time in your office chair.
If you want to get a heated massage pillow, we recommend Zyllion's. It's high-quality, doesn't heat up too much, can be placed anywhere in your office chair… These are some of the great benefits you'll get from this heated massage pillow.
Read more: How To Sit In An Office Chair During Pregnancy?
Conclusion
So these were the 5 ways to make your office chair more comfortable.
The next time you feel like your office chair isn't giving you total comfort, try any of these 5 ways.
If you do, you're well on your way to enjoying optimal comfort in your office chair.