Do you find yourself hunching over your laptop all the time? Does your back or neck hurt after long hours in front of your computer?
Are you wondering, "how long can you sit in an office chair" without getting backaches?
We've done the research, and we've found the answers you seek.
The pandemic has made us all realize that the number of hours spent sitting on a chair working on our screens is never-ending.
And with those extended work-from-home hours comes discomfort.
While finding a chair more conducive to your working hours might seem the way to go, it is by no means a permanent solution.
Learn what the experts say about the correct sitting posture and whether an ergonomic office chair will help.
Is It Bad To Sit In An Office Chair All day?
Yes, it is. Sitting for several hours without taking any significant break can lead to a whole host of health issues—physical and psychological.
Here's a closer look at what you can expect:
Stiffness In The Neck And Shoulders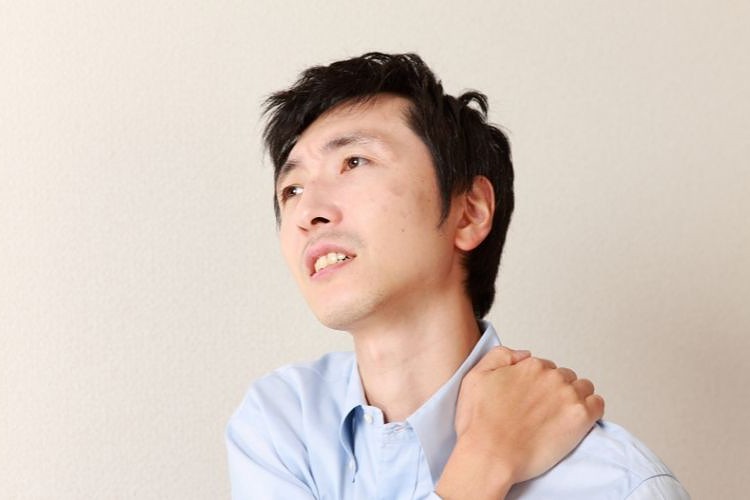 Working long hours in front of your laptop or computer screens leads to acute stiffness in the neck and shoulder region.
This typically happens because we tend to accommodate our tables or workstations—screens are often too high or low, and we strain ourselves to adjust.
Improper lighting is another common issue that forces us to adopt poor posture.
Anxiety and Depression
For most people, sitting at a desk for long periods is an accepted part of the job. And while they recognize that inactivity can lead to health issues, they don't quite see the connection with chronic anxiety. But there is a connection.
Exercise triggers the development of neurons in the brain, along with a release of stress-fighting hormones. Lack of movement also means reduced blood flow to the brain.
Lack of exercise and increasingly lowered levels of human interactions can lead to depression, anxiety, and introversion. This effect is compounded when we move from one screen to another—computers to television or phones—without a break.
Weight Gain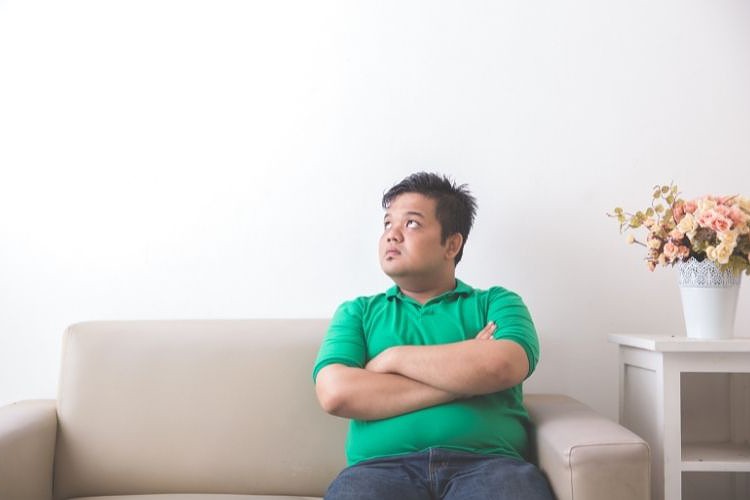 When you exercise, your body digests the fats and sugars that you have consumed. However, with a sedentary lifestyle comes digestive issues. Plus, your muscles don't release the chemicals that prompt your body to begin burning fats and sugars. This leads the body to store excess energy (fat), leading to weight gain.
Heart Disease
A sedentary lifestyle means a sluggish circulatory system. The less you move, the greater the accumulation of fatty acids in your blood vessels. This accumulation is one of the leading causes of heart disease.
Cancer
As per experts at the American Cancer Society, women who sit for more than six hours have a 10% higher risk of being diagnosed with cancer than women who sit for less than three hours per day.
Prolonged sitting paired with low to no physical activity can be connected to colorectal, prostate, and lung cancer. These findings show the importance of reduced sitting hours and increased physical activity.
Diabetes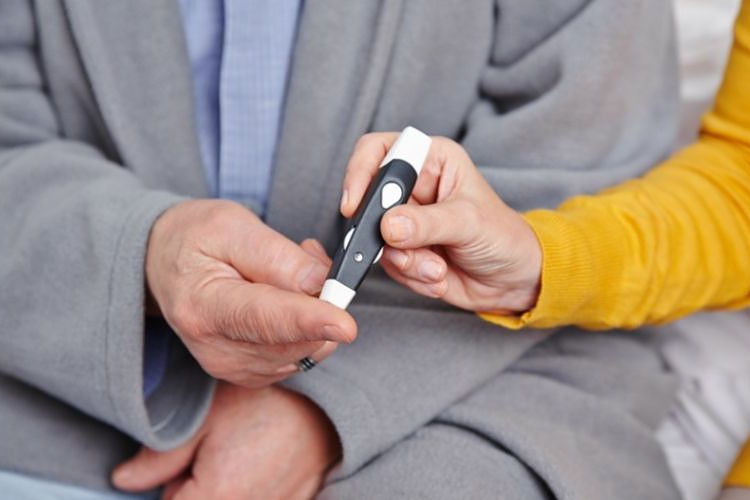 Prolonged periods of inactivity increase the human body's resistance to insulin. When that happens, our bodies produce greater levels of insulin. If you weren't aware, higher insulin levels prompt the hunger sensation. So the higher the level of insulin in our blood, the more we tend to eat.
And that leads to weight gain, and subsequently, type 2 diabetes.
According to the National Diabetes Statistics' 2020 report, about 34.2 million Americans across different races, ages, ethnicities, regions, and education levels have diabetes.
Varicose Veins And Thrombosis
Very often, we have heard our parents and grandparents complain of severe pain in their legs. In addition, we may have observed tight, twisted, and dark-bluish veins on their calves. This is usually caused due to long hours of standing or sitting.
Varicose veins, or spider veins as they are called, are very painful and dangerous as they can lead to thrombosis—a fatal disease as blood clots formed can break off and travel to different parts of the body.
Among other complications, these can cut off the supply of blood flow to the lungs, which may then cause a pulmonary embolism.
Legs and Glutes (Bum Muscles)
When you sit all day long, you do not depend on your lower body muscles to hold you up. This can lead to the weakening of gluteal and leg muscles.
The gluteal muscles are crucial for walking and stabilizing your entire body. Weakness in these muscles can force you to compensate by putting stress on other areas of your body. Weak muscles also lead to injuries from falling, muscle strain, ruptures, and other complications.
Hips and Back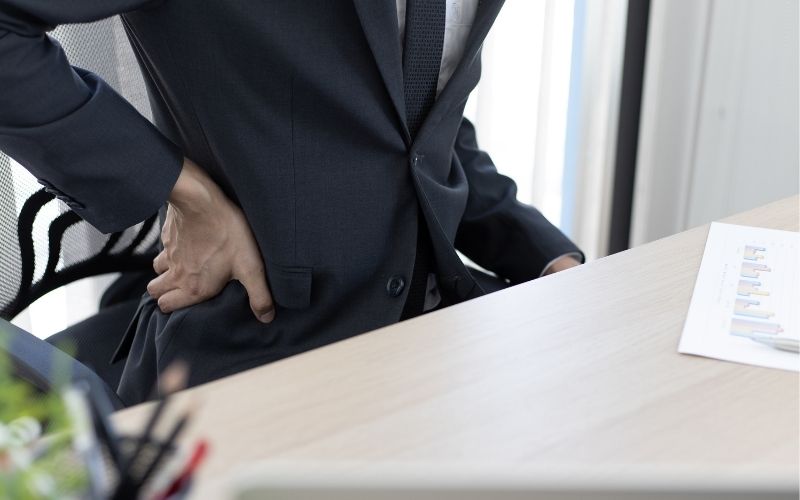 If you sit for long periods, your hips are bound to give up as well. This can have adverse effects causing your hip flexor muscles to shorten, leading to complications with your hip joints.
In addition, poor posture causes spinal dysfunction, which deteriorates your spine health leading to compression in the discs.
How Long Should You Sit At Your Desk?
Oversitting affects your body's metabolic rate, causing various health issues. Just like you can count calories, you can also gauge how long you sit per day and figure out ways to decrease the hours. Try this calculator to determine what "Risk for Sitting Disease" category you fall in.
Low risk suggests you sit less than 4 hours per day
Medium risk means you sit 4 to 8 hours per day
High risk means you sit 8 to 11 hours per day
Very high risk suggests you sit more than 11 hours per day
According to the Waterloo Department of Kinesiology, the ideal sit-stand ratio lies somewhere between 1:1 and 1:3. This translates to the fact that you should stand for about 15-30 minutes per hour as it is beneficial to your health.
What Is The Best Posture For Sitting At A Desk All Day?
Since many of us sit for long hours at our desks, it is very important to maintain a proper desk-chair posture.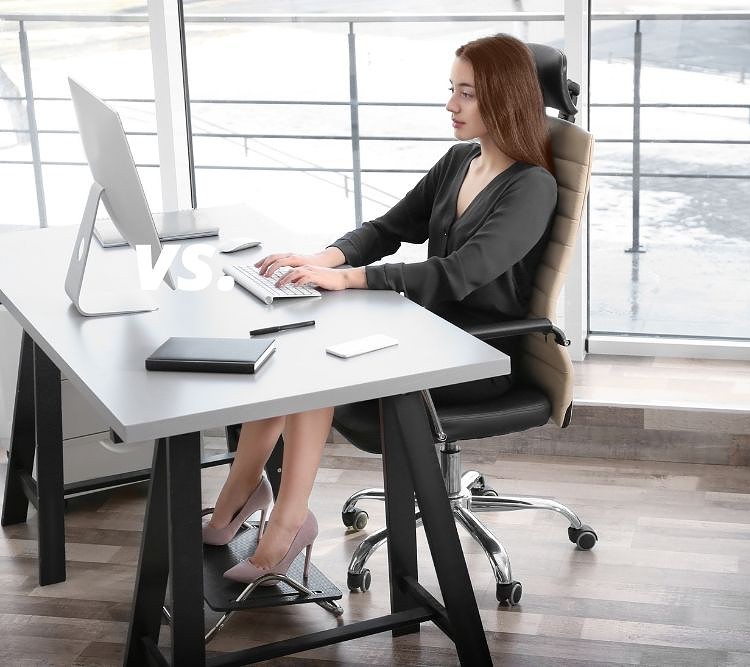 Here are a few things you should keep in mind to correct your desk posture should you find yourself hunched over all the time:
Make sure you adjust the height of your chair before you sit—your feet should be flat on the floor, and your knees should be aligned with your hips.
Avoid crossing your knees, legs, or ankles.
Be sure to maintain some space between your knees and the seat of the chair.
Sit up straight and make sure the back of the chair is at an angle of 100 to 110 degrees.
Your ankles should be placed in front of your knees while your hips far back in the chair.
Sit at an arm's length away from your laptop screen, ensuring it is at eye level. Keep your mouse close by so you don't have to stretch awkwardly.
Relax your neck and shoulders—do not slouch and sit so that your shoulders rise towards your ears or bend forward.
How To Choose An Ergonomic Office Chair For Sitting Long Hours?
A well-designed office chair takes into account the working hours and patterns of people. It is time to change your chair if you need to reposition yourself every few minutes.
The market is flush with ergonomic office chairs of all sorts, promising benefits and relief. So how do you tell whether these claims have merit and if the ergonomic chairs are worth the investment?
Let's take a closer look at some features that are a must for comfort and health benefits.
Seat Height
The ideal floor-to-seat height should be between 15 to 22 inches.
Your chosen ergonomic chair should also have a pneumatic adjustment option, so you can increase or decrease this height as per your comfort.
When seated, your knees should bend at an angle of 90 degrees while your thighs are parallel to the ground.
It is also important to sit with your feet flat on the floor.
Seat Width
While narrow seats are incredibly uncomfortable, extra-wide seats have no posture-related benefits either.
It is recommended to have a seat width that leaves only two to four inches on your sides.
Seat depth is also important—your knees should be two to three inches from the seat's end.
Seat Material
Leather chairs look fabulous but do nothing to relieve discomfort, especially if you live in warmer climates—pick a breathable material.
Equally, a very firm seating, like wood, is inappropriate. So check the seat for padding as well—too little or too much padding is a no-no.
Swivel
If you frequently reach across or around your workspace for stationery, files, and folders, switching gadgets like printers on and off, etc., you need a chair with a swivel function.
For more movement options, select an office chair with adjustable "tilt."
Armrests
Most ergonomic chairs come with armrests. However, only a few offer features such as pneumatic adjustment levers.
Arm positioning is very important as it helps support your upper body.
Ensuring your office chair has this feature will help you counter neck and shoulder aches.
Lumbar Support
Office chairs with a straight or non-adjustable back are inappropriate for long sitting periods. Instead, chair backs should be curved (inward), and while it may appear uncomfortable, this S-curve supports the spine and prevents people from slumping.
Backrest
The width of the backrest should be between twelve to eighteen inches. Avoid narrow backrests as they will not help you relieve stress on your spine and back muscles.
What Is The Best Office Chair For Sitting Long Hours?
An ergonomic chair selected based on the above-explained criteria is essential to ensure good posture and comfort, especially while working from home.
Too many factors like seat dimensions, upholstery, head and back support, or important features like swivel and lumbar support confusing you? Unsure of where to start?
We have shortlisted some of the best ergonomic office chairs to help out.
1. Herman Miller Aeron Ergonomic Chair
The Herman Miller Aeron Ergonomic Chair has a comfortable head cushion and high mesh back, which allows your head to rest and maintain body posture at the same time. It has adjustable arms and a tilt limiter, which will enable you to set the reline range at one of three postures. It is available in three sizes, small, medium, and large.
Easy on the back, it works great for your posture making sure you sit upright and lean back between tasks. It has a 4.5 average star rating on Amazon.
2. Modway Articulate Ergonomic Mesh Office Chair
Sturdy and supportive, the Modway Articulate Ergonomic Mesh Office Chair comes with passive lumbar support, breathable mesh back, and a thick seat cushion. It is available in six colors. Designed with productivity in mind, this office chair is height-adjustable, has a 360-degree swivel with a tilt and lock mechanism perfect for everyday use. It has a 4.1 average star rating on Amazon.
3. Steelcase Leap Fabric Chair
The Steelcase Leap Fabric Chair provides all-day comfort and back support. In addition, it has features such as fully adjustable arms, height-adjustable lumbar support, and adjustable seat depth.
For those looking for more features, the Steelcase Leap Fabric Chair offers pneumatic seat height adjustment, recline tension adjustment, five position recline lock, and an upholstered back and seat.
This uber-comfortable chair adapts to your body shape as you move to support your spine, ensuring long-term comfort. It has a 4.4 average star rating on Amazon.
Conclusion
The key takeaway is that an investment in a good quality ergonomic chair leads to an investment in your health. Therefore, when selecting an ergonomic chair, consider comfort and good posture as your health is a priority.
Say goodbye to all aches and pains and long-term health implications with a good chair that suits your needs! Don't forget to take a break every fifteen minutes and factor some exercise into your routine to counter some of the effects of prolonged sitting.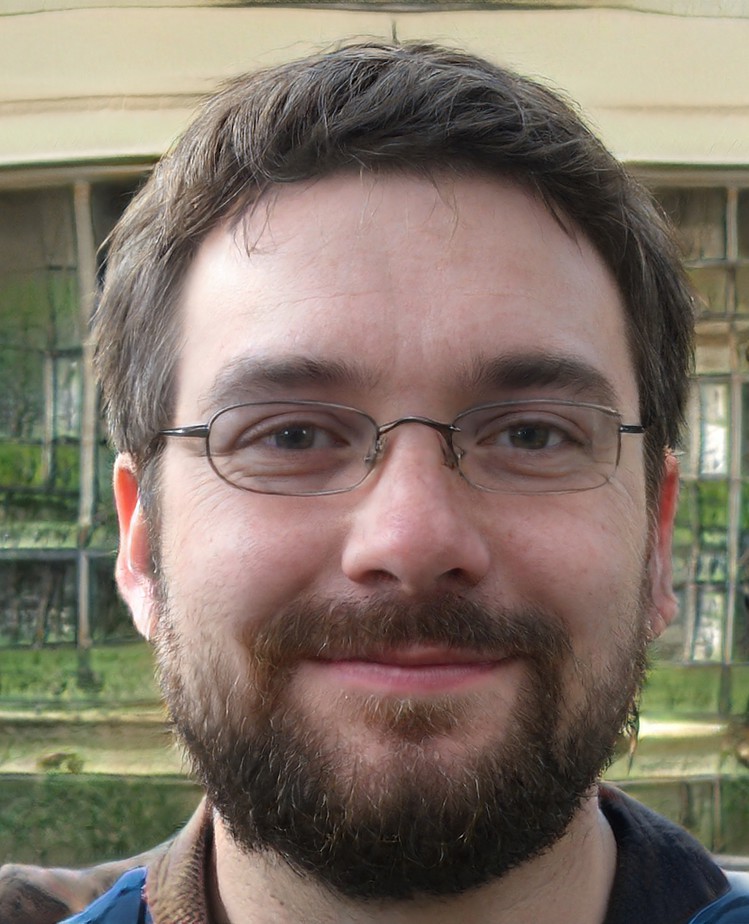 My name is Vance, and I am the owner of To Ergonomics. Our mission is to improve your workflow by helping you create a supportive and welcoming environment. We hope that you'll find what you're looking for while you're here.