Herman Miller is a household name. As pioneers of modern furniture, they deserve the spotlight.
If you're a follower of innovative office furniture, then you are probably already familiar with the Aeron office chair.
But if you aren't, get ready to be blown away with this innovative and highly regarded piece of modern furniture.
Designed by Bill Stumpf and Don Chadwick, this ergonomic office chair made its debut in 1994.
They created this desk chair to support people and adjust to the different postures we have while we're in the office.
Since its release, it has won 108 awards and recognitions!
If that's not impressive enough, the Museum of Modern Art also has the Aeron chair in their display, as part of their collection.
In 2016, Don Chadwick renewed the design and features based on the newest research about better sitting, superior materials, technology, and production.
Today, the updated Aeron chair is even more impressive and is likely to attain more recognition.
CHECK LATEST PRICE ON AMAZON.COM
Who is the Herman Miller Aeron chair for?
The Aeron is a highly sought after chair. Thanks to the prestige it has gained through the years, many people see it as their dream office chair.
Another reason for its popularity is its extended warranty, which means that it's long-lasting, in comparison to others.
If you're looking for an office chair that will last you decades, this could be a perfect choice.
Read here to learn more about the lifespan of your chair.
Of course, being ergonomic, this is also for anyone who suffers from back and neck pain. But anyone who cares for posture and spinal health would find this fully adjustable chair fantastic.
However, if you're thinking about purchasing this chair, you have to be willing to pay for the expensive tag.
That's right; it's EXPENSIVE. And in saying this, it isn't a practical choice for anyone on a limited budget.
We'll also be giving an alternative for the Aeron chair at the end of this article, so read on!
Considering the superior quality, awards, and research that brought about this marvel of a chair, the hefty price of the Aeron chair isn't a surprise at all.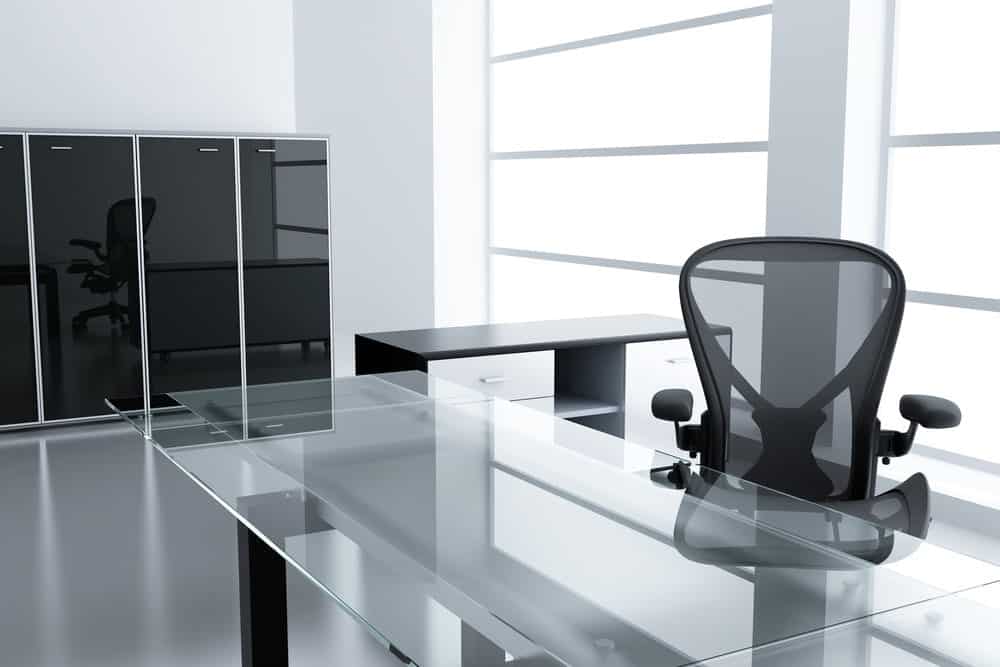 Read more: Herman Miller vs. Steelcase
What's in the box?
So you've decided to order the chair, and the box is finally here!
When you see that package, you might be intimidated because it's MASSIVE. You might think that it's going to take forever to unbox it, read the instructions, and put it together.
But there's no need to stress out because when you open the package, it's already completely assembled!
Save your time, energy, and sanity because we all know how frustrating it is to assemble furniture.
Along with this hefty purchase is the 12-year warranty!
I think this is pretty amazing because some office chairs only come with a one year warranty, and some just don't offer a warranty at all!
And if you buy from the Herman Miller Store, you'll also get free standard shipping and 30-day no-hassle return policy!
[HD] Herman Miller Aeron Unboxing
Features
But you might be wondering, what's so special about this chair for it to be so expensive? What made it so deserving of all these awards?
1. Multiple adjustable parts
To start with, this 100% ergonomic chair backed up with research.
The adjustable lumbar support can fit the curve of your spine to a tee, giving you the most natural and healthy support for your lumbar to sacrum area.
Armrests also come in various options: fixed, height adjustable, fully adjustable, fully adjustable with arm pad depth, or no arms at all!
To find out if armrests are for you, read here.
Another completely adjustable feature is the seat angle adjustment. This is unique and isn't found in most office chairs.
The Aeron chair allows you to take a neutral angle, where the seat is parallel to the floor.
If you want to focus on your work, you can use the engaged angle, where the seat is angled 5-degrees forward.
You can even choose the tilt function of your chair. The three options you can choose from are the standard tilt, tilt limiter, and tilt limiter with seat angle.
With this feature, experience a smooth and seamless tilt to allow you to use the three recline ranges: upright, mid-recline, and full recline.
Handy for taking naps during breaks!
Tip: Since you're already splurging on an expensive chair, so you might as well get the best options.
2. Comfortable material
The unique material called the 8Z pellicle elastomeric suspension supports the user in 8 zones across the back.
This will let the user feel tighter support in the edges and more give in spots where the body touches.
But the 8-Z pellicle doesn't just offer support, it also keeps you cool because it's breathable.
By allowing air, vapor, and heat to pass through you won't feel like heat or sweat is trapped between you and the seat!
3. Fully ergonomic
Combine all the adjustable parts and the comfortable material, and you've got yourself a truly ergonomic chair.
Being fully adjustable, you can modify each feature to your body.
No matter what shape you are, how short or tall, the proportions of your limbs, and the curvature of your spine, this chair can accommodate!
They also take into account how people don't just stay in one position even while seated.
In the Aeron's design, they have considered how office workers move and change positions depending on how they feel and what they are doing.
Herman Miller Aeron Chair Adjusting Guide
What we like
Healthy sitting is promoted because of how you can adjust it depending on positions, activities, and people.
Aesthetics aren't sacrificed either because you can choose from 4 color options: Carbon, Graphite, Mineral, and Satin Aluminum.
Finally, the 12-year warranty ensures that you do not have to worry about your purchase going south!
What we don't like
There are some missing adjustable parts, such as seat depth and back height adjustment.
This is because the chair comes in three different sizes; however, I think for full customizability adding the two missing features would improve it further.
Design:
⭐⭐⭐⭐⭐
This is a modern design marvel that combines crisp contemporary lines and full functionality.
Ease of use:
⭐⭐⭐⭐⭐
The chair comes in fully assembled, and adjustments are easy to make using the knobs and levers.
Features:
⭐⭐⭐⭐
This adjustable chair allows you to modify each part to your body, office, and activity. But some adjustable features were not included.
Customer Service:
⭐⭐⭐⭐⭐
Complete with free shipping, 30-day return, and a whopping 12-year warranty, this is extraordinary for an office chair!
Herman Miller Aeron Office Chair Review
How to adjust
Normally, we'd give you tips on how to install the chair here, but because the chair arrives at your doorstep completely installed, we don't need to do that here!
However, we'll help you out with the levers and knobs to adjust your Aeron chair to fit your needs.
1. Seat height
To bring the seat down, pull up the tab, or lever on the right side of your chair while you are seated.
Do the same to bring the seat height up, but do it while you're slightly standing.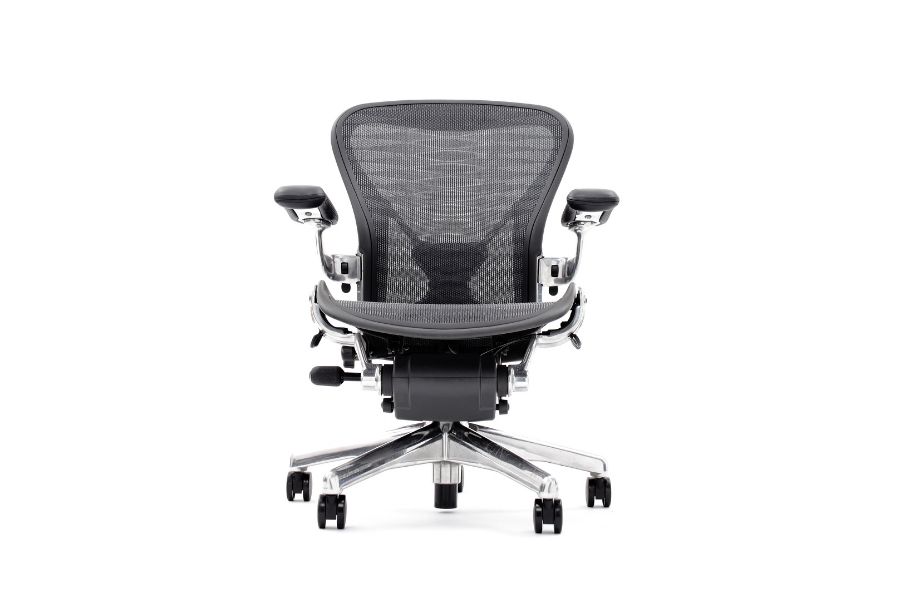 2. Tilt tension
Check the tilt by leaning back into the backrest. If you want stronger tension, turn the knob toward the plus sign. To loosen the tilt, turn it toward the minus sign.
The tilt tension knob is located at the right side of the chair, under the seat.
3. Tilt lock
On the left side, there's another knob with two parts. To lock the tilt function in three parts, twist the second knob back (the one closer to the seat).
Keep twisting to the desired position, and lean back to check if the angle is right.
4. Seat angle
For this, use the knob on the left side again. But this time, draw your attention to the knob further away from the seat.
Twist it forward, and lean to the front with the chair so that it angles forward.
5. Lumbar support
To bring the lumbar support more toward your back, twist the knobs behind your backrest toward you. Twist it away, if you want the lumbar support to go back.
6. Arms
Behind each armrest, there's a small tab that you can pull up to unlock it.
Once you've done this, you can move each armrest up or down to the desired height. Don't forget to lock it back in place!
Another great adjustment you can do is arm depth. You can move it forward or backward by simply pushing the arms forward or back.
You can also angle it inward or outward by pushing them to the direction you want.
To learn more about the proper angles and positions for using an office chair, click here!
How-To: Adjust The Herman Miller Aeron Chair
Read more:
Steelcase Leap vs. Herman Miller Aeron
Herman Miller Mirra vs. Aeron: Compare 10+ Key Features & Functions
Alternatives
You might be thinking that you're interested in the Aeron chair, but you're not exactly sold on it. It might be because of something lacking, or something you just didn't like about it.
If so, then this alternative just might be for you!
The Aloria Series Office Chair by Oak Hollow Furniture
This chair is also a mesh chair that is completely ergonomic and has several similarities, as well as differences, especially in the price point!
You'll be glad to know that this chair is worth significantly less than the Aeron chair.
If the expensive tag is what made you turn away from buying it, then the Aloria Series office chair can save you a lot of money.
Similarities
Tilt tension
Back-and-seat tilt synchronization and recline with a 4-way lock
4-way adjustable arms
Adjustable lumbar support
Mesh back
Seat height adjustment
Additional features if the AloriaSeries:
Seat depth adjustment
Adjustable headrest
Genuine leather seat
Overall, in terms of quality, I think that the Aeron chair has superior lumbar support and smoother tilt.
Furthermore, the Aloria Series doesn't come with a 12-year warranty, and it doesn't come assembled.
However, the Aloria Series office chair is a great alternative because of how it has more adjustable parts for such a difference in price.
Conclusion
What do you think about the chair?
I think it's a chair worth investing in!
If you're tired of continuously throwing away chair after chair because it didn't last, or it just wasn't working for you, then getting an Aeron might just be your answer.
It lasts forever, the warranty is extensive, the quality is far superior, and it's just a fantastic office chair trusted by customers and furniture experts.
Plus, you get the bragging rights, too!
CHECK LATEST PRICE ON AMAZON.COM
Get A Herman Miller Aeron for CHEAP + Buying Guide!!!