No one enjoys wasting money on products that don't do what they say they're supposed to do on the label. Which begs the question, are chair mats useful on laminate floors?
You should use a chair mat on laminate floors to protect your floors from scratches and scuff marks caused by the wheels on your office chair.
Stick around as we go into more details about why chair mats are useful and what the best three chair mats for laminate floors are.
Do Chairs Ruin Laminate Floors?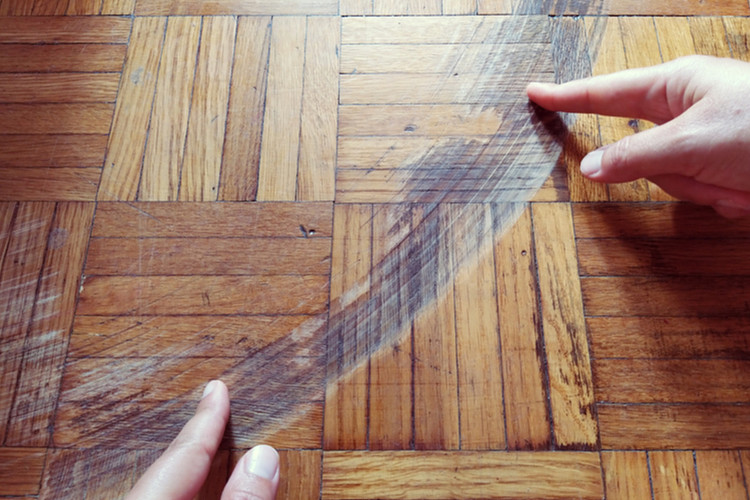 There is a possibility for the wheels on your office chair to ruin your laminate floors. It all comes down to what your chair wheels are made of and if they are prone to collecting and trapping dirt.
Most office chairs come equipped with hard plastic wheels or casters. These are considered the standard wheels, are usually the cheapest material, and the worst for your floors.
Plastic wheels have a tendency to pick up dirt and crumbs. As you roll around on your laminate floor, this dirt is rubbed across the top of your laminate floors scuffing the laminate finish making your floors look dull or scratched.
If you have metal wheels, they too can scratch and damage your laminate floor. Because they are made with a heavier material, they are more likely to cause irreparable dents in your flooring.
Do You Need a Chair Mat on Laminate Floors?
Yes, you do need a chair mat on laminate floors if your office chair has wheels. A chair mat will protect your floors from damage caused from trapped dirt or hard wheels.
If you are using a chair without wheels, then a chair mat may not be necessary. In place of a chair mat, you can purchase felt protector pads and stick them to the bottoms of your chair legs.
When you slide a chair back with felt pads, you won't scratch your laminate floors because the felt pad acts as a buffer between the chair legs and the floor. If you use this method instead of a chair mat, make sure the pads are properly secured. With frequent use the felt pads may start to peel off causing you to accidentally damage your floors.
Chair mats are still your best option for preventing laminate floors from getting damaged.
When you purchase a chair mat, make sure the mat is designed for floors and not carpet. Carpet chair mats come with hard spikes or hooks on the bottom that can damage laminate floors. Chair mats with flat and smooth undersides are the correct mat style for laminate floors.
3 Best Chair Mats for Laminate Floors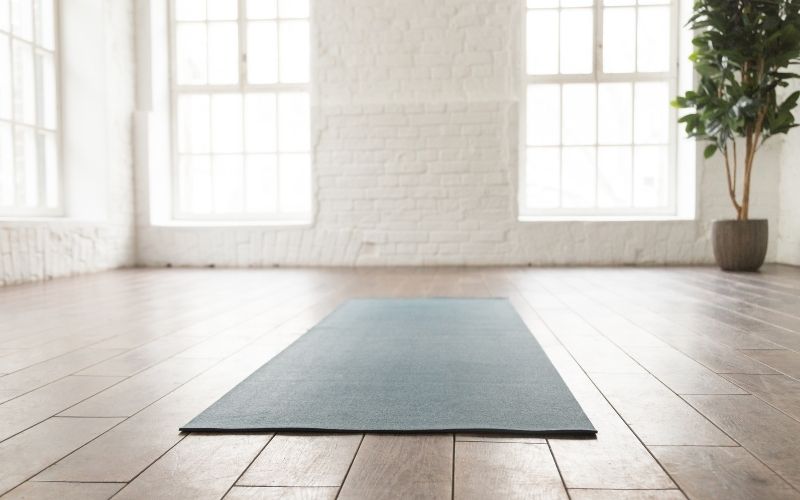 The best chair mat for laminate floors is made with PVC or polycarbonate. Tempered glass chair mats can also work, as long as they lay flush with the ground, and they don't have attached pieces that lift them off the floor.
Below is a chart that breaks down three of the best chair mats for laminate floors.
Laminate Floor Chair Mat Name
Features
Yecaye Office Chair Mat for Hardwood Floor

Polyvinyl Chloride material
Clear in color
Rectangular shape
Affordable price, a bit more expensive than the Dinosaur chair mat
Smooth on both sides
Flexible and elastic surface
Easy to store
Ships rolled
Two size choices

Dinosaur Office Chair Mat for Hard Floors

Polyvinyl Chloride material
Transparent or light gray color options
Rectangle in shape
Affordable price
Smooth on bottom and grindy on top
Flexible and pliable surface
Easy to roll up and store
Shipment comes rolled
Two size options

Marvelux Office Chair Mat for Hardwood Floors

Polycarbonate material
Transparent color
Rectangular shape with lip
Affordable price, slightly more than PVC mats
Smooth on bottom and bumpy on top
Durable and rigid surface
Remains flat
Ships flat
Three size options
1. Yecaye Office Chair Mat for Hardwood Floor
The Yecaye office chair mat is a sleek see-through option made of PVC material. We chose this mat because it is completely transparent and is reviewed highly.
This chair mat is designed for people who want to still see their laminate floors clearly with as little obstruction as possible. It is also on the cheaper end of chair mats making it a budget-friendly option.
We love how close this sits to the ground. One improvement could be having some sort of grip on top to prevent you from sliding too quickly, causing you to slide across your laminate floors and scratching them.
What We Like
Fully transparent so you can show off your laminate floors
Super thin in case you roll off the mat
Affordable for people on a tight budget
What We Don't Like
Its smooth surface may be too slippery
2. Dinosaur Office Chair Mat for Hard Floors
The Dinosaur office chair mat is another PVC chair mat for laminate floors and rated very well. We selected this chair mat because of its neutral matte color option and because the edges of the chair mat taper to the floor's surface.
This chair mat is for anyone looking for a quick and cheap fix to prevent scratches on laminate floors. If you don't care if you hide the pattern on your laminate floor, then this is a fine choice.
We love the thick padding on this chair mat and how it is suitable for hard floors only. Though, because it's thicker and shipped out in a rolled arrangement, it may take some extra time for the chair mat to completely unravel.
What We Like
Matte gray and clear color options
Extra padding to support heavier set people and office chairs
Cheaper than most chair mats
What We Don't Like
It comes rolled up taking it longer for the mat to unroll
3. Marvelux Office Chair Mat for Hardwood Floors
The Marvelux heavy duty chair mat is a polycarbonate material, thicker and built stronger than PVC chair mats. We chose this chair mat because it is built with a chair lip and a bumpy top texture to prevent your chair from sliding too quickly.
This mat is a terrific fit underneath computer desks, writing desks, executive desks, and any other desks that have a small space underneath that require a chair mat lip. If you tend to push yourself from your desk with force, this is a great option because of its bumpy top texture on top that can slow you down.
The hard texture of this chair mat makes it ideal for heavier set people and people who use their chairs on a regular basis. Its texture helps protect your laminate floors from damage.
We wish there was an option to not have a chair mat lip so it could be used on other types of desks, like L-shaped desks. Chair mats with lips are designed to sit in the openings underneath specific types of desks.
What We Like
It comes with a mat lip to tuck underneath desks
Harder and more durable mat for longevity
Bumpy top surface to prevent slipping
What We Don't Like
Its design can only fit certain types of desks
Conclusion
With or without wheels a chair can damage laminate floors. This is why it's especially important to have a chair mat underneath chairs with wheels or felt protector pads underneath office chairs without wheels.
The best chair mat for laminate floors all comes down to your preference, your budget, and style. Whether you choose a PVC mat or a Polycarbonate-made mat, know your laminate floors are protected from scratches, scuff marks, and dents.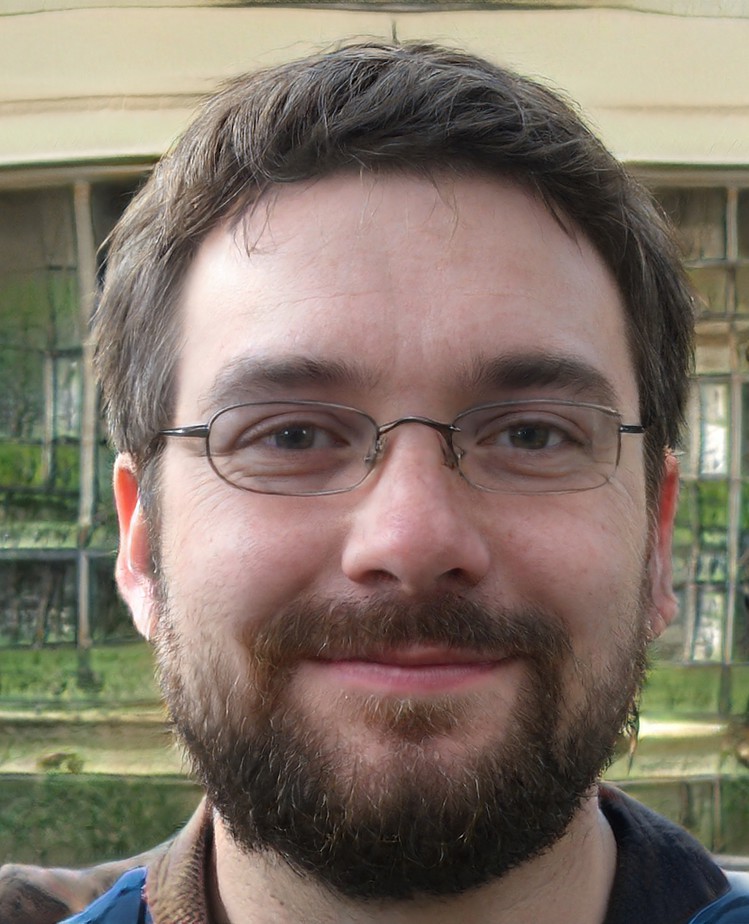 My name is Vance, and I am the owner of To Ergonomics. Our mission is to improve your workflow by helping you create a supportive and welcoming environment. We hope that you'll find what you're looking for while you're here.