You've put air into your exercise ball and now it takes up too much space in a room or it rolls around and gets in the way. If this is your problem, then you're probably wondering where do you keep your exercise ball? And what type of storage options do you have?
You can keep your exercise ball in almost any room in a house or regularly heated garage, and store it either on the floor with a balanced base or mount it with a wall rack.
Your options are plentiful! Keep reading to see the many ways you can store your stability ball and how long your exercise ball will last.
Where Do You Store Your Exercise Ball?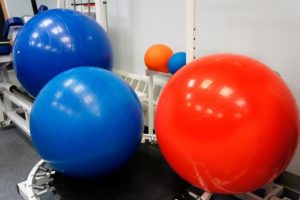 There are many places you can store your exercise ball. Some of the ideas we give you were designated for exercise balls, while others were created in a DIY fashion.
Whether you need an exercise ball storage idea or already have one and are looking for an improvement, we've created an extensive list of places and ways to store your exercise ball.
Store your exercise ball in a:
Heated garage in a soccer or hockey net
Closet
Mounted bar wall rack
Freestanding multi-level large storage rack or cart
Corner of a carpeted office
Space-saving smart vertical rack
Wall-mounted round display holder
Large bin
Bungee cord attached to the wall
PVC storage rack
Balance base
Repurposed stuffed animal holder
Ball storage cart
Corner of a ceiling (Japanese exercise ball hack)
Clear plastic ball stacker
Stability ball chair
DIY exercise ball holder
Dog bed
Large Basket
Store your exercise ball in your heated garage. The garage must be heated or insulated to the degree that the temperature doesn't fluctuate. Temperature changes can cause your exercise ball to expand or lose air.
Use a soccer or hockey net to store your exercise ball. Get your stability ball off the floor by placing it on the top of a hockey net or a spike ball net . You can also use soccer netting to create a makeshift exercise ball holder with zip ties to hold the net in place.
Keep your exercise ball from rolling around by storing it in a closet. Set your ball on the floor in a walk-in closet or on the shelf to get it off the ground.
Install a mounted yoga ball bar rack. You can either buy a metal bar made for exercise balls or create your own bar rack using PVC pipe.
Buy or create a multi-level large storage rack or cart to hold multiple balls at one time. If you own more than one exercise ball, like multiple medicine balls and stability balls, then a large PVC storage rack cart is terrific for your at-home exercise studio.
Keep your exercise ball tucked into the corner of a carpeted office. An exercise ball stored on top of a carpeted floor won't roll around (unless your floors aren't level!). If you are someone who uses a stability ball on your work breaks, then keeping your exercise ball in the corner of your office is a wonderful idea.
Use a space-saving smart vertical rack to store your exercise ball. Vertical floor-standing stability ball racks can hold two to three balls and work great for families and students who share a dorm or apartment.
If you want to save even more space, then you can choose a wall-mounted tri-level stability ball rack instead. These types are a bit harder to find.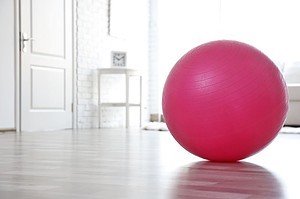 Store your exercise ball on a wall-mounted round display holder. These solo metal rings are perfect for small rooms and can hold one yoga ball at a time.
Buy a large bin to hold your stability ball in. It may be tough to come by a large enough plastic storage bin for your exercise ball, though it is an option. We recommend a square container over a round container as it's easier to retrieve your exercise ball from inside.
Attach a bungee cord to the corner of a wall to keep your exercise ball in place. You never know when you'll need a bungee cord, which means most people will have them already stored in their garage. Choose a longer bungee cord to strap your exercise ball to a wall.
We don't recommend using two separate bungee cords to strap an exercise ball to a wall. The reason is it may tear the material on your exercise ball.
Create a DIY exercise ball holder using PVC pipe or other material. You can either create a stability ball PVC pipe holder with just PVC pipe and let your ball sit on top of it or you can buy some mesh to go along with it and have your ball sit more securely behind it.
Check out this YouTube video to learn how to make your own DIY PVC pipe stability ball holder.
Rest your stability ball in a balance base. Balance bases can be easily found online and are normally cheaper than metal rack holders. These are terrific options for people who are in rented apartments and condos and anyone on a budget.
You have the option between a stability ball balance ring or a hard plastic balance base . Both keep your exercise ball from rolling around on a tile, vinyl, or wood floor.
Store your exercise ball in a repurposed stuffed animal net. Maybe your kids are grown and you have a stuffed animal net lying around. Repurpose the corner net to get your exercise ball off the ground and save space by having it hang in a corner of your room.
Use a ball storage cart to hold exercise balls and other sports balls. An exercise ball storage cart can be made of metal or mesh and are a great place to store your yoga ball in home garage gyms.
Learn the Japanese exercise ball hack to store a yoga ball. The Japanese yoga ball storage hack is extremely easy to learn and all you need is proper wall texture and maybe a door frame.
For this hack to work, you need thick grooved textured walls to hold a yoga ball to the corner of a ceiling. A door frame near that corner of the ceiling helps keep the ball in place.
We wouldn't say this is the "safest" way to store a yoga ball, however, it is another way that you can store your yoga ball to save floor space.
Buy clear plastic and velcro ball stackers.Clear pliable plastic velcro ball stackers are on the cheaper side and can hold anywhere from one to three stability balls at a time.
Choose stackers that can be adjusted for a more secure fit on exercise balls, medicine balls, and other sports and gym balls.
Store your ball in a stability ball chair. A stability ball chair gives you both a chair to sit on while you're at work and a removable ball to use for stretching and exercise. It's a fantastic dual-purpose way to store an exercise ball!
Make your own exercise ball holder from scratch. Put your carpentry skills to the test! Get creative and save money by making an exercise ball holder from scratch.
Keep an exercise ball stored in a dog bed. Sometimes you buy a dog bed that your dog refuses to use. Make use of it and store your yoga ball in it.
We recommend a dog bed that dips down or has siding to help keep your yoga ball in place.
Set your stability ball in a large basket. Use an extra-large fabric basket or laundry basket to hold an exercise ball in a bedroom or workout room. Make sure you measure your ball so that it fits into your basket.
How Long Do Exercise Balls Last?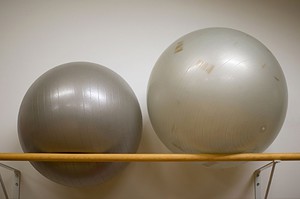 The length of life that you can get from an exercise ball depends on how often you use it, the quality of the exercise ball you bought, and how well you take care of it. In general, most exercise balls last 1 to 2 years, with some lasting up to five years.
To get a longer lifespan of your stability ball, you should avoid:
Storing it in direct sunlight
Cleaning it with harsh chemicals
Placing it on sharp objects
Over inflating the ball
Exerting excessive weight
It is natural and normal for a ball to lose air over time, so you will want to inflate it regularly. Feel free to read our article, "Why Does My Exercise Ball Keep Deflating?" for more tips on extending the life of your exercise ball.
Conclusion
You can keep your exercise ball stored in heated garages, large carpeted bedrooms, closets, and many other places in your home as long as the room remains the same temperature. Install a stability ball holder into a wall or use something as simple as a balanced base.
Where and how you store your exercise ball is important and can increase its longevity. So, keep your exercise ball healthy and store it using one of our storage ideas above.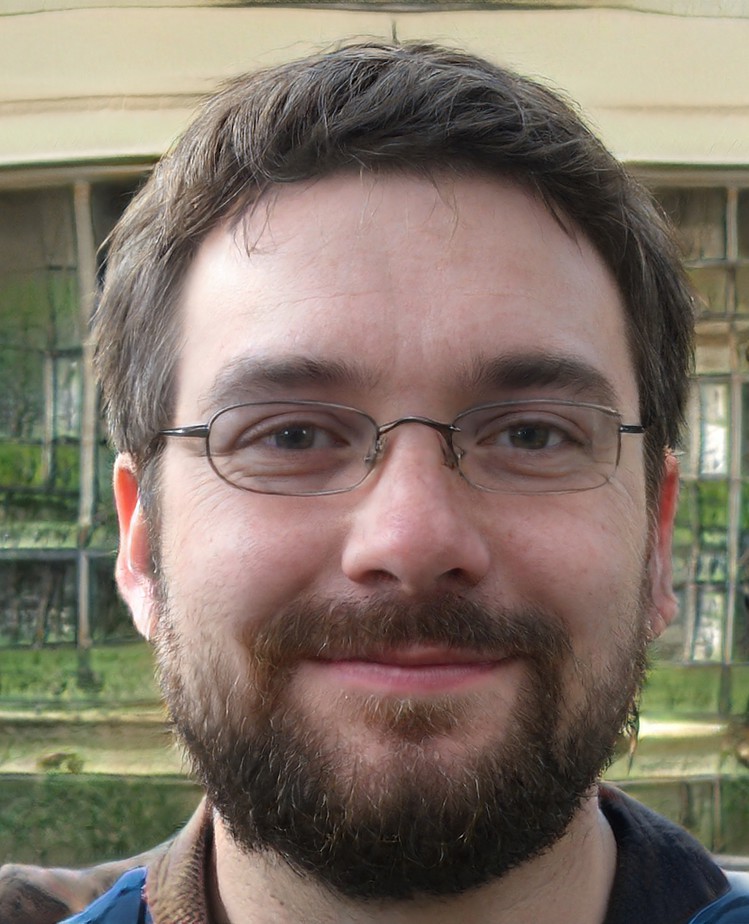 My name is Vance, and I am the owner of To Ergonomics. Our mission is to improve your workflow by helping you create a supportive and welcoming environment. We hope that you'll find what you're looking for while you're here.