The conventional ways of exercising can get tiresome and boring after a while. We take up running on the treadmill or going for a jog in the morning for a few weeks, only to end up losing interest and slacking on exercising.
But what if there's a fun, creative, and effective exercise that can deliver consistent fitness results without being repetitive? If you haven't been introduced to cardio drumming yet, now's the time to look into it.
Cardio drumming is a unique exercise that has been taking the social media world by storm. With just an exercise ball, an exercise ball stand, and drum sticks, you can have one of the most high-intensity workouts in a fun way.
In this article, we tell you all about cardio drumming, how to do it effectively, the tools required, and how you can master this exercise right at home.
What Is Cardio Drumming?
Introduction to Cardio Drumming
Cardio drumming is the combination of playing drums and dancing or doing Zumba. You use a pair of drumsticks to hit a giant inflated exercise ball rested on a bucket.
You are required to drum to any music, follow your body's rhythm, and make the session as intense as you can. While grooving to the music and hitting the ball with the drumsticks, you have to keep your body's muscles engaged, work on your endurance, but mostly, just have fun while you are at it.
Benefits Of Cardio Drumming
Besides being a fun and easy exercise, cardio drumming offers quite a few benefits that can keep you hooked for a long time.
Because it is a low-impact exercise, it is highly recommended for people who have mobility issues.
It has several meditative benefits. It helps in mitigating stress, anxiety, and lack of focus.
It helps release good endorphins from your body and makes you feel happier.
You can attempt the exercise as per your fitness goals and at your own comfortable pace.
It can burn more than 250 calories in an hour.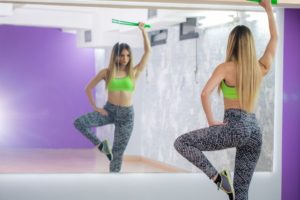 Can You Do Cardio Drumming At Home?
Yes! One of the major benefits of cardio drumming is that you can easily do it from the comfort of your home.
A group fitness class will always give you that extra push and drive to perform better. But, considering how busy and occupied most people are, you may not have the time to go to gyms or attend a professional cardio drumming session.
That is why cardio drumming has such an appeal. You simply need a couple of tools and you can do this exercise at home.
If you want to give cardio drumming a try, make sure to have the following pieces of equipment:
An exercise ball
A pair of drumsticks
A bucket
A fantastic workout playlist to groove to
A laptop or a device where you can play workout videos to follow
While exercising from your home, make sure your drumming techniques are correct. Although there is no right or wrong way to do cardio drumming, if you end up straining certain muscle groups, you can risk injuring yourself.
This 10-minute beginner-friendly cardio drumming video by AeroDrumz can help get you started.
10 MINUTE BEGINNER CARDIO DRUMMING WORKOUT AeroDrumz
What Size Exercise Ball Is Best For Cardio Drumming?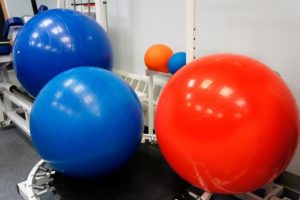 You have to be careful about the size of the exercise ball that you use for cardio drumming.
What size exercise ball for cardio drumming is the most effective for you will depend on your height. Usually, an exercise ball of around 65 cm height would be suitably large and practical for both home workout and fitness group sessions.
Because, in this exercise, you hit the exercise balls consistently and vigorously with a pair of drumsticks, they will deflate over time. Make sure to go for an exercise ball that is made of a thick, anti-burst material that can stand the test of time.
How Do You Choose The Right Size Exercise Ball?
Exercise balls, also known as stability balls, swiss balls, physio balls, or fitness balls, are used for a variety of exercises. They are uniquely effective for working on your core and lower body as well as helping you improve stability.
Based on the type of exercise, you can choose your exercise ball from a variety of sizes. Small therapy balls, mini exercise balls, large-sized exercise balls — each of them is used for a different type of exercise.
To make sure that you are getting the most out of your exercise ball, refer to the following steps to choose the right size exercise ball for your body and workout purpose:
If you want to sit on the ball and exercise, the size of the fitness ball should be proportional to your height. You should be able to sit on the ball with your legs at 90 degrees.
If your height is under 5 feet, a 45 cm ball would be appropriate. And if your height is over 6 feet, the ball should be around 75 cm in height.
For a cardio drumming session, large-sized balls are preferred. The ball should be large enough to nest on the top rim of the bucket.
What Equipment Is Needed For Cardio Drumming?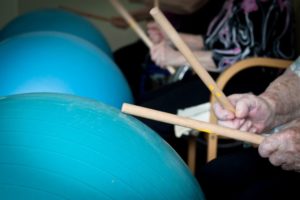 To ensure that your cardio drumming sessions are successful, you will require the following equipment.
An Exercise Ball
This is a piece of equipment that is essential for cardio drumming. Use a high-quality exercise ball made of a thick material that is resistant to wear and tear.
Sale
URBNFit Exercise Ball (65 Cm) for Stability & Yoga - Workout Guide Incuded (Blue)
ANTI-BURST - Built with sturdy PVC material, this anti-burst pilates ball can handle the most rigorous workouts up...
ANTI-SLIP - The surface of this pregnancy ball is coated in a non-slip glaze that will ensure you have a proper and...
TOTAL FITNESS - Excellent stability ball for yoga, pilates, or physical therapy. It can even help improve posture...
A Pair Of Drumsticks
Pick one with the right thickness, length, and wood quality so that you can hold the drumsticks in your hand comfortably for an extended period. Sticks with a thick diameter, made out of oak wood or hickory, are durable and last you a long time.
A Stand Or A Bucket
You can either invest in an exclusive cardio drumming stand or use a bucket you may already have in your house as a stand. Just make sure the bucket can hold the ball on top of it.
Another piece of equipment you will need is a great playlist of music to jam out to during your cardio drumming session!
Conclusion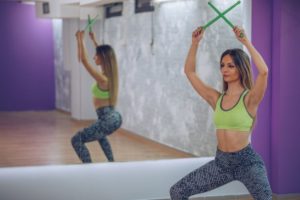 The whole point of cardio drumming is to have fun while burning calories. It is an exciting and fun way to bring you closer to your fitness goals.
And one of the best things about cardio drumming is that everyone can do it. No matter your age or health concerns, a good cardio drumming session is doable for everyone, and when done right, it will leave you sweating for good.
Make sure you get the right-sized exercise ball and a good quality drumstick, and you'll be grooving to your own beats while burning off some calories in no time!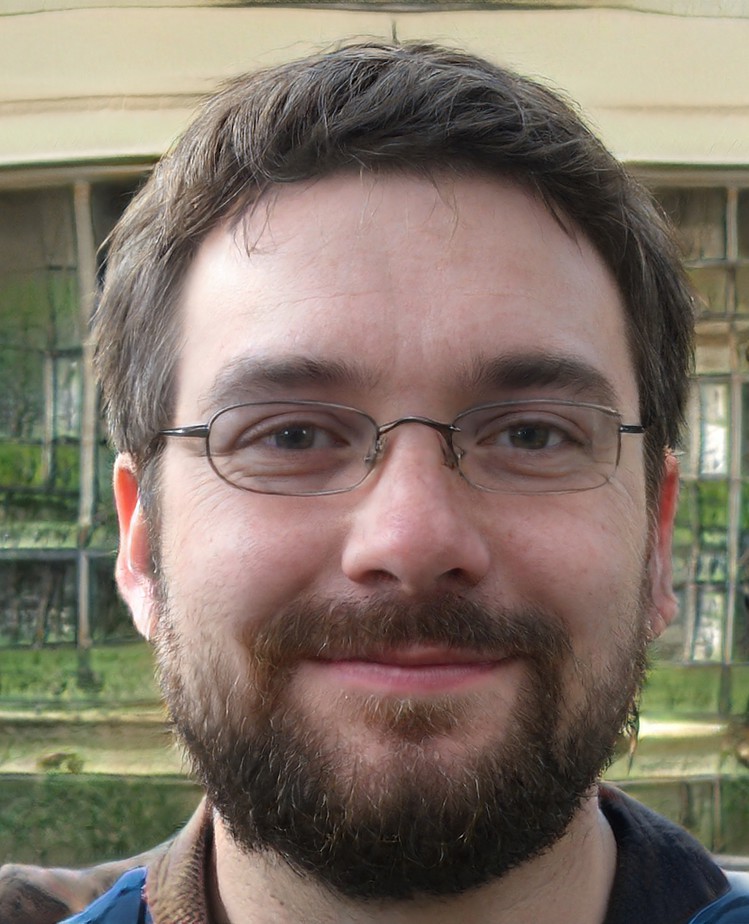 My name is Vance, and I am the owner of To Ergonomics. Our mission is to improve your workflow by helping you create a supportive and welcoming environment. We hope that you'll find what you're looking for while you're here.