Having a standing desk can make doing office work much more enjoyable and comfortable for your body. However, purchasing a premade standing desk can be very costly, not to mention construction and shipping times may take several weeks or months.
When you need a standing desk much sooner, but don't have the money to spend on a several hundred dollar piece of furniture, what can you use as a standing desk alternative?
This article aims to look into various options including different pieces of furniture you can use, some DIY options you can build yourself, and more.
DIY Options
Building your own piece of furniture means you are getting exactly what you want. You know precisely what measurements you need, the right height you want, and can source the materials from any location you want.
You also have full control over the price and won't have to worry about labor costs or paying for shipping costs.
Overall, taking the Do-It-Yourself option is a great choice for anyone with even basic carpentry skills. It can also make for a great weekend project for the whole family to get in on.
Cinder Blocks and Boards
While this approach may not be the most stylish, it is still quite effective and budget-friendly, use cinder blocks as the support legs on either side and span a board between them.
You can do this from the floor or place blocks on a heavy-duty table to turn it into a standing desk.
It won't win any contests for the best-looking DIY project, but it can give you the same effect as a commercially available and much more expensive desk without the strain on your budget.
Wall Brackets and Boards
Wall Mounted Desk - DIY Desk
Instead of using cinder blocks, you can get the same effect using L -shaped wall brackets which hold a board to create a surface at the exact height you want. This project is extremely simple and takes only a few minutes to install, though you may need to invest in a stud finder if you plan on placing heavier computers on the shelf.
Once installed at your preferred height, you can use this surface for laptops and small desktop computers in both standing and sitting positions if you use tall stools and chairs.
Ladder Shelf
How to make a ladder desk
This shelf is so named because it resembles a ladder. Placed at a slight angle from your wall, it can have as many or as few shelves as you want to hold a laptop, tablet, other media devices, desk accessories, and more.
Additionally, it's extremely well suited for very small spaces and doesn't take up nearly as much room as a standard desk would. In fact, you can adjust the design to use only a single leg instead of two, making the footprint even smaller within your home or workspace.
Other Furniture Options
If building your standing desk isn't the right choice for you, there are various other furniture options that can double as a makeshift standing desk either temporarily or long-term.
While some of these options won't give you the freedom to use the same desk as a sitting desk, they work well for standing when doing quick and occasional computer work.
In most cases, the furniture in this section may be something you already have access to but might not have considered as a suitable alternative to a proper standing desk.
Dresser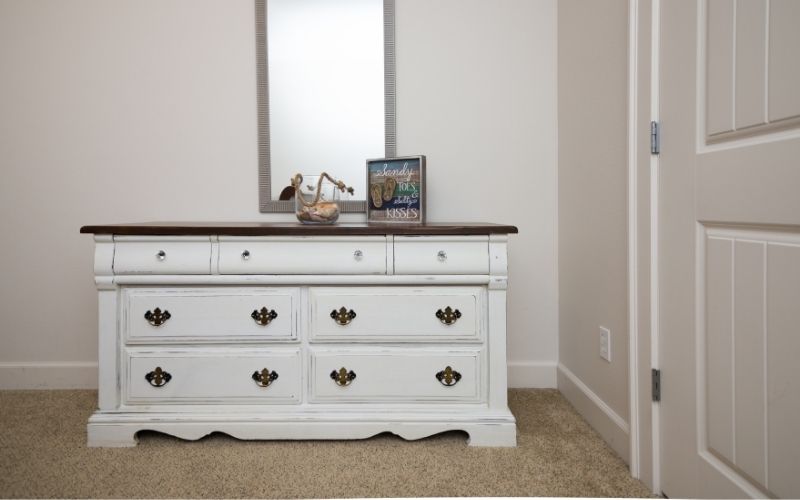 An extremely common piece of furniture that almost everyone already has in their bedroom, the humble dresser can not only serve as a perfect place to keep your clothing, but the top surface can also work as a desktop to hold a laptop or small computer.
You may have to use a small riser if your dresser is exceptionally short, but for most people, the standard height of a five-drawer dresser is perfectly suitable as a standing desk alternative.
Podium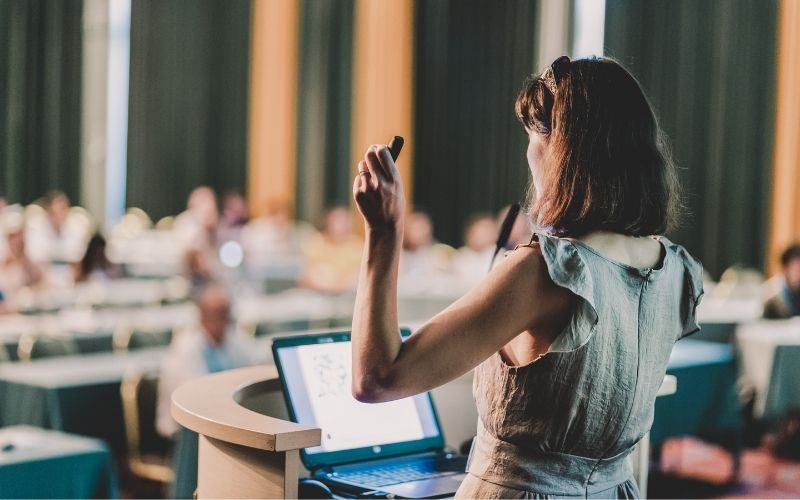 This would be a great option in schools, libraries, or other areas where having a podium is commonplace. The height is normally perfectly suited for arranging your speaking notes, and can also double as a very effective standing desk for laptops.
While it won't work for desktop computers, laptops and Macbooks, as well as tablets and other smaller media devices, would work well on almost any podium.
Drafting Desk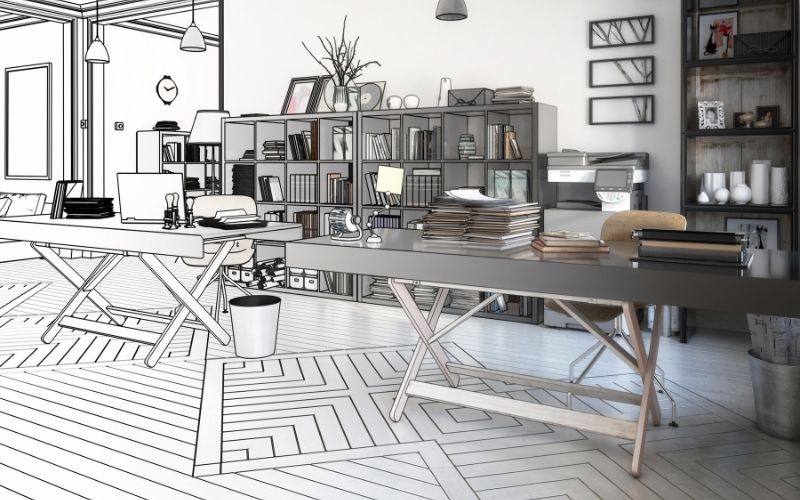 If you already have a drafting desk in your home, it can make a great stand-in as a standing desk. Many drafting desks have a variety of adjustment options that can raise or lower the height of the desktop, as well as adjust the angle.
Heavy duty drafting desks can work well for desktop computers as well as laptops, and will usually have room left over for notebooks and other desktop accessories.
Leg Lifts
These small cone-shaped items are great for adding extra leg length to an existing desk or table. You would simply install them on the bottom of your table's leg in order to get anywhere from 4 to 12 inches of height addition.
The biggest benefit to using a leg lift or leg riser is that you won't need to do any carpentry work, nor will you have to cut or drill into your table. The table's legs will just slide into the cone and be secured by pressure screws or wedges.
This is a great way to get your favorite desk or table up to standing desk height without having to invest a lot of money into other options.
Risers and Shelves
DIY Desk Shelf and Monitor Stand | Desk Organization + Build Plans
Even if a standing desk is not in your budget, you can get the same results by using a riser or shelf on your existing desk or table. Risers and shelves are commonly found in most home decor stores, and are also easy enough to make yourself if you are a DIY-er.
You can find risers and shelves of various shapes and sizes at different department stores, including Ikea, Menards, Walmart, and more. Additionally, risers and shelves for existing tabletops and desks are highly affordable and very adjustable.
IKEA Riser
Desk Makeover (Part 1) - DIY IKEA Monitor Stand
This is an IKEA specific piece of furniture that works great for laptops and small desktop PC monitors. It is basically a small table that goes on your existing desk to raise the height of the laptop or monitor to be more comfortable to use when standing.
IKEA Risers are very adjustable and have a range of leg heights you can choose from. You can also adjust the tilt of the surface in case you need a better view of a tablet or other media device that lays flat on the surface instead of standing vertically.
Stair Risers
Shaped like a 2-step stair, a stair riser is an effective way to raise your laptop or desktop PC monitor higher than usual in order to make it suited for standing use.
With the two steps, you have a variety of options in how you use this riser. For example, you can place your monitor on either the lower step or the higher step to customize the height that works best for you.
You can also put the monitor on the top step, and a keyboard on the bottom step to get a comfortable working position when typing. The bottom step also works well for a mouse or other keypad that you use during your daily computer tasks.
Lap Tables
While normally used by individuals in a bed, a lap table or lap desk is a great alternative as well. It can be used as a riser and will make a short dresser, table, or other surface much more comfortable when used while standing.
One of the biggest benefits of a lap table is the large surface area. There is plenty of room for a laptop, small desktop PC, or a variety of desktop accessories to fit comfortably.
Additionally, lap tables can come in a wide range of styles and sizes as well. If you want something that fits into your existing decor, it won't be difficult to find a lap table that works for you. They can be found in wood, plastic, metal, and have accents in fabric as well to suit any decorative desires.
Conclusion
Using a standing desk for your daily computer work is a great way to improve your health by increasing circulation throughout your body. Being able to move freely and not being restricted by a chair ensures you are not pressing on any nerves or suffering from poor sitting posture.
However, since purchasing a standing desk can cost hundreds of dollars, there is no reason you shouldn't try to find a suitable alternative for now while you are saving up for the larger investment.
Or perhaps you want to test the standing desk theory before making the leap into a proper commercial desk purchase.
Regardless of your reasoning, hopefully, you found some ideas for alternatives to use as a standing desk without having to strain your budget or invest in the furniture you have no interest in keeping long term.