Office chair casters.
It seems like they're always so problematic, doesn't it?
It breaks, doesn't move, leaves scratches and marks on the floor, and the list can go on.
If only we had better ones…
Well, you can get better ones! The casters that'll suit you best.
We're here to help you do just that.
To be sure, there are certain things to consider when buying replacements. We'll tell you everything there is to know about it.
Not only that, but we'll also recommend some great office chair casters.
This will be your one-stop article for the best office chair casters.
So let's get to it!
2 Main Components Of An Office Chair Caster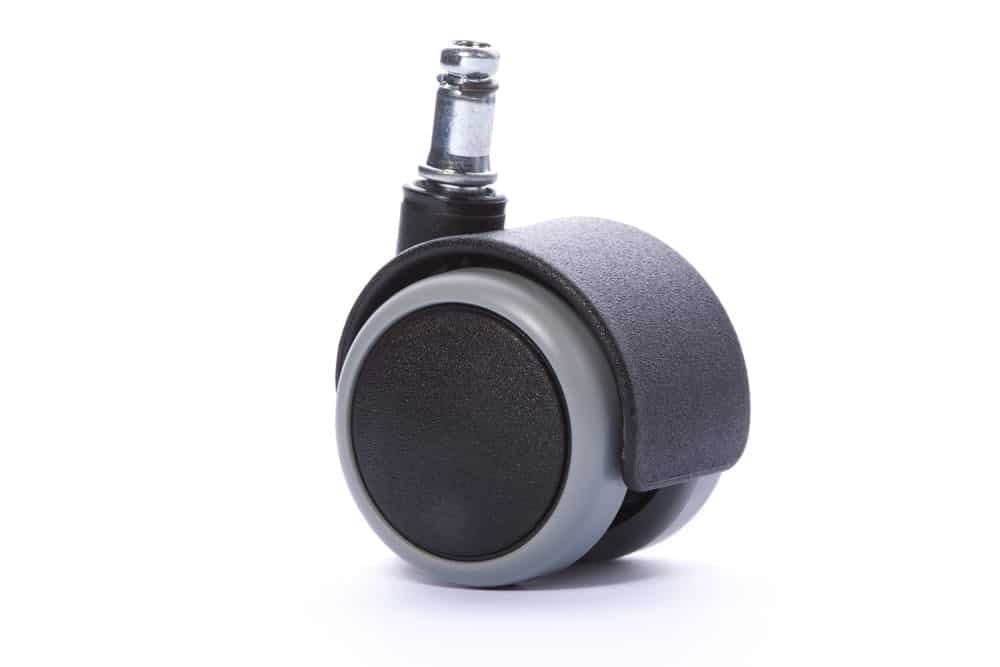 If you're not familiar with the components of a caster, it's easy to get confused with what we talk about here.
That's why we're starting with this.
There are 2 main components to all casters…
There's the metal stem. This is what secures the caster to the office chair's legs.
There are the wheels. Of course, they allow the office chair to move around.
When we say, "casters" we mean the whole thing, stem, and wheels included.
Now that that's out of the way, we can begin searching for the best office chair casters for you.
3 Different Types of Caster Stems
When it comes to caster stems, there are 3 different types.
Threaded stem casters
Grip stem casters
Plate mounted casters
The threaded stem casters are like screws. You twist it into the leg's socket to thread and secure it in.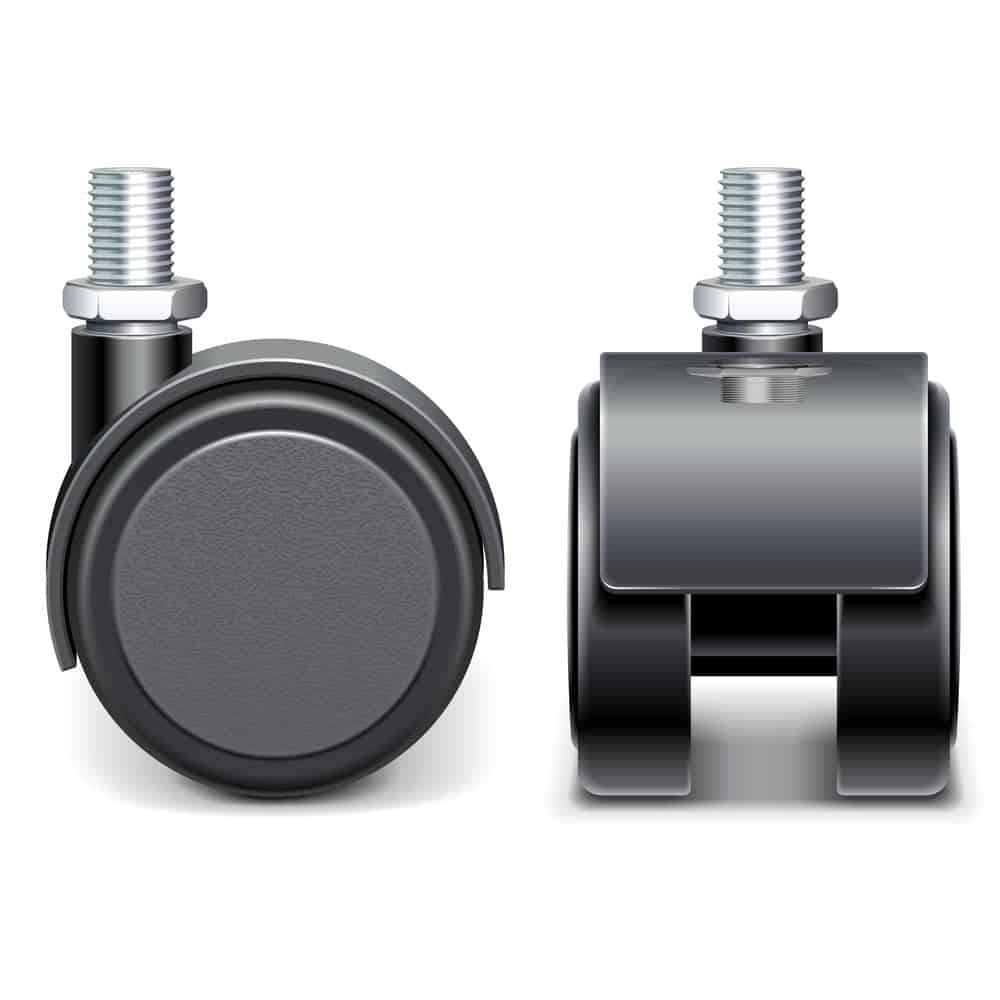 The grip stem casters are somewhat like a clip. It has a groove at the top that latches onto a ledge inside the socket.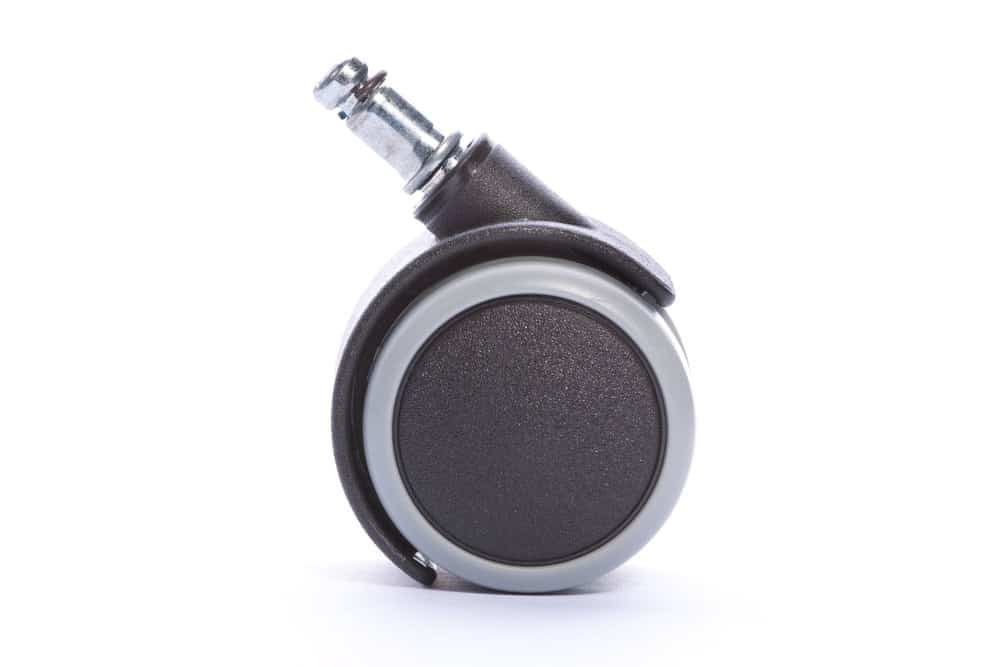 The plate mounted casters are unique in that they don't have stems. Instead, it has a plate that's screwed in on the legs. This type of caster, however, is not common in office chairs.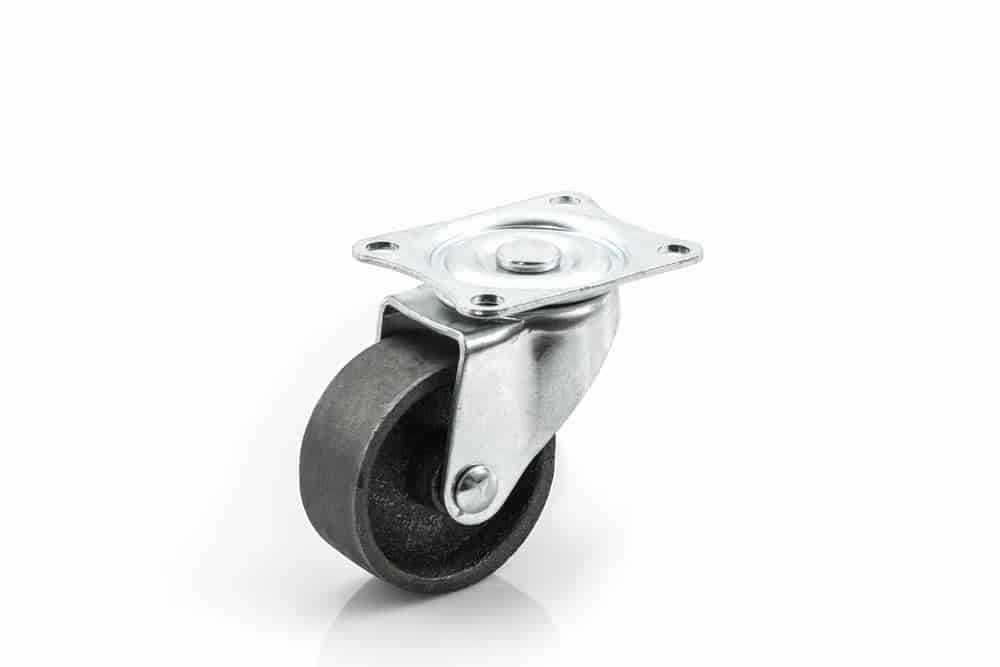 If you want to learn more, including how to remove each type, click here.
How does this help you find a replacement?
Well, you'll know what type of casters you should buy, of course!
Say, for example, your office chair has grip stem casters. You'll know that you should avoid buying the threaded stem or plate mounted casters.
You have to make sure your replacement matches.
How to Determine the Right Stem Size
Sure, it's easy to figure out that you need to match the new stems with the old ones…
And you can determine the type of stem with just one glance.
What's hard is finding the right stem size.
If you look into casters, you'll find some stems are short, while others are tall. The same goes for thickness and thinness.
If you get the wrong size, it either won't fit at all or will be super wobbly.
To avoid that, you need to measure your old casters.
There are 2 things to measure…
The length of the stem
The diameter of the stem
Measuring the length is easy enough.
Measuring the diameter will be a lot harder, though. It'll be confusing where the exact measurement points to.
We have a few tricks up our sleeve to help you get the exact diameter measurement.
The first one is to use a drill gauge. This is perfect since there are already exact measurements in each hole.
Check which hole your stem can fit through. That will be its diameter measurement.
Another trick is to use an adjustable wrench.
Sale
Secure the wrench onto the stem. Then remove the stem. From there, measure the wrench with a measuring tape or ruler.
This is a lot easier than measuring the stem's diameter itself.
For other tricks on how to measure the diameter, check this video:
How to Measure a Caster Stem
If you get these two measurements right, you'll be able to find a replacement that fits perfectly.
The Different Types of Caster Wheels
We've stressed that you need to find a replacement that matches with your casters' stem.
However, when it comes to the wheels, you can pick whatever you need or prefer.
There are so many different types of caster wheels…
But all fall under only 2 categories – twin wheels and single wheels.
Let's take a quick look at each category and the benefits it provides.
Twin-Wheeled Casters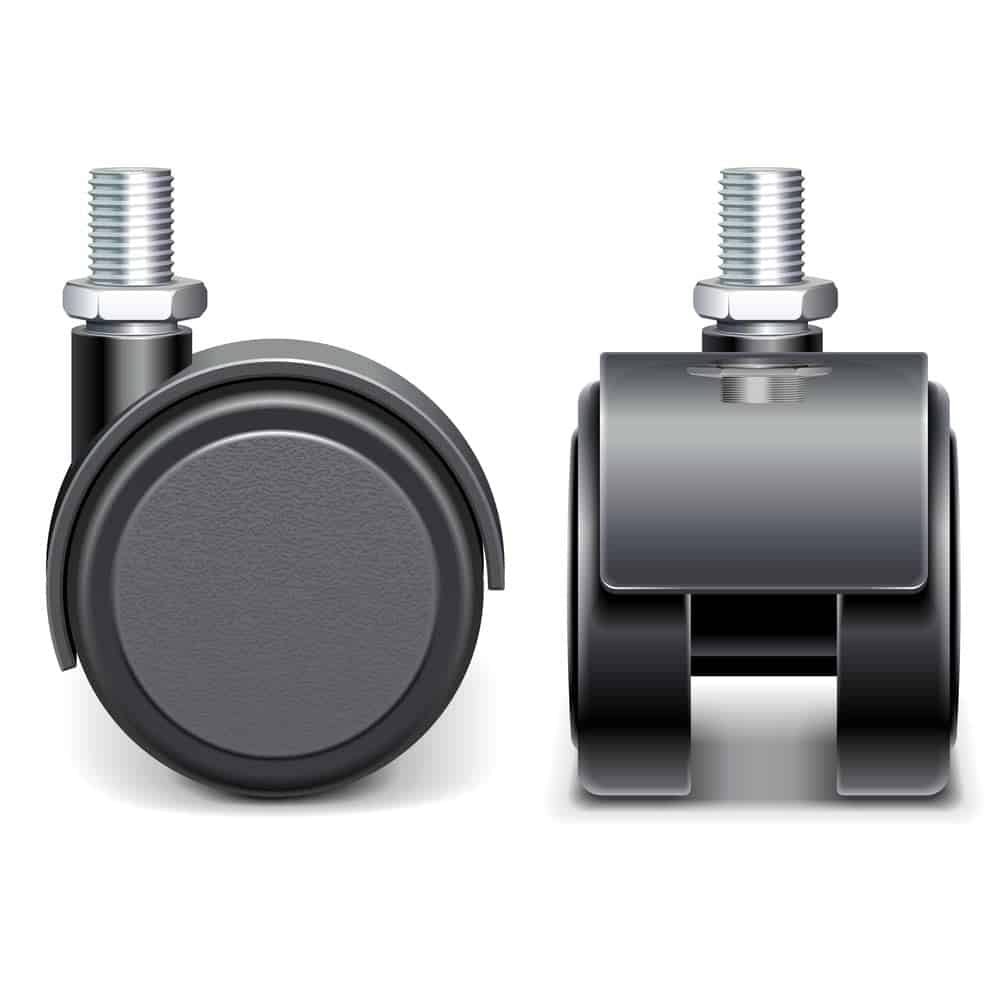 These are the most common casters you'll find in office chairs.
Since they're so common, it'll be so easy to find one in the markets today. There are even twin-wheeled casters with special features, such as the locking feature.
Click here for available twin-wheeled casters.
Another great thing about these casters is their double wheels. With a wider surface, it can distribute weight more evenly.
They won't feel unstable when quickly switching directions.
If your main concern is availability and stability, then twin-wheeled casters are best for you.
Single-Wheeled Casters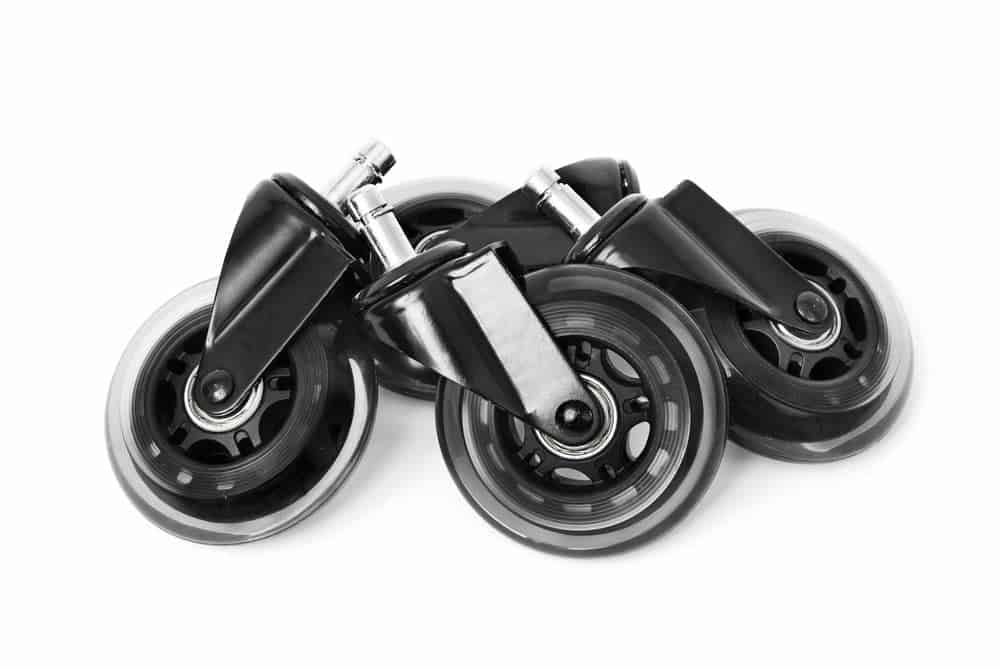 What's great about the single-wheeled casters, on the other hand, is that it's a lot stronger.
It'll be able to hold and withstand a much heavier person.
It also has a very solid structure with fewer moving parts. This makes it last much longer than twin-wheeled casters.
And, there's no need to worry about hair getting stuck. Single-wheeled casters are high-raised, making it hard for hairs to get in.
If some do get stuck, you can easily pluck it out since single-wheeled casters have wider openings for better access.
If you're looking for casters that have a strong build, last longer, and don't get clogged with hair, then single-wheeled casters are a good idea.
The Different Types of Wheel Material
When replacing your casters, the wheel material you choose will play a big role.
You'll see what we mean.
The 2 most common materials are…
The hard ones made from hard nylon.
The soft ones made from rubber or polyurethane.
What's better?
It all depends on your flooring.
If you move your office chair across carpets, rugs, or soft chair mats, it's best to get the hard nylon material.
If you move it across hardwood, tiles, or vinyl, it's best to go with the soft material.
A quick tip: Just remember that soft floorings are best with hard wheels. While hard floorings are best with soft wheels.
You might be wondering: why is that?
It takes less force to get a hard wheel rolling because of its impact on the ground. So it won't be difficult moving around soft carpets, rugs, and chair mats.
If you roll hard wheels on, say, hardwood, the impact will leave scratches, scuffs, and marks.
Who wants that?
The soft wheels are best for hard floors then because it minimizes the slides and scrapes on its surface.
Another tip: If you can't tell whether the wheel is hard or soft, try pricking it with a ballpen or your fingernail. If it dents a bit, it's soft. If not, then it's hard.
Depending on what wheel material you choose, it'll be able to protect your hardwood, tiles, vinyl, carpets, rug, mats, etc.
How to Pick the Best Caster Size
What about the size of the caster?
The bigger, the better.
This is because it creates less resistance when rolling. It can overcome obstacles such as small bumps on the flooring. It's also more durable, able to carry heavier weights, and lasts longer.
The good news is, you don't have to get the same size as the old ones.
So if you weren't satisfied with your old casters, you can go a size bigger on the replacements.
Say, for example, your casters are the standard size, 2in. If you want the added benefit of a bigger caster, opt for the 2.5in or 3in ones.
But, you should never get a smaller size.
If you do, it won't be able to handle the weight and pressure of the office chair.
3 Office Chair Caster Recommendations
To get you started, we're going to recommend 3 high-quality office chair casters.
1. Best Soft Casters: OPTTICO Office Chair Casters
If you're looking for a soft caster, this is one of the best in the markets today.
As promised, it won't scratch your hardwood floor, tiles, etc.
You can say goodbye to area rugs and chair mats.
Its ultra-thick polyurethane material makes sure the wheels are silent while moving around.
Not only that, but it also makes movement very smooth.
What's more, these casters are gorgeous. There's something so beautiful about its clear, thick polyurethane and black accents.
What else?
The 5 casters can carry a total weight of 650lbs!
And the best part is that it has a standard stem size.
These casters can fit a number of office chairs.
Of course, there are some downsides as well.
It's not great for carpets and soft floorings. Remember, soft wheels are for hard surfaces.
Another downside is that it'll make your office chair taller. This isn't a problem if you can lower the chair's height.
2. Best Twin-Wheeled Casters: Slipstick Office Chair Casters
What stands out with these twin-wheeled casters is their material.
Usually, twin-wheeled casters are made from hard nylon.
These casters are made from a sort of rubber.
It's hard enough to roll smoothly on soft flooring. And, it's soft enough to lessen the impact on hard flooring.
A quick tip: Though it's better than other hard casters, it's not the best in avoiding scratch marks on the floor.
How much can all 5 casters carry?
330lb!
Finally, what we love about it is that you get all that for a very affordable price.
Okay, what are the downsides?
It still might damage hardwood, tiles, vinyl…
3. Best Locking Feature: Skelang Office Chair Casters
The feature that we love in this set of casters is its locks.
There's always that annoying problem of our office chairs suddenly rolling away.
Have you ever experienced that?
To stop that from happening once and for all, get these casters as replacements.
You can lock the wheels when you want to stay put. And, if you ever need to move around, you can unlock it.
They're made from high-quality nylon which is sturdy and durable.
And, they can carry a total of 220lbs.
Another thing about them is that these casters are even cheaper than the Slipstick ones.
It'll be a great quick deal for you.
The package has only 4 casters inside, though.
If your office chair has 5 legs, which is more common, you'll have to buy another set to complete it.
Conclusion
Are you thinking about replacing your office chair casters?
Remember to keep these important points in mind:
The stem type and size should be the same as the old ones.
Twin-wheeled casters make movement easier with their roll and swivel function.
Single-wheeled casters are more solid and can carry heavier weights.
Hard wheels are for soft floorings, carpets, area rugs, chair mats, etc…
Soft wheels are for hard floorings, hardwood, tiles, vinyl, etc…
You can choose between the same caster size or a bigger one. Never get a smaller one.
With those points, you're well on your way to finding the best office chair casters for you.
We hope that this guide has been a great help!