Let me guess, you thought that it would be a great idea to buy an office chair for your desk.
But you were surprised to see just how expensive these chairs can get!
That's why you're here. You're trying to find out whether the price tags on some office chairs are fair, or worth it.
It's important to research the product before deciding to buy it.
Nowadays, there are affordable chairs in the market. However, office chairs with more features and higher quality tend to be more expensive.
Here are the reasons why.
Ergonomics
Ergonomics is a modern take on design. If a chair is legitimately ergonomic, it's going to be more expensive.
This is because ergonomic chairs require more adjustable features, better padding, lumbar support, and lightweight but sturdy materials.
To be sure what an ergonomic chair is, read on here.
Design
Office chairs come in different shapes and sizes.
Certain brands hire designers to make the chair as attractive as possible. For this reason, they charge extra.
Furthermore, depending on the design, the materials will also vary. This is why executive chairs are expensive because they are larger and require more materials.
Materials
Speaking of materials, you probably already know that this is a big reason why an office chair is expensive.
The better the quality, or the more materials are used, the higher the price point will be.
For instance, if you want quality memory foam, expect it to be more expensive than a chair with regular padding.
The same goes for the frame. The more durable it is and the higher the weight capacity, the more expensive it will be.
Mechanisms
Some chairs have more adjustable features than others.
Some chairs only have the height adjustment and tilt function. These are more affordable.
However, you can't possibly be completely comfortable without being able to adjust other aspects of the chair.
A fully adjustable office chair will allow you to alter the height, seat width, seat depth, armrests, tilt, and even recline.
All these are worth it in the end because you can make the chair custom to your need, size, and working environment.
Features
All office chairs have unique features. Some would have neck and headrests, others have footrests, and some even have massagers!
As you can imagine, the more features a chair offers, the more expensive it will be.
Take the Ficmax Gaming Chair as an example. It's not just a cool-looking seat for your gaming and office needs.
It has so many more features compared to a simple office chair. The neck cushion, lumbar massage pillow, and footrest are significant selling points.
Manufacturing
These chairs are manufactured with care and precision.
To get the office chair to you, there are workers behind the scenes making sure that the product is perfect.
These services and hard work are also considered when pricing an office chair fairly.
For a beautifully upholstered chair, it takes a lot of time to get the seams aligned and sturdy.
These hands-on workers put their heart and soul into making these chairs crafted as best as they can!
Quality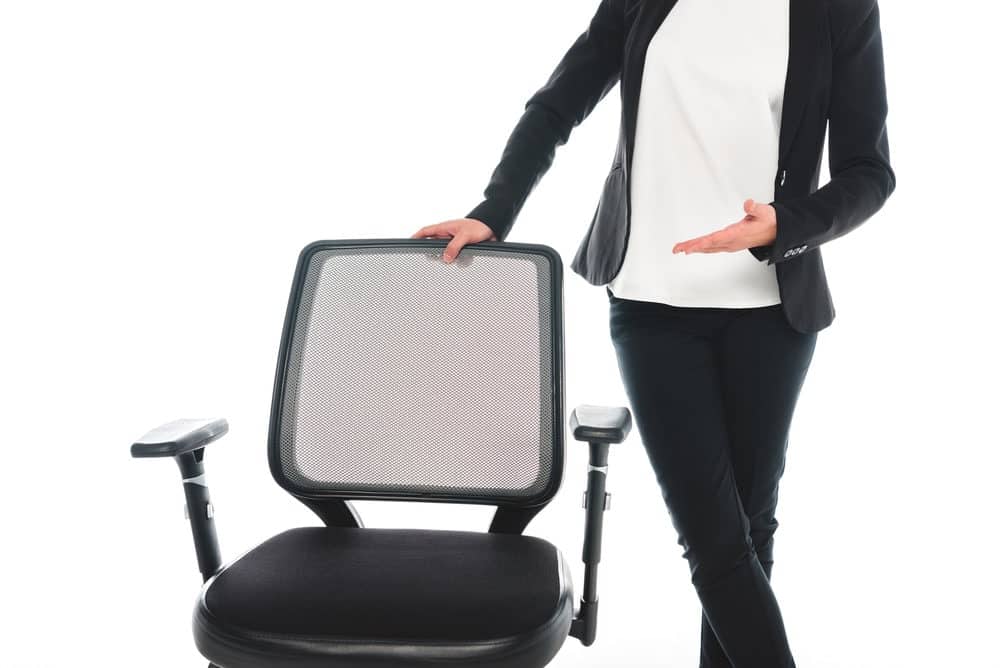 Everything from design, features, materials, ergonomics, manufacturing, and others make the overall quality of an office chair.
The quality will be how the manufacturers execute the design with the high-quality materials available.
If you skimp on the manufacturers, the craftsmanship will suffer.
If you skimp on the design, the chair won't look desirable for customers.
If you skim on the materials, the final product won't be sturdy.
So the overall quality is simply a combination of allocating enough money on all these aspects.
Make sure that you're paying for top-notch quality!
Brand
Branding is another aspect that can affect the price point of a chair.
If the brand is well known, they'll likely charge you more. Sometimes the brand name doesn't exactly match the price of the chair's quality.
This is why it's important to research on the chair.
Customer reviews and websites that do product reviews are also fantastic ways to find out whether the chair is worth it or not.
It's an investment!
Think of it this way, if you want a chair that will last you a lifetime, splurging on it once is worth it.
On the other hand, if you keep purchasing poorly made chairs because you want to save money is less practical.
You'll be spending more money once you realize that the cheaply made chairs require replacements and constant repairs!
It's not just the costs, it's also the stress and headaches you get because of it.
Asking customer service for replacements, the warranty, and even the money-back guarantee is such a hassle!
In the end, if you spend a bit more on a high-quality office chair, you can avoid all these inconveniences.
Cheap vs. Expensive Office Chairs: What are the Differences?
Is it worth it?
Here's what you should be doing.
Ask yourself this: "Am I worth it? Do I deserve such a nice chair?"
And I'm sure you know the answer to that!
So instead of looking at the costs, list down the features, quality, and selling points.
Compare these features to your needs, and to what you want in an office chair.
If you have back problems, you probably need to pay closer attention to the lumbar support and ergonomics of the seat.
Before you make your decision, which chair can adjust to my lifestyle and needs?
Read more: Why Are Herman Miller Chairs So Expensive?
Conclusion
Overall, considering the quality and multiple features, I would say that splurging on a high-quality office chair is worth it!
These days, most jobs are done in front of a computer. This puts a lot of pressure on your back and your posture.
If you have back problems, or if you spend most of the day sitting, it shouldn't even be a matter of debate!
You're not only taking care of yourself but you're also avoiding the hassle of buying a cheaper chair.