Do you know what a literal pain-in-the-neck is? It's sitting on your desk job for long continuous hours.
Add to that a chair with no support, et voila! You've got yourself back pain and awful posture!
But it's never too late to start taking care of your spinal health, and the best way to do that is to get yourself an ergonomic desk chair made especially with upper back and neck support.
And I hear you; it's easier said than done. How would you know what kind of office chair is suitable for neck pain?
Or even, which office chair should you buy if there's so many in the market?
That's the exact reason why you're here! This article is going to guide you through what aspects to look for in the best office chair for neck pain.
To make it even more helpful, we decided to include three different options that we deemed to be exceptional choices.
Before your back gets stiff reading this, let's get into it!
Buying guide for office chairs for neck pain
Manufacturers don't just make office chairs in the same design. Different features mean different functionalities!
For desk chairs that specifically target neck pain and upper back pain, be sure to look for the following aspects. So keep your notepad ready!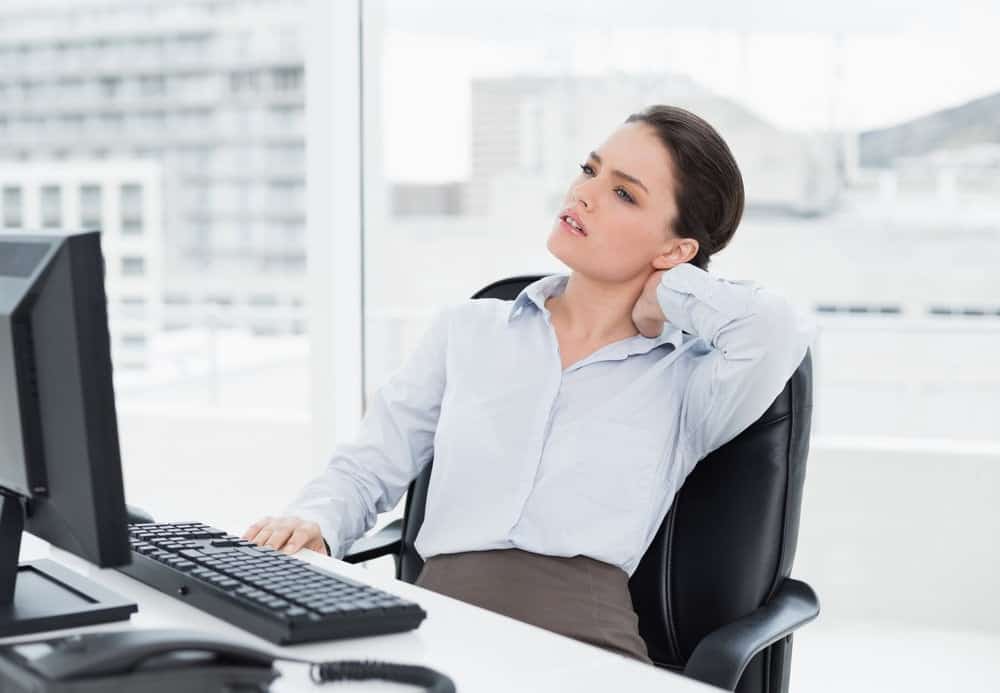 Ergonomics
If you don't know what an ergonomic office chair is, it's an office chair especially made and designed to make working in an office more practical and comfortable.
Learn more about ergonomic chairs here.
High-back ergonomic chairs can support the entirety of your back. Unlike a mid-back chair, you can lean back and relax your shoulders, neck, and head.
Adjustable parts
Not all chairs have the same adjustable parts. Most of the time, chairs that have more movable parts cost more.
Usually, office chairs have adjustable seat heights. Some might have adjustable heights and a tilt function.
For an adjustable chair to be helpful with neck pain, it would be advisable to have these movable parts:
Seat height
Seat depth
Tilt and tilt tension
Recline
Lumbar support
Armrests
Neck support height and angle
Adjustments are easy, simply follow these tips to make sure that you're correctly using your office chair!
Neck support or headrest
The headrest is the most crucial part to consider if you're suffering from neck pain. Having a headrest to lean your head back on can reduce tension and discomfort.
If you're at a stagnant position, leaning over for hours at a time, your upper back and neck are going to suffer.
So don't skip out on the neck support!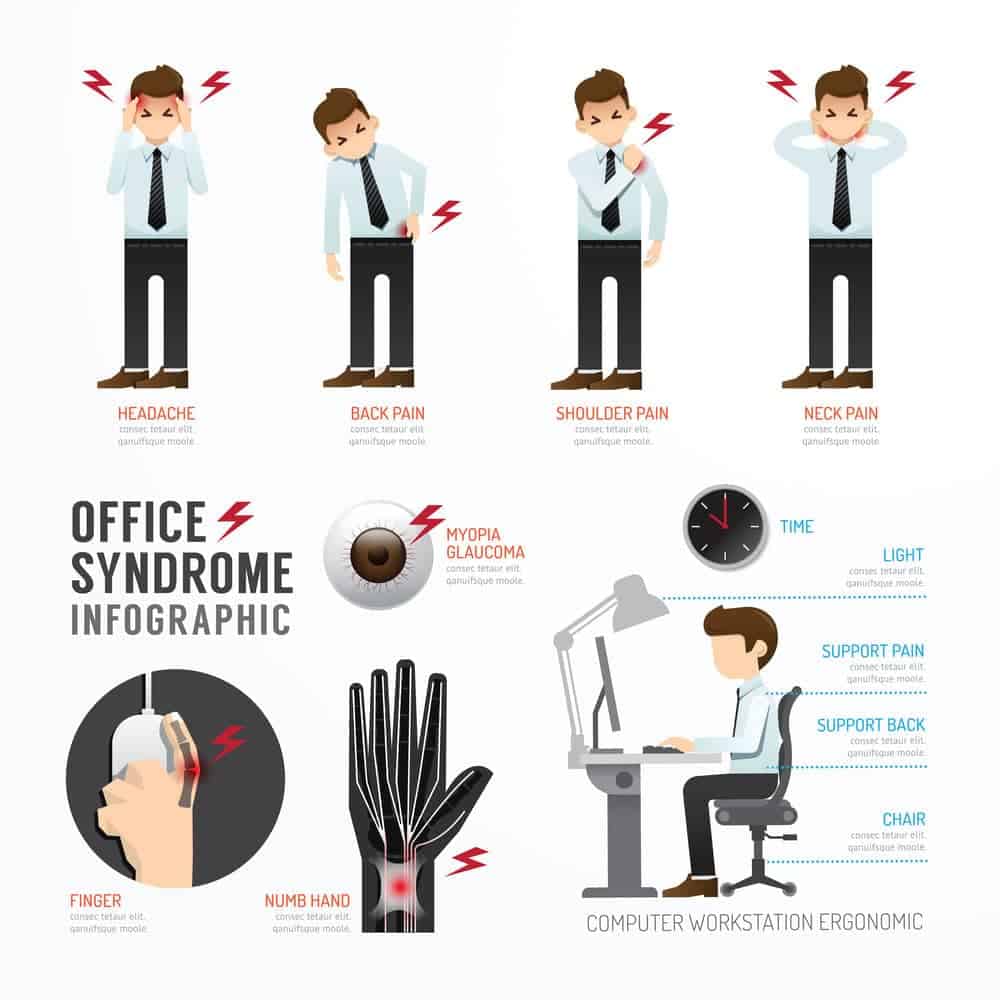 Armrests
You probably think that armrests have nothing to do with your neck or your spine, but it does! When working on a desk job, your body is affected by the angle of your arms.
One rule is to keep your elbows at a 90-degree angle as you work.
Armrests that can be adjusted will be perfect for helping support and keeping your elbows at rest.
At this proper angle, you can feel reduced pressure on your back and neck.
Lumbar support
We can't forget about this critical piece, because it's what will help you to avoid slouching.
Supporting your lumbar area can get rid of back pain, as well as straighten up your upper body.
On the whole, it's going to be healthy for your entire spine. For the best option, go for an office chair with adjustable lumbar support.
Recline
Finally, we can lay back and relax with the recline feature. Go for one that has a lock recline so you can sleep in your office chair if you wanted to.
The recline is fantastic during breaks when you feel your back aching. Laying back down is going to relax and straighten out your muscles and spine.
After a short nap, and a stretch, the pain will dissipate, and you can feel refreshed. You'll be more than ready to be productive and make a great impression!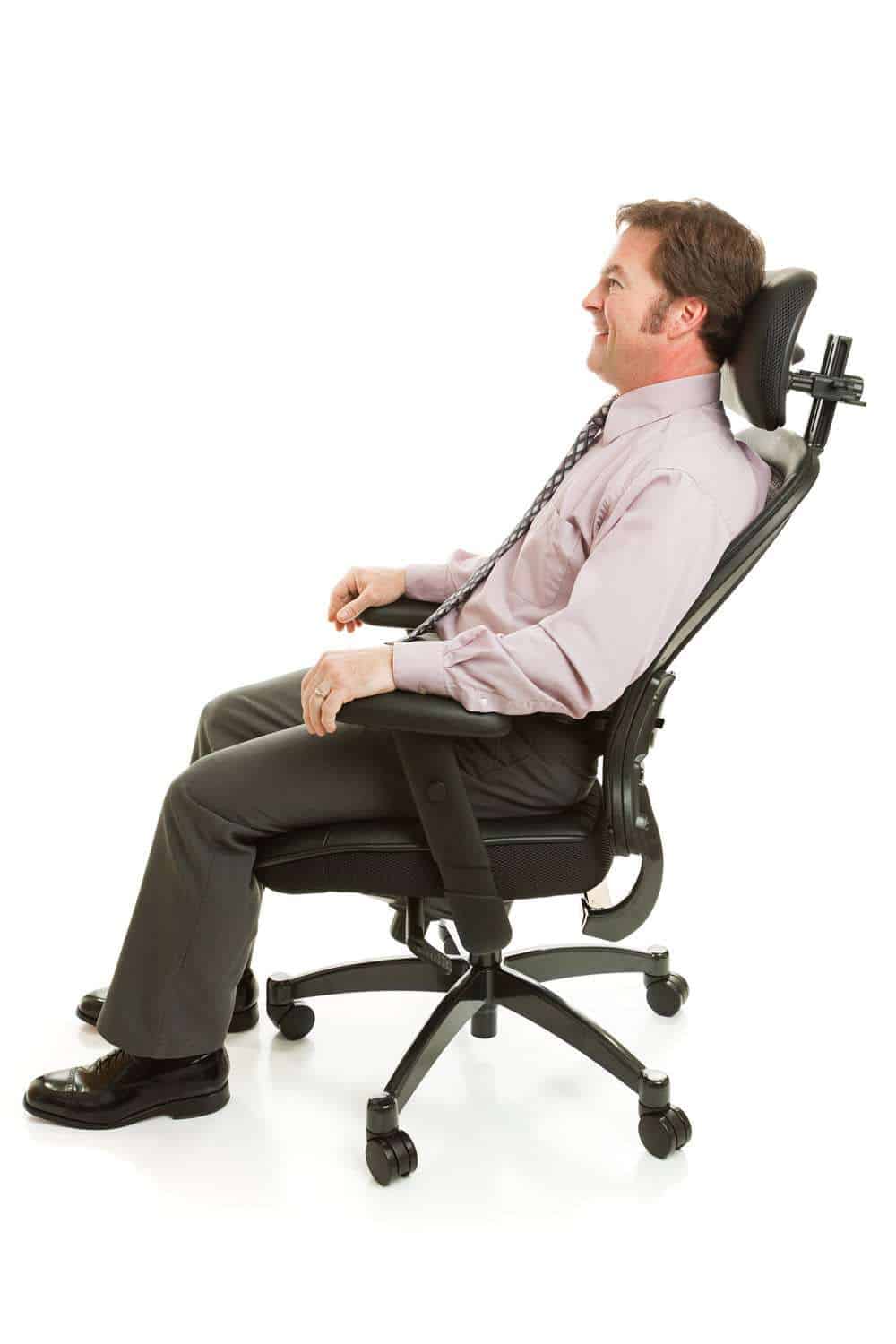 Read more: How To Sit In An Office Chair During Pregnancy?
Best office chairs to help resolve neck pain
With all these nuggets of information in mind, you have a guide to help you buy an office chair that can take care of you and your back and neck pains.
As promised, we're here to help you through with the best office chairs for neck pain.
1. Bestseller and most popular: NOHAUS Ergo3D Ergonomic Office Chair
For a trusted choice, the Ergo3D would be the chair for you.
Hailed as an Amazon's Choice product, you can be sure that this chair has received overwhelmingly positive reviews.
Features that help with neck pain:
You'll notice immediately that this chair has an adjustable headrest. You can adjust the height and angle to the most comfortable position to support your neck and head.
For sure, this is an ergonomic chair that has high back support, which also provides DYNAMIC lumbar support.
By using the user's weight or applied pressure, the lumbar support will react and pivot accordingly.
The combination of the back hugging and spine aligning backrest with lumbar support reduces pain and tension by balancing pressure more healthily.
For even more comfort, use the synchro recline to adjust the angle of the back by merely leaning on it.
Here's a useful tip: use the recline lock to keep it at a certain angle.
Other functions and features:
Height adjustable with class 4 hydraulics
Modern chic design
Soft, breathable HD mesh
Durable single piece iron base
Smooth and quiet blade wheels
Four color options: black, blue, burgundy, or gray
5-year warranty
The Absolute BEST Ergonomic Chair Under $300 | Nouhaus Ergo3D
CHECK LATEST PRICE ON AMAZON.COM
2. CHAMPION: The Aloria Series Office Chair by Oak Hollow Furniture
Out of all the chairs in this list, this is what WE RECOMMEND the most.
It has all the adjustable features you need to make the chair custom fit to your size, shape, and needs.
Pivot the headrest smoothly according to the height and angle your neck and head would naturally lean back.
The lumbar support is also a cut above the rest because it's completely adjustable.
Another superior feature is the adjustable seat depth, perfect for comfortable sitting no matter how long your legs are.
Remember: the healthiest way to sit in an office chair is to keep your knees at a 90-degree angle.
You can simply tilt the backrest using the tilt knob, or recline the chair if you want to relax during breaks.
There are four angles where you can lock the recline, so you don't have to worry about it not staying in place!
These little details have considerable effects on making your spine and neck feel aligned and comfortable.
Other functions and features:
Weight capacity of 300lbs
4-way adjustable armrests: heigh, forward or backward, inward or outward
Seat height adjustability
Synchronized back and seat tilt
Genuine leather seat
Three color options: black, gray, and red
5-year warranty on the leather seat
One downside is that this chair is on the pricey side, but considering the ergonomic design and full adjustability, it's worth it!
Some office chairs are expensive for good reasons, find out more about those reasons here.
CHECK LATEST PRICE ON AMAZON.COM
Unfortunately, not everyone can afford the Aloria Series office chair. Even if you can afford it, you might have a different opinion on whether it's worth it or not.
Thankfully, Smugdesk has an outstanding adjustable chair for a far more affordable price.
Are you feeling worried about the quality? Customers have given this desk chair high ratings, so you can be sure that the product is fantastic.
By using the buying guide, you can notice how this seat has many of the features you need to take care of your spinal and neck health.
The high backrest can support the entirety of your back, especially with its ergonomic design.
Combine this with the adjustable neck support, and you can notice reduced aches and pains in your neck and shoulder area!
Stretching out is a great way to feel relaxed, so be sure to do this with the tilt function of the chair to help you lean into it!
And don't worry, if you lean back, you won't fall unbalanced because of the extra secure double support backrest.
Other functions and features:
Adjustable armrests
Pullout footrest
Adjustable height
3-inch seat cushion
Multi-function lever to adjust the height and recline
12-month free replacement
30-day refund policy
While it's advertised as a reclining chair, it isn't a full recliner. However, the tilt still allows you to relax your back by pushing the backrest at a comfortable angle.
Overall, the excellent customer service, affordability, footrest, and outstanding quality is a steal for how affordable it is!
Final Verdict
Neck pain is a problem that can be solved by getting the ergonomics of your chair to a tee.
Specifically, an office chair that is adjustable, ergonomic, has lumbar support, moveable armrests, a reclining function, and an adjustable headrest can do wonders for your neck and spine.