So you've decided to buy an office chair.
Nowadays, you're spoilt for choice since there's no shortage of great brands to choose from.
Speaking of great brands, you'll surely come across Steelcase. They offer a wide selection of fully adjustable, ergonomic, and comfortable office chairs.
Each of their office chairs is crafted with a lot of thought and study into the science of sitting for long hours and good posture.
We've been reviewing the Steelcase office chairs one by one. Today, we're going to be talking all about the less-known-but-still-awesome Steelcase Think.
To take an in-depth look at Steelcase Think, we'll show you:
Who this office chair is for
What you get with the Think
All the features of this office chair
How to assemble it
Plus, we'll add some alternatives at the end.
So are you ready? Let's get started!
Who Is Steelcase Think For?
Your office chair should fit you. NOT you fit your office chair.
Does this sound like something you're looking for?
Then Steelcase Think is perfect for you!
In fact, Steelcase Think prides itself on this statement. With its full adjustability, you'll be able to customize it to your body type, your needs, your tasks, etc… (We'll talk about its features later on.)
It's also perfect for serious sitters – the people that spend 8-16 hours sitting down.
Bad posture will take its toll and discomfort to tire you fast. But Steelcase Think turns those down with its great support and optimum comfort.
Imagine this: Fewer body aches, more productivity.
As great as that sounds, Steelcase Think is not for everyone.
For one, it's expensive. Not everyone has the luxury to afford it. (If you can though, it'll be worth it!)
Also, comfort is a subjective matter. Some users swear that Think's comfort is unmatchable. While others complain a general it-could-have-been-made-better.
What Does Steelcase Think Offer?
Like every Steelcase office chair, the Think has a lot to offer.
A superior warranty
Excellent quality
Refined design
Chair options
Proper support and comfort
Let's take a close look at each one.
A Superior Warranty
With Steelcase Think office chair, you get a warranty unlike any other.
For the frame, seat shell, outer back, arm frame structure, base, and stool foot ring, Steelcase offers a lifetime warranty.
There's a 12-year warranty for everything else – mechanism, gas lift, arm caps, foam, casters…
Bear in mind, if you buy Steelcase Think from an unauthorized retailer, the warranty is voided.
Check here for the authorized retailers for Steelcase.
Excellent Quality
CHECK LATEST PRICE ON AMAZON.COM
Excellent quality is the hallmark of every Steelcase office chair.
Needless to say, the Think is no exception.
Each component is custom-made and carefully put together. Rest assured the Think isn't a mass-produced chair.
Because of that, it'll last 12-15 years. With intensive use!
Its durable and sustainable materials also allow a weight capacity of 300lbs!
Sustainable material you say…
Yes! Steelcase Think is made up of a third of recycled content.
"A chair that's good for people should also be good for the environment."
Here's a video showing you how Steelcase Think was imagined and designed:
Think Ergonomic Chair Reimagined. Design Story - Steelcase
Refined Design
There's something about the simple yet refined design of the Think that makes it stand out.
I mean, look at it…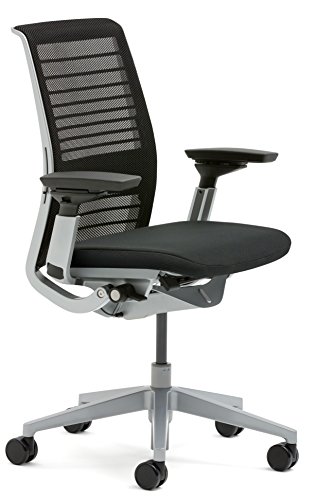 CHECK LATEST PRICE ON AMAZON.COM
Its 3D knit backrest provides an elegant touch. The flexible back ladder provides better support and structure. The levers and knobs are very easy to access…
The Think's design is a combination of both functionality and aesthetics.
Chair Options
Sure, the Think has a refined design. But it might not appeal to you.
Well, Steelcase gives the option to CUSTOMIZE THE DESIGN!
You can choose from 2 backrest materials (3D knit or upholstered), 16 fabric colors, 3 frame finishes, and even additional add-ons, such as a headrest, glides, coat hanger.
Not only that, but you can also get the Think in stool form, perfect for high desks.
The Think puts your needs and preferences above everything else.
Proper Support and Comfort
An office chair with the best warranty, quality, and design is nothing without proper support and comfort.
Good news! Steelcase Think offers that, too!
Despite the thin seat cushion, you can sit on it for hours without feeling any butt aches.
This is all thanks to the adaptive bolstering that conforms to your shape and position.
Your legs also stay comfortable with the flexible seat edge that flexes down to relieve pressure.
As for the 3D knit backrest, it has an Integrated LiveBack System and a Dual-Energy Lumbar.
What are those?
The Integrated LiveBack System is the flexible back ladders we mentioned. They track with the natural shape of your spine. As well as provide prescribed movement.
CHECK LATEST PRICE ON AMAZON.COM
You get embedded spring energy from the Dual-Energy Lumbar. This provides responsive lumbar support. So as you change position, the lumbar follows suit for optimum support and comfort.
Other support and comfort come from the armrests, tilt function, etc… (We'll talk about those in detail in the features section.)
But of course, since it's a subjective matter, there are a few complaints here and there.
The users that sit upright and don't practice good posture habits have issues with the lumbar support. Since it lacks firmness, they easily forget about maintaining a good lumbar curve.
If you need firm lumbar support, then this isn't Think's forte.
Another issue came from the Integrated LiveBack System. There were some complaints that the rungs felt like it was digging into their shoulders. Then again, other uses weren't bothered by it.
Lastly, Steelcase Think has a limited recline position (only 123°). This didn't go well for users that wanted a deep recline to give their spines a rest.
As we said, it's subjective. It all depends on you.
Read more: Steelcase Leap vs. Think
Steelcase Think Features
The crux of Steelcase Think lies in its adjustable features.
This is what makes it the perfect office chair for a wide scope of users.
No, you won't get 20 adjustments to handle. That'll only hassle you.
Instead, you get simple, straightforward features that allow the chair to adapt to YOU.
These are the features of the Think:
Seat height
Seat depth
Recline/tilt tension
Adjustable armrests
Adjustable lumbar support
Now, let's look at them one by one.
Seat Height
You'll hardly find an office chair without the basic seat height adjustment.
What's great about the Think is that you can adjust it from 16.5″ to 21.5″.
That's a 5″ difference! A good height range for tall or short users.
Seat Depth
If the seat edge is too near or too far from behind our knees, there's a lot of pressure on our legs.
Not only that, but our legs and lumbar are also not fully supported.
This is why seat depth adjustment is vital. With it, you get to customize the seat edge to the prescribed 3-4″ away from behind the knees.
You can adjust the Think's seat depth from 15.5″ to 18″.
Recline/Tilt Tension
With the Think, you get a unique reclining system.
Usually, there are 2 knobs to adjust the recline and tension separately. But the Think combined both in one knob to create a semi self-adjusting office chair.
Semi self-adjusting means it automatically adds more resistance for heavier users. This is detected by the weight mechanism that connects from the backrest to the seat.
This is the perfect feature if you share your office chair with others.
Since it's only SEMI self-adjusting, you can still choose your preferred recline angle.
Upright – 111° hip angle
Mid-stop – 117° hip angle
Near-upright – 115° hip angle
Maximum recline – 123° hip angle
One thing to note. The resistance increase is rather steep. It won't allow you to rock back and forth. It does, however, produce a bouncy backrest, which in our minds, is better as it isn't too "swingy".
Another thing to note. There's a slight inconvenience when changing the recline angle. You'll need to lean forward to activate the knob. You could use the bounce to push you forward though.
Sure enough, not everyone is a fan of this reclining system. They prefer to be able to adjust everything individually.
Check out this video showing you the Think's reclining system:
Steelcase Think (v2) chair - recline mechanism
Adjustable Armrests
Of all the Think's features, the adjustable armrest received the most praise. Dare we say it…
The best in the industry!
You can adjust it in all four directions:
Height – 7″ to 11″
Width – 14″ to 21.25″
Depth – Can retract 3″
Inward/outward pivot – 30° range
Not to mention, it stays level. You'll be able to use it in all recline positions.
Want it out of the way? Put it at the lowest position and it won't bother you.
Talk about fitting a wide user scope!
Adjustable Lumbar Support
Yes, even the lumbar support is adjustable.
With a height of 6″ to 10.25″, you can adjust it to perfectly fit the curve of your back.
However, it tends to slide down if you use the recline positions a lot.
Fortunately, you can solve this problem by sticking cardboard into the slots below the adjustable tabs.
To summarize, here's a table with all the Think's features:
Seat height:
16.5" to 21.5"
Seat depth:
15.5" to 18"
Recline/tilt tension:
upright – 111° hip angle
mid-stop – 117° hip angle
near-upright – 115° hip angle
maximum recline – 123° hip angle
Adjustable armrest:

height – 7″ to 11″
width – 14″ to 21.25″
depth – can retract 3″
inward/outward pivot – 30° range

Adjustable lumbar support:
6" to 10.25"
Also, check out this video showing you how to use the features:
The New Think - Adjustability
How to Assemble Steelcase Think
Assembling a new office chair can be a daunting task. Especially with a lack of instructions and tools.
Thankfully, Steelcase Think comes with an already assembled seat/base. All you need to do is install the backrest.
You can do this in 4 simple steps:
Slide the seat depth all the way forward. The adjustment handle is under the front edge of the seat.
Lay the chair's back frame on top of the seat and align the rails with the rail receivers on the chair base.
Slowly lift the back frame and allow the rail to slide into the rail receiver until the bolt holes are aligned.
Place the provided screws onto the bolt holes and tighten with the Allen-wrench (also provided).
And there you have it! Your Think is ready to use!
To give you a clearer picture of this process, check out this video:
Reassemble Steelcase V1 465 Think Chair - Crandall Office Furniture
Is Steelcase Think For You?
No doubt Steelcase Think is one of the top office chairs today. But the question is…
Is it for YOU?
You're the only one who can answer that.
With this in-depth review, it's a lot easier to decide whether you should go for it or not.
Alternatives
When looking for the best office chair for you, it's always good to look into alternatives.
If you were impressed with Steelcase Think, wait until you learn about the Steelcase Leap V2…
Sale
…or the Steelcase Gesture…
Both offer better features, comfort, support, and user scope. Didn't think that was possible?
As you might expect, these alternatives are more expensive than the Think.
What if you're looking for a cheaper Steelcase office chair…
Then check out the Steelcase Criterion.
Steelcase Criterion Chair, Black Fabric -
Its soft curves provide all-day comfort and the seven independent adjustments offer support through the full range...
To keep you comfortable, change your recline position throughout the day with a variable back lock that stops in...
Arms adjust independently to give you ultimate control and support for your arms, shoulders and neck
For a much cheaper alternative, the SMUGDESK office chair is a great option.
For its price, you're already getting quite a lot. e.g. comfortable head, seat, and lumbar support. All the basic adjustments. As well as a 12-month accessory replacement service.
Conclusion
To recap some of the most important aspects:
Steelcase Think is for people willing to spend for a high-end office chair.
Steelcase Think is for people that sit long hours a day, around 8-16 hours.
You get a lifetime warranty for the frame and a 12-year warranty for the other parts.
You can customize your own chair design – material, colors, add-ons, etc…
It has an adaptive bolstering, flexible seat edge, Integrated LiveBack System, and Dual-Energy Lumbar for proper comfort and support.
The lumbar support lacks firmness.
The recline position is limited.
It has a unique reclining system that's semi-self adjusting.
It has an awesome 4-way adjustable armrest.
We hope that this article has been a great help!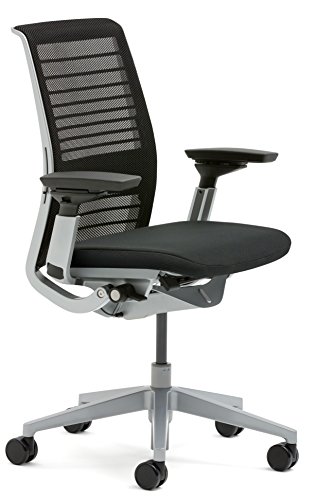 CHECK LATEST PRICE ON AMAZON.COM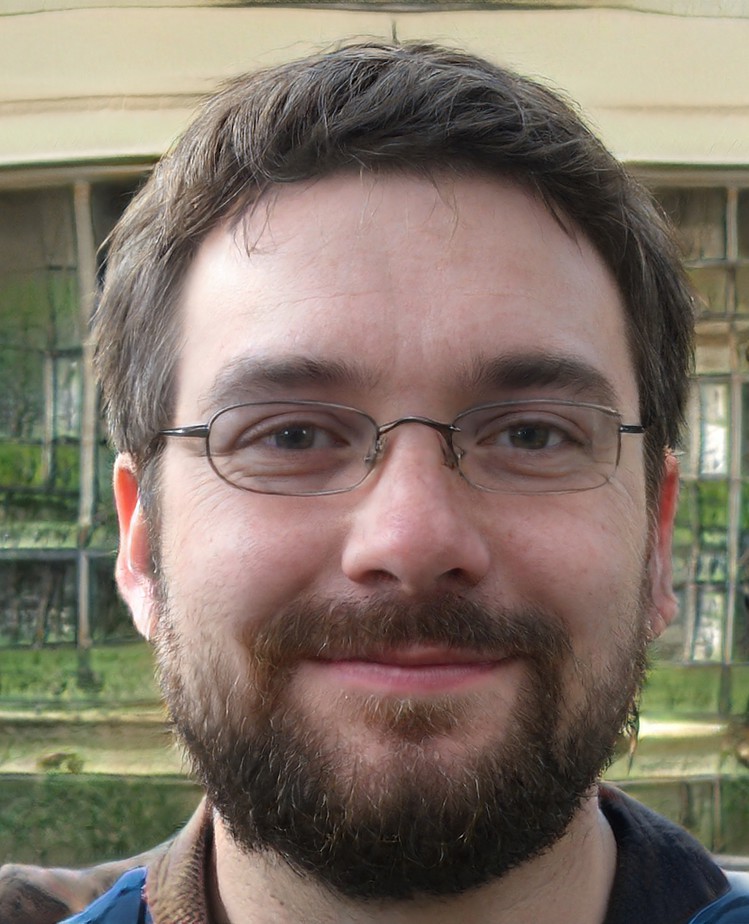 My name is Vance, and I am the owner of To Ergonomics. Our mission is to improve your workflow by helping you create a supportive and welcoming environment. We hope that you'll find what you're looking for while you're here.