When it comes to the big leagues of office furniture, specifically ergonomic office chairs, Steelcase and Herman Miller are the top players.
So it's not a surprise that customers are curious about which brand is better. As buyers, it's just as logical and fair to ask what their best products are and which company offers a better deal?
To be fair, we'll let each company put their best foot forward, by comparing their top products: Leap by Steelcase, and Aeron by Herman Miller.
As consumers, I agree that one product might be better than the other, but it all boils down to personalization and preference.
And that's exactly what this article is going to help you out with!
Make sure to have a list ready for what features you prefer in a chair, this is going to help you out with your final verdict.
If you're ready, then let's take a deep dive into the specifics of these high-end ergonomic chairs from the finest manufacturers in the business.
Direct Comparisons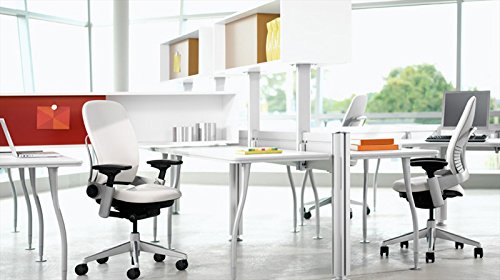 First off, get to know the basics of both of these premium office chairs.
The most obvious thing you'll notice about these products is that they're on the expensive side. Buyers of these chairs think of it as an investment rather than a spur-of-the-moment purchase.
Another similarity is how these are both made from recycled materials, making it a fantastic option for environmentally conscious individuals.
And either one is designed with a lot of research and intention behind it. The build of these chairs is founded on science and ergonomics.
Furthermore, both chairs can be personalized. Ironically, this is also where they tend to differ.
The customizable parts, optional features, and upholstery materials are all notably distinct.
Here's a quick rundown on the similarities and differences between these two office chairs.
Design
Ergonomic, adjustable, and customizable
Ergonomic, adjustable, and customizable
Upholstery
Fabric or leather (12 colors)
Sizes
Chair, Stool, Work Lounge, or LeapPlus
Design
Ergonomic, adjustable, and customizable
Upholstery
Fabric or leather (12 colors)
Sizes
Chair, Stool, Work Lounge, or LeapPlus
Design
Ergonomic, adjustable, and customizable
Breaking it down
For such pricey chairs, it's important to get to know the features in detail. This way, you can be 100% sure that you're ready to commit to the product.
1. Sustainable Materials
In this time of environmental awareness, it's great that consumers and companies are doing their part in taking steps for sustainability.
Steelcase Leap
One thing I'm impressed with Steelcase is that they're transparent about the recyclability of their chairs.
To be specific, the Leap chair is 94% recyclable by weight, and it's made out of 35% recycled content.
Herman Miller Aeron
Of course, Herman Miller won't back down in this department, either!
Sustainability is one of the pillars of their advocacy, so they need to instill this in the products that they create.
As the crowning jewel of the company, Aeron embodies this cause. It's 91% recyclable, uses 38% post-consumer content, and 39% recyclable materials.
2. Smooth Shifting
Ergonomics is an important consideration if you work in an office for long continuous hours.
If the chair is designed to make working in an office comfortable and practical, then the chair is legitimately ergonomic.
Steelcase Leap
Leap's design is specifically attentive to the spine, lower back, posture, and how our back moves.
It not only props us up in a stationary position, it "glides" smoothly and naturally with our movements.
Unfortunately, the difference lies in how the backrest is the only part that moves along as you lean.
Herman Miller Aeron
The Aeron chair is similar in this department as it does shift along with the movement of the user.
However, it's a notch better than the Leap because the entirety of the chair moves seamlessly along with you.
It's not just the backrest that moves with you, but the seat, too!
3. Upholstery
This is where these chairs completely differ, making it easier for one to decide if one chair is more appropriate for their lifestyle or not.
Steelcase Leap
Leap is thickly cushioned and upholstered with fabric or leather, which is fully dependent on your choice.
There are also multiple color options, some vibrant and fun shades that can bring a splash of liveliness in your office!
If you don't particularly like the feeling of mesh, then this is a chair that would suit you better.
Herman Miller Aeron
Oppositely, Herman Miller's Aeron uses their brand of mesh called the Pellicle. Breathability is one of the pros of these materials.
If you tend to get warm, then the Aeron will allow you to feel cool throughout the day.
It's also a sturdy choice because it does provide support and slack in targeted parts of the office chair.
As for color options, there are only 3 choices, but each one is custom curated to fit in virtually any space or office.
4. Sizes and weight capacities
Unlike most chairs that only come in one size, these office chairs come in a variety of sizes and versions to accommodate users of different weights and sizes.
Steelcase Leap
The Leap chair comes in 4 sizes:
Leap Chair (400lbs)
Stool (400lbs) – comes with a foot ring
WorkLounge (400lbs) – for those who prefer to work in a deep reclined posture
LeapPlus (500lbs)
For a greater weight capacity, I suggest going for Leap instead.
Herman Miller Aeron
You can choose from three sizes, depending on your weight limit and height:
− Small:
4'10" – 5'9" tall
90 – 150 lbs
− Medium:
5'2" – 6'6" tall
130 – 325 lbs
− Large:
5'3" – 6'6" tall
180 – 350 lbs
5. Armrests
There are pros and cons to the armrests of each of these products, but overall I think Aeron takes the cake for this.
Steelcase Leap
You can customize the armrests to your preference:
Armless
Height adjustable
Height, depth, width, and pivot adjustable
The great thing about the adjustability of the armrests is that it's easier to move around.
However, the downside is that when the user reclines, the armrests don't move with the rest of the chair.
Herman Miller Aeron
Similarly, you can also choose the armrests for your Aeron chair:
Stationary arms
Height adjustable
Height, depth, and pivot adjustable
The armrests for Aeron are a little more tricky to adjust because there's a lock that you need to pull on. Furthermore, it doesn't pivot inward as much as the Leap's armrests do.
However, what's great about the design of their armrests is that when the user reclines, the armrests follow.
6. Lumbar support
One important factor to consider when looking for a great office chair is its lumbar support. But how do these products differ in terms of this feature?
Steelcase Leap
If you choose to add the movable lumbar support to your chair, you get a 5" adjustment to the lower lumbar area.
Plus, you can adjust the firmness of the lower back depending on what you find to be more comfortable.
Again, the backrest and lumbar support are cushioned, as opposed to the Aeron chair.
Herman Miller Aeron
With the adjustable lumbar support of the Aeron chair, you can stabilize both the sacrum and the lumbar region of the spine.
If you suffer from back and neck pain, you can be sure that you can feel a difference in your posture and overall spinal health.
The Aeron does provide better adjustability for lumbar support. That being said, it does depend on whether you prefer mesh over padding.
7. Other customizable and adjustable parts
There are plenty of parts that you can adjust to these chairs. However, some features were not included in some of these chairs.
Steelcase Leap
Just like most chairs, you can adjust the seat height, angle, tilt, and recline.
You also have the option to choose casters for carpet or hard floors.
But unlike the usual cheap ergonomic chairs on the market, you get the additional adjustability for the seat depth, seat pan angle, and angle between the seat and back.
One downside is that the back height isn't adjustable.
But on the bright side, unlike the Aeron, Leap does give you the option to add a headrest to your chair.
Herman Miller Aeron
On the other hand, we have Aeron which also offers numerous customizable and adjustable parts.
After choosing the size, color, lumbar support, and armrests, you can also choose different tilt functions, arm pads, and casters.
One thing that some users wished Herman Miller would add is an optional headrest.
8. Warranty
For such expensive office chairs, it's necessary to give customers a warranty, a reasonable return policy, and helpful customer service.
Steelcase Leap
The warranty Steelcase offers for the Leap chair depends on the parts:
Lifetime warranty: seat shells, base stool, foot ring arm frame, outer back, frame
12-year warranty: headrests, coat hanger, lumbar mechanisms, other mechanisms, pneumatic cylinders/gas lifts, foam, and more.
For more details, check out their detailed warranty here.
Customer service is also fantastic as they send the chair completely assembled!
You can also access all manuals, and documents on their website easily.
Steelcase: (888) 783-3522 or email through their contact page.
Herman Miller Aeron
Just like Steelcase, Herman Miller also offers a great warranty for their chairs. The Aeron has a 12-year warranty, which hints at how long-lasting this chair is.
Just like Leap, the Aeron also comes fully assembled to your doorstep!
Plus, everything you need to know about the chair, such as related manuals and documents is available on their website.
Still, both companies are just an email away on their contact page or through their numbers.
Herman Miller: 1-888-443-4357 or email through their contact page.
Final Recount
For an easy summary, let's tally the points that each chair got!
Steelcase Leap: 7/10
Herman Miller Aeron: 8/10
Herman Miller Aeron vs Steelcase Leap V2: Which is best for me?
Pros and Cons
Pros
Cons

Recycled
Fabric upholstery/cushioned
More color options
Higher weight capacity
Optional headrest
Warranty
Assembly

The shift is not as dynamic as Aeron
Armrests do not move with recline
Expensive

Recycled
Smoother shift
Mesh (cool and breathable)
Better armrests
Superior lumbar support adjustability
Back height adjustable
Warranty
Assembly

Fewer color options
Limited Weight Capacity
Expensive
Final Verdict
When it comes to either of these chairs, it's important to consider them as serious investments that require intensive research.
After reading this article, and combining it with your preferences you can make a sound decision on which chair you think is superior for you.
Again, considering the features and overall functionality of these chairs, it's a close match!
There are numerous similarities and differences when it comes to customization and overall design.
That being said, for a more dynamic seat that moves with your body more smoothly and naturally, I think the Aeron by Herman Miller wins hands down.
However, if you don't like mesh, and prefer a fully adjustable fabric and cushioned office chair with a headrest, then the Leap is more your style.
Design
Ergonomic, adjustable, and customizable
Ergonomic, adjustable, and customizable
Upholstery
Fabric or leather (12 colors)
Sizes
Chair, Stool, Work Lounge, or LeapPlus
Design
Ergonomic, adjustable, and customizable
Upholstery
Fabric or leather (12 colors)
Sizes
Chair, Stool, Work Lounge, or LeapPlus
Design
Ergonomic, adjustable, and customizable