Don't you wish that all chairs were as comfortable as La-Z-Boy recliners? Because I sure do!
We all know that La-Z-Boy is a trusted brand that most households have.
So, imagine my pleasant surprise when I found out that they made La-Z-Boy office chairs, too.
That comfort and coziness in the office are just what every desk job needs!
But you don't need to scour through online merchants to find the best La-Z-Boy office chairs because all you need to do is scroll below.
We've found the best ones depending on different tastes and needs. There are even alternatives in case La-Z-Boy just doesn't pique your interest.
IN A HURRY? HERE'S OUR TOP PICKS
5 Most Comfortable La-Z-Boy Office Chairs
Don't worry about the research, because we've got you covered. Let's start with the top choices for La-Z-Boy office chairs.
1. Amazon's Choice: La-Z-Boy Bellamy Executive Office Chair
This La-Z-Boy office chair model is at the top of the list because it's named as Amazon's Choice.
Numerous positive reviews reflect why this product is so popular.
Some ergonomic designs that I adore in this chair are the built-in lumbar support and the waterfall seat edge.
The lumbar support is great for everyone because the S-shape of the back is designed in a way that fits perfectly with your spine.
As for the waterfall seat, it's a helpful and practical way to reduce stress on your legs.
To finish the upholstery off, they used bonded leather which is known to be easy to clean, and it fits in with that classic aesthetic that NEVER GOES OUT OF STYLE.
The solid wood arms and base is incredibly sturdy and can support up to 250 lbs.
Of course, we can't forget about the adjustable height, recline, and tilt, which adds to the convenience of this desk chair.
What we like:
For premium comfort, the Bellamy is cushioned with memory foam. As we know, memory foam is the best in comparison to other padding materials.
You can even get two color options: black or brown. I think either one is neutral enough to fit in with whatever color scheme you have going on in your office.
What we don't like:
The downside to this chair is that it's not as comfortable when it's brand new because it needs breaking into.
But after you've done that the La-Z-Boy comfort is guaranteed.
La Z Boy Bellamy Executive Bonded Leather Office Chair
CHECK LATEST PRICE ON AMAZON.COM
2. Best for heavyweights: La-Z-Boy Big and Tall Ergonomic Executive Chair
The main reason why I picked out this executive chair is that it has a greater weight capacity.
The problem with standard-sized chairs is that they can't be used by bigger individuals, which can be frustrating and not all-inclusive to body types.
Just like the other office chairs by La-Z-Boy, the plush memory foam cushioning is ergonomic and made to align with the contours of your body.
Another similarity is that this chair also uses bonded leather, which comes in black or brown.
Again, the seat height is adjustable from 20"-22" which is a great addition even for taller users.
You can also modify the recline and tilt to see what position is most comfortable for you.
What we like:
Most impressively, this chair supports users up to 350 lbs. The solid wood arms and base is a significant contributor to this.
The inside seat width is also 24", which will is a great deal wider than standard-sized seats.
What we don't like:
While most customers were happy with their products, some complained about receiving damaged items.
For this, I recommend checking all the parts as soon as you get your package and then getting in touch with the seller immediately if you find any problems.
Lazboy black Executive Office Chair Review
CHECK LATEST PRICE ON AMAZON.COM
3. Top choice for tall users: La-Z-Boy Delano Big and Tall Executive Office Chair
Sale
The difference between this one and the big and tall executive chair above is that the Delano office chair is perfect for taller people specifically.
Most of the features are similar to the other models, such as the adjustable height, recline, and tilt.
The ergonomic memory foam cushioning is also more or less similar in that they're both designed in a way that fits well with the natural curvature of your body.
Overall this is just as comfortable and sleek in design, because of the bonded leather upholstery.
What we like:
As mentioned before, this is a fantastic chair for taller people because of the 27" back, and the 32.25" seat depth.
And true to the big and tall feature, it can also support up to 350 lbs! So it's not just for tall people it's also a marvelous seat for heavier people.
But what sets this seat apart from the other models is that it has more color options!
You can choose from:
Black with mahogany stained wood
Black with weathered gray wood
Brown with mahogany stained wood
Brown with weathered gray wood
What we don't like:
A problem that buyers have noticed is the inconsistent quality control. Some buyers have received awesome chairs, while others had problems with their purchases.
CHECK LATEST PRICE ON AMAZON.COM
4. Top trendy pick: La-Z-Boy Greyson Modern Executive Chair
Sale
What's special about this chair, you ask? Well, it's mainly in the modern design that would just fit so well with the contemporary wide-open office spaces of today.
Most chairs these days have a similar aesthetic, and it's nice to see something sleek, simple, and chic.
Again, this chair has the same adjustable height, recline, and tilt which will can all be modified to the comfort of the user.
This too has the ergonomic memory foam cushioning that's designed to support the natural form of your spine and the rest of your body.
You'll also find that the same sturdy wood is used for the arms and base to support your weight.
What we like:
The main selling point for me here is the aesthetic, modern, and stylish design of this chair.
Aside from the same comfortability and durability, you also get a fashionable piece of furniture.
It comes in brown, black, and grey. If you ask me, go for the grey one since it's just a breath of fresh air in comparison to the usual black or brown.
What we don't like:
There's nothing wrong with the chair, it's fantastic. The main downside here is that customer service is reported to be poor.
CHECK LATEST PRICE ON AMAZON.COM
5. La-Z-Boy Dawson Modern Executive Office Chair
With the popularity of white office chairs right now, I just had to put the Dawson La-Z-Boy office chair on the list.
As you may have noticed by now, La-Z-Boy office chairs make use of ergonomic memory foam cushioning, and they have that built-in ergonomic support.
This chair is no different, and it also has the same adjustable features for height, recline, and tilt.
Just like most standard-sized office chairs, this also has a weight capacity of 250lbs.
What we like:
But what makes this chair stand out is the pristine white finish of the upholstery against the brown and gray hardware is just a dream for anyone who's a fan of elegant design.
The faux leather upholstery also comes in brown in case, white isn't your cup of tea.
What we don't like:
One problem is that the armrests aren't adjustable so if you need to bring it up, I suggest using extra padding instead.
CHECK LATEST PRICE ON AMAZON.COM
5 La-Z-Boy Office Chair Alternatives
Checked all the products above but still haven't found the right chair for you?
If so, you're in luck because we've included alternatives that might just catch your eye.
The chairs below are from various brands and they have unique features and designs that are sure to impress even the pickiest shopper.
1. Attractive and adjustable: Glitzhome High-Back Executive Office Chair
Sale
Glitzhome Adjustable High-Back Office Chair Executive Swivel Chair PU Leather, Camel
EXQUISITE DESIGN - Leatherette Office Chair in camel color is designed to add an accent and stylish touch to your...
ASSEMBLY AND CLEAN REQUIRED - Easy to assemble, perfect as a office chair. Easy to maintain clean, spot clean or...
FLEXIBLE ADJUSTMENT- Provide your comfort with this home office chair, 87°-106° adjustable angel backrest,...
If you're into the modern aesthetic but you also love the classic executive chair look, you'll love this sleek and unique office chair.
With the faux leather upholstery, you can have that luxurious look minus the high maintenance because it's effortless to clean and maintain.
You don't even have to be an expert with tools to assemble this because it's quick and easy.
Too busy for that? Then you can simply pay for the expert assembly services!
But it isn't just an attractive chair, it's also practical and has more adjustable features such as the backrest angle, seat cushion angle, arm height, and seat height.
What we like:
What I like about this chair is the variety of classic color options. You can choose from camel, brown, coffee, and cream.
Did I mention that it's also an Amazon's Choice product?
For all these amazing features and positive reviews, it's amazing that it's still at such an AFFORDABLE price!
What we don't like:
Just like other chairs with packed cushioning, this one needs breaking in. But after the cushioning and faux leather upholstery has been softened, you can feel the utmost comfort this office chair can offer.
Glitzhome Adjustable Office Chair High-Back Executive Swivel Chair with PU Leather
CHECK LATEST PRICE ON AMAZON.COM
2. Perfect for back pain: HOMCOM High Back Executive Massage Chair
Suffering from back pain is something desk workers have in common. If you're one of us, I am certain that this chair is going to be heaven-sent for you.
This office chair was designed with your posture and health in mind.
With the high back, you can support the entirety of your spine, so you can lean back and relax from time to time.
They didn't forget about the built-in lumbar support either. This targets your lower back to help you sit up straight and alleviate pain in your lumbar area.
You can also do some stretches and feel more relaxed with the rocking function.
You might even rock yourself to sleep, and for this, you'll love the 135-degree recline!
If you love to take naps on your break, it's going to be a tremendous help.
Finally, the PU leather upholstery is very elegant and also easy to clean.
What we like:
The main selling feature of this chair is the HEATING and VIBRATING MASSAGER.
With 6 massage settings, you can hit the spot and relieve strain on your upper back, shoulders, down to your lower back and legs!
Using the remote control, pick out the massage settings, set the timer for 15, 30, or 60 minutes, and just sit back and relax.
It's hard to believe that this is one of the most inexpensive chairs on this list!
What we don't like:
There are mixed reviews but overall the rating is outstanding.
The only problem you'll have is that everyone else will want to sit in your chair!
CHECK LATEST PRICE ON AMAZON.COM
3. High-quality pick: Zuri Furniture Gates High Back Executive Chair
For anyone who has been let down by the subpar quality of their past office chairs, this is the one that won't let you down.
This executive chair is DURABLE and it's going to last you a long time.
With the genuine leather upholstery, you can be sure that it's not going to wear down or tear easily. You can even get it in dark brown or black, both equally sleek.
Its frame is aluminum making it sturdy, reliable, and also lightweight.
They also used large casters to make sure it can support the promised weight capacity of 395 lbs!
Adjustability isn't a problem either, the seat height, tension knob, and recline, can all be modified to your comfort.
Your spinal health is also a top priority here since it has a high back and the ergonomic synchro-tilt recline.
These features can help support your back, and aid you in changing your position to avoid unhealthy posture.
What we like:
What I love best about this chair is that everything is made from superior quality materials.
Everything about this chair points to one thing: that it's going to last you a lifetime.
What we don't like:
The only downside is that this chair is on the expensive side.
CHECK LATEST PRICE ON AMAZON.COM
4. Most affordable: Ovios Modern Ergonomic Office Chair
Do you like expensive-looking furniture, but you're on a budget? Then let me tell you about this office chair by Ovios.
For anyone who's designing their office with a modern edge, this chair will be a perfect fit.
Aside from being a pretty piece of furniture, it's also a cozy office chair. Sitting for hours on end is easy because of the built-in lumbar support.
For even more comfort, the headrest and armrests are thickly padded.
What we like:
You'll find the extra cushioning in the headrest soft and pleasant when you recline your seat up to 150 degrees!
That's right, this chair can be reclined in 4 angles:
90-degrees for working
110-degrees for reading
130-degrees for watching
150-degrees for resting
Another feature that I love about this chair is the leather and suede upholstery with button tufting accents. It's a unique finish with an amazing look.
But it's not just a pretty detail, it's also a nice texture that can feel warm, especially when you live in a colder climate.
You can even choose from 3 colors because it comes in brown, dark brown, and grey.
Best of all, this is the most affordable chair on this list!
What we don't like:
The only problem I have with this chair is that the armrests are fixed, which can make it hard to retain that 90-degree angle for your elbows.
CHECK LATEST PRICE ON AMAZON.COM
We can't forget to include an alternative for big and tall office chairs!
The REFICCER executive office chair is a fantastic choice if you're on the heavier or taller side.
Bonded leather is the usual choice for executive chair upholstery because it looks classy and it's easy to maintain. You can even choose from brown or black!
The thick padding can support even a heavier weight capacity. It's also ergonomic thanks to the s-shape lumbar support design.
Aside from the height adjustability, you can also lean back and stretch because of the adjustable tilt tension and rocking function in this chair.
What we like:
There are several things that I adore about this chair, the first is its weight capacity of 400lbs!
They were thinking about larger sizes when they made this chair because it even has a wider design.
It's also a safe purchase because a 1-year warranty is included, along with accommodating and friendly customer service representatives.
Finally, I can trust this brand because of the exceptional overall ratings for this chair.
What we don't like:
While the majority of the ratings and reviews are promising, there are mixed opinions about this chair.
Still, everything might be settled easily considering how prompt their customer service is.
Assembly instruction Video for Reficcer office Chair 9051
Editor's Pick
La-Z-Boy Greyson Modern Executive Office Chair, Solid Wood Arms and Wheeled Base, Ergonomic...
La-Z-Boy 45783A Bellamy Bonded Leather Executive Office Chair with Memory Foam Cushions, Black
La-Z-Boy Delano Big & Tall Executive Office Chair | High Back Ergonomic Lumbar Support, Bonded...
La-Z-Boy Greyson Modern Executive Office Chair, Solid Wood Arms and Wheeled Base, Ergonomic...
Editor's Pick
La-Z-Boy 45783A Bellamy Bonded Leather Executive Office Chair with Memory Foam Cushions, Black
La-Z-Boy Delano Big & Tall Executive Office Chair | High Back Ergonomic Lumbar Support, Bonded...
The ultimate buying guide for a comfortable office chair
The primary rule when it comes to purchasing any kind of seat is to try it out. But now that online shopping has taken over, buying an office chair can be tricky.
But I can confidently tell you that sitting on a chair isn't the only way for you to find a comfortable chair.
You can purchase a cozy chair without worries if you take the time to go over measurements, features, materials, and even the brand!
To help you out all the easy steps are listed below, and I'm here to guide you through them!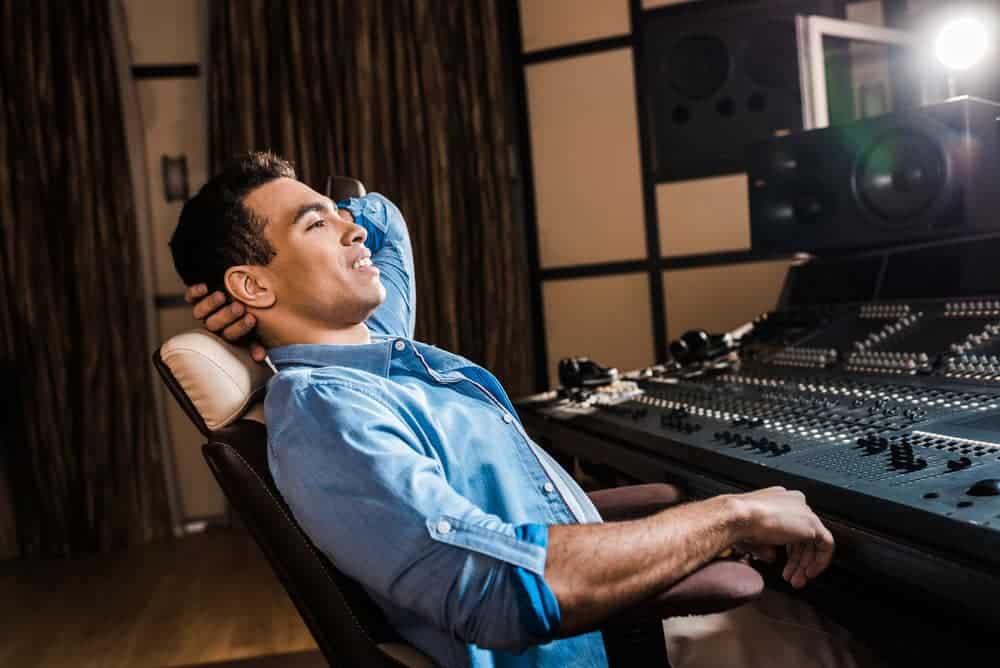 1. Ergonomic features
Don't be fooled, comfort isn't just about soft and plush cushioning. It's also in the design of the chair.
Ergonomic chairs are made specifically to make working in an office comfortable, healthier, and easier.
Keep an eye out for built-in lumbar support, and an s-shaped back support.
2. Cushioning
There's no way around it, memory-foam has to be the top choice for padding.
Some office chairs make use of "high-quality" padding but you can't be sure until you sit on it, right?
Since you can't do that while shopping online, I would stick to memory-foam.
Here's the big BUT: some sellers advertise memory foam as cushioning for their office chairs, but it might be a case of false advertisement!
So how can we find out if the material is memory-foam? To that, I say scour the customer ratings, if you can't do that, reading through reviews such as this is helpful!
3. Upholstery
This is completely dependent on your preference.
Leather, faux leather, bonded leather, or even vinyl, are sleek and elegant to look at. They're also easy to clean but the downside is that it doesn't allow air to circulate.
It can get pretty warm, so I would recommend this if you live in an area with a cooler climate.
On the other hand, if you live in a warm area, you should go for mesh upholstery.
4. Adjustable chair height
Comfortability relies heavily on how many adjustable parts your office chair has. The most important and common one has to be the height of the chair.
You should be able to adjust the height of your chair at a level in which you can reach your desk, and also keep your knees at a 90-degree angle.
5. Seat depth
This detail is another important factor to consider when buying a seat.
While seated, the entirety of your back should be touching the backrest. Again, your knees should be at a 90 degree angle.
Measure the length from the backrest to the edge of the seat. This will be the most comfortable seat depth for you.
Anything significantly greater would be uncomfortable because your spine won't be able to reach the backrest.
If the measurements aren't right for you, the ergonomic designs might not be as effective.
This is why many people who use the wrong sized chairs still experience back and neck pains.
6. Tilt and recline
When choosing a comfortable office chair, I would have you choose one that has a recline function.
Unfortunately, it's not always included in all office chairs so the best next thing would be to have the tilt function.
Having the tilt function is often overlooked but it can help you tremendously when it comes to adjusting your posture and positioning while sitting.
If you don't regularly adjust how you sit, your spinal health is going to decline.
7. Armrests
This feature isn't always necessary, but if you spend a lot of time typing, it can be a big help.
Resting your elbow at a 90-degree angle is one of the proper ways to sit in an office chair.
To do this, your armrests should be at the right height. You can't always be sure of this measurement so it's best to get an office chair that has adjustable armrests.
To see if armrests are for you, have a quick read here.
8. Customer feedback
This has to be the most reliable form of knowing the true quality of an office chair.
When looking for customer feedback, look for ones that list down the pros and cons for you and tell you their experience with the product without sugarcoating it.
Is a La-Z-Boy Office Chair any good?
Let's cut to the chase, La-Z-Boy office chairs are fantastic if you're looking for executive chairs.
There are cheaper alternatives, but the variety of weight capacities and unique designs make La-Z-Boy office chairs worth buying.
Impressively I appreciate how they cater to big and tall sizes. Furthermore, it's great that they can sell these sizes at a great price range.
Overall, it is a fairly affordable price for great executive chairs with a wide variety of weight capacities.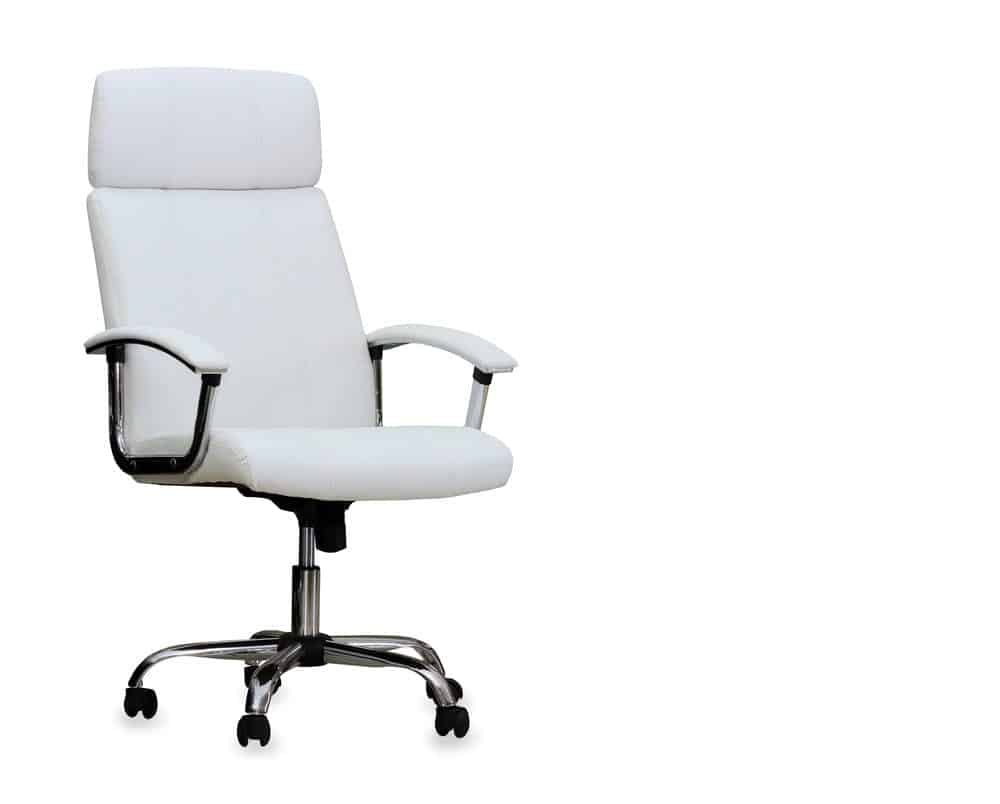 What are Prominent Features in a La-Z-Boy Office Chair?
While going through their chairs, one thing's for sure: La-Z-Boy makes executive-type chairs.
All models use bonded leather upholstery, giving it that sleek finish.
One unique feature that La-Z-Boy has in comparison to other competing brands is that their armrests and bases are made from solid and durable wood!
This gives their office chairs a lot of characters in comparison to the usual chairs that use metal and plastic.
Another fantastic feature for every chair they have is that they use memory foam for padding.
Moreover, all chair models have backrests s-shaped and have built-in lumbar support.
Across the board, all their models have adjustable height, recline, and tilt.
For a quick rundown, here's a list of their prominent features:
Executive design
Bonded leather upholstery
Solid wood base and armrests
Memory foam cushioning
Built-in lumbar support
Adjustable seat height, recline, and tilt