No other gaming chair company boasts comfort like Ficmax, and I have to say that they do deserve the bragging rights.
This gaming chair is made with customer satisfaction in mind. Not only is it immensely comfortable, but it's also made from superior materials and designed ergonomically.
CHECK LATEST PRICE ON AMAZON.COM
Who is this product for?
This is visibly marketed toward gamers. The racer motif is quite popular in the gaming community, with the likes of YouTube superstar, Pewdiepie, featuring a similar chair.
Still, this isn't limited to one group of people only. Office workers will love this seat because of the support and comfort it offers, even after hours and hours of sitting.
It's fantastic for anyone who works at home. Now that more people choose to work at home as freelancers, building a home office is becoming a priority.
Also, a sturdy chair that offers lumbar support and comfort would help out students with their posture and their school work.
Programmers, artists, musicians, and many others who spend a lot of time sitting would deeply benefit from this chair.
But more importantly, this would also be a fantastic purchase for those who suffer from back problems.
With the ergonomic design and features that target the lumbar area, it's a great purchase to alleviate lower back pain.
While it can be used by the vast majority of individuals, it may be lacking in support and backrest height for heavier and taller individuals.
Overall, this chair can surely provide comfort and get rid of distractions such as backaches, thereby making the user comfortably productive.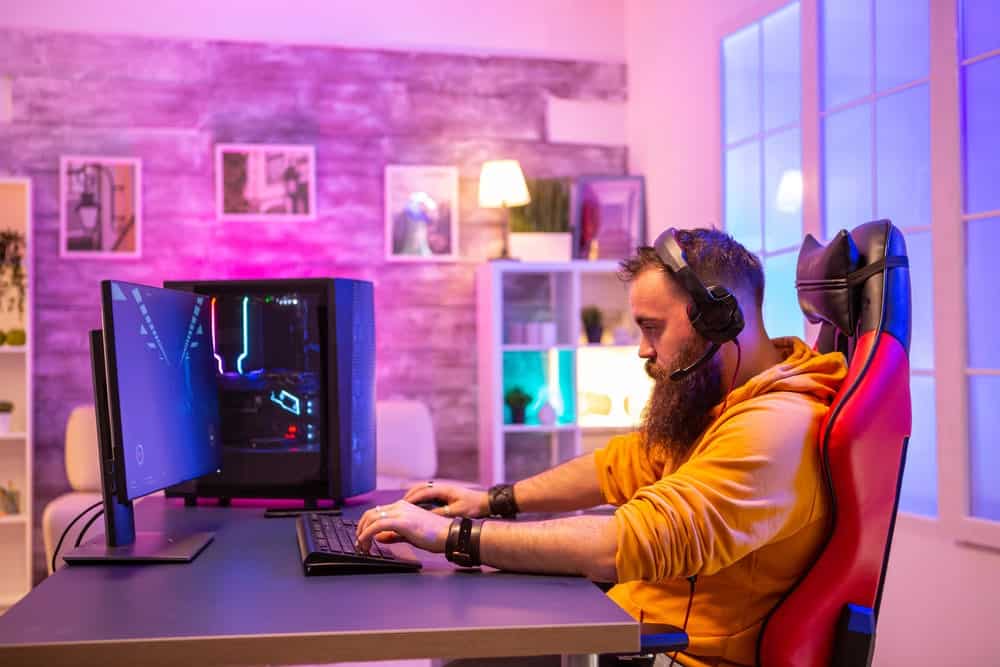 What's included?
In the package, you will receive the parts, tools, and complimentary items. Some parts have been pre-assembled for the user, which I find to be a great service.
Not only does this make it easier for the customer, but it also reduces the instances of lost screws, bolts, and other mishaps.
The components are listed below:
1 seat
1 backrest
1 footrest
1 wheelbase
1 gas cylinder with a plastic guard
1 complimentary massage lumbar pillow
1 complimentary headrest pillow
1 seat plate mechanism
1 manual
2 seat and backrest connector shells
2 armrests
2 Phillips screws
2 screwdriver sockets
2 rubber rings
3 caster wheels
14 socket bolts (already assembled on the chair)
Overview of features
Design

⭐⭐⭐⭐⭐

Sleek PU leather with a racer design in 7 color variations

Ease of use

⭐⭐⭐⭐

20-minute easy assembly, with pre-assembled parts

Features

⭐⭐⭐⭐⭐

On top of the high-quality materials, the ergonomic features make it upscale.

Customer Service

⭐⭐⭐⭐⭐

Quick response, fast replacement services
Starting with the basics, this chair is made out of high-quality PU leather cover, which is completely artificial and vegan. Aside from the sleek and cool look, it's also dirt and fade resistant.
It's a durable chair because the frame is made from alloy. You can be sure that this can last a long time.
As mentioned before, the ergonomic design is a key part of what makes Fixmax chairs so comfortable. Add to that the full adjustability of the armrests and seat height!
There are even 7 color options to choose from:
Black
Black and red
Black, red, and white
Blue and black
Blue, red, and white
White and black
White, red, and black
What we like
Several things make this chair a cut above other gaming chairs in the market.
First off, the seat is made out of high-density memory foam, which is the best choice when it comes to comfort and support. They didn't skimp on it either because they used a 4.8-inch thick memory foam for the seat.
Don't forget that you can put your feet up because there's also a footrest that you can pull out. This is particularly fantastic with the full recline feature.
And it's not just a partial recline, it can completely stretch out to 180°. You can lay down completely!
The icing on the cake and the cherry on top are the complimentary adjustable neck pillow and the lumbar pillow which also doubles as a massager!
The massage pillow is USB powered so you can use it as long as you want. Work wouldn't be so stressful when you get a lower back massage.
What we don't like
While this is a great chair for the most part, Ficmax can improve on making this more suitable for bigger people.
Particularly, the 300lbs weight capacity isn't accurate. It can support weights around 210lbs but going way past that point puts a lot of pressure on the chair, which later leads to damage.
CHECK LATEST PRICE ON AMAZON.COM
How to install
When you get the package, make sure you clear out space to layout everything. Check if anything is missing, so you can contact the seller immediately.
If not, you can proceed with removing the socket bolts from underneath the seat.
Using the socket bolts, attach the seat plate mechanism underneath the seat.
Align the armrests and use the socket bolts to secure them.
Attach the footrest by inserting the rods through the slots underneath the seat. Use the rubber rings at the end of each rod to keep it from slipping out of the slots.
Next, push in each caster wheel into the sockets of the wheelbase.
Affix the seat to the backrest by using the socket bolts on the connector shell. Do this on the left and the right. Make sure to press down on the shells!
Use the gas cylinder with the plastic guard to connect the assembled seat and backrest to the completed wheelbase.
Secure the lumbar massage pillow by inserting the bottom straps under the backrest, and the top straps through each of the holes on the backrest. Fasten with the plastic locking buckles.
Attach the headrest pillow through the same holes on the backrest and secure with the plastic buckles.
Finally, you can give it a try!
FICMAX GAMING CHAIR INSTALLATION
Alternatives
If the Ficmax Gaming Chair isn't cutting it for you, there are also other outstanding gaming chairs on the market.
Another chair that we suggest would be the Hbada Gaming Chair. Just like Ficmax, it's comfortable and ergonomic, too!
I think it's extremely similar to Ficmax. Not only does it have the racer design, but it also has the footrest and pillows.
While the lumbar pillow doesn't double as a massager, I think it's a pretty close dupe!
Sale
Conclusion
Today, more people are working in front of a computer. This immobile lifestyle can take a serious toll on our health, especially our backs!
Investing in a great chair isn't just for the features or the aesthetic, it's an investment in self-care.
The Ficmax chair provides the comfort and support we need as we sit all day trying to get work done, or trying to beat that last boss level!
I recommend you to try it out and see what change it can bring to your game.