There are lots of mesh office chairs to choose from. And if you're reading this, then you've probably decided that mesh is the ideal material for your needs.
Still, there are lots of options to choose from and you don't have the luxury to go through a trial and error phase.
So we've picked the top 5 best office chairs with mesh for the year 2021. These chairs are well-loved by their owners and have received a lot of great reviews over time.
Let's take a look at these top picks.
Buyer's Guide
DON'T Buy A Mesh Chair Until You WATCH THIS!
Knowing what to look for in a mesh office chair will save you time and effort in looking for the right chair.
So what are the things you should consider?
Ergonomic Design
The first thing that you should look for is the design of your mesh chairs. Sitting on a chair for prolonged periods of time can hurt your back and neck, so this is a very critical factor to consider.
There's an ideal ergonomic design for office chairs and that includes a curved backrest. The curve should be found at the lower area where your lower back is.
The curve will help in shaping your spine to its natural posture – which is slightly curved inward. Without this lumbar support, your spine can slouch and this will cause back pains.
Adjustability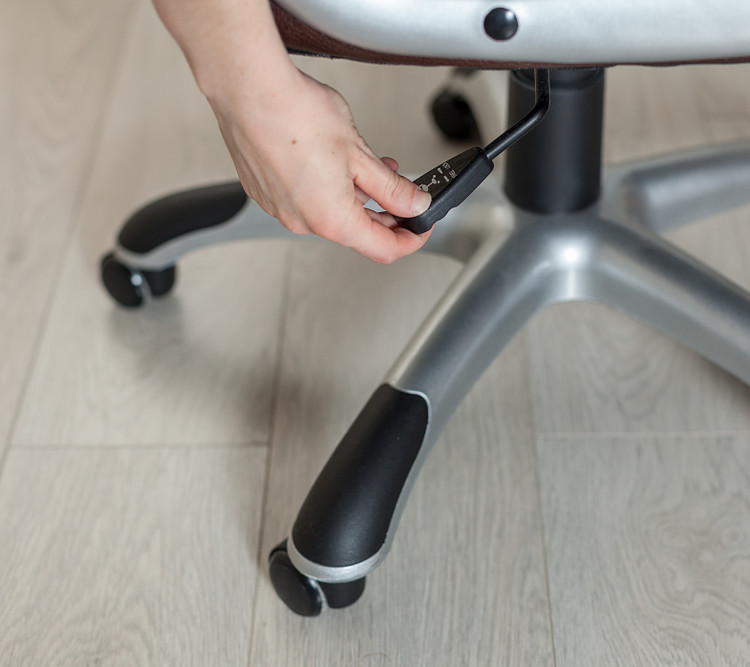 Just as important as the design is the adjustability. Any worth mesh office chair should be highly adjustable.
The features that should be adjustable are the backrest's and neck rest's tilt, armrests' angle and height, chair height, and backrest tension.
When your chair is adjustable, you can customize its tilt, height, and angle to fit your size and height. In turn, this will give you a more comfortable seat while making sure that it properly supports your body.
Mesh Quality
Another thing to consider is the mesh quality. Mesh is slightly hard, but that doesn't mean that there are no office chairs with comfortable mesh backrests.
When looking for a mesh office chair, try to look for a chair with a soft mesh that is intertwined with each other. You should be able to push the mesh down slightly to know if it's soft or not.
There are mesh backrests that are painful on the back because the mesh fibers are thick and few. Few mesh fibers mean that these stand out when you lean on them.
Compare this to a mesh office chair with a lot of thinner, interwoven fibers. This will definitely feel softer against your back.
Padding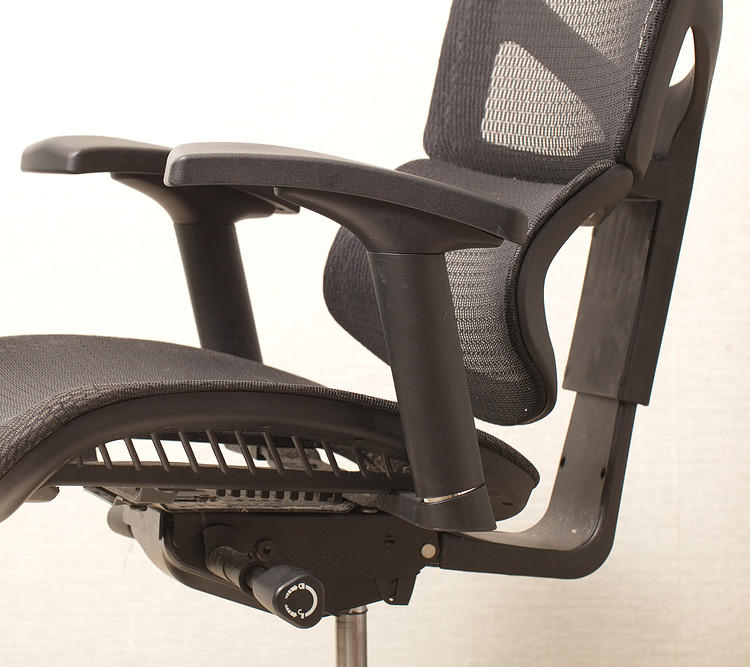 And then there's padding. Having extra padding on the seat will not only be more comfortable but also reduces the aches on your back and buttocks.
Without any padding on your seat, your body will feel slight pains after a few hours of sitting down. So always look for an office chair that has sufficient padding.
IN A HURRY? HERE'S OUR TOP PICKS
Herman Miller Aeron Ergonomic Chair - Size C, Graphite
Herman Miller Sayl Ergonomic Office Chair with Tilt Limiter and Carpet Casters | Stationary Seat...
Humanscale Diffrient World Task Chair: Adjustable Duron Arms - Standard Height Cylinder - Standard...
Herman Miller Aeron Ergonomic Chair - Size C, Graphite
Herman Miller Sayl Ergonomic Office Chair with Tilt Limiter and Carpet Casters | Stationary Seat...
Humanscale Diffrient World Task Chair: Adjustable Duron Arms - Standard Height Cylinder - Standard...
Office Chair with Mesh Back Reviews
1. Herman Miller Aeron Ergonomic Chair
Herman Miller Aeron Ergonomic Chair - Size C, Graphite
Your purchase includes One Herman Miller Aeron Ergonomic Chair – Size C, graphite color
Chair dimensions: 43" H x 28.25" W x 18.5" D. Seat heights: 16"-20.5".
Tilt Limiter lets you set the recline range at one of three postures. Tension control lets you adjust the amount of...
The Herman Miller Aeron is one of the most luxurious mesh office chairs in the market. Made by the prestigious Herman Miller, these chairs have been around for at least 20 years.
The TRUTH About The Herman Miller AERON Ergonomic Office Chair | Steelcase Leap V2 vs Aeron Review
This mesh office chair is well-known in the office chair industry because of its quality and make. Unlike its competitors, the Herman Miller Aeron doesn't feel cheap at all.
Its mesh is made from small and thin fibers weaved together to give comfortable support that doesn't push against your back.
At the same time, the mesh doesn't feel that it can easily break. In fact, Herman Miller is so confident about the make and durability that they offer a 12-year warranty for every chair purchased.
It's not just the mesh that is high-quality. It's also the frame which is made from aluminum finished with a powder coat.
Even if you sit on the chair for hours on end, you won't feel any wobble from the backrest to the casters. The base and the foundation don't become brittle too.
The Aeron is also loved for its adjustability and customizability. Users can choose to have a neck rest and they can pick the kind of lumbar support for their chair.
The Herman Miller Aeron also has three sizes – A, B, and C. They vary in the height and weight they can carry. Both B and C sizes can carry a maximum load of 350 lbs.
As for adjustability, the chair has three angles for the backrest tilt and height and angle adjustments for the armrest.
The obvious deal-breaker for the Aeron is its price; however, some users complain about how hard the plastic support is that's found on the side of the seat and backrest. Unfortunately, these parts make the seat uncomfortable after sitting for hours.
Herman Miller Aeron Office Chair: Is It Worth It?
What we like
Adjustable features allow the chair to fit exactly to your height and size
Mesh is high-quality and retains its softness over time
Comes with a 12-year warranty
What we don't like
One of the most expensive mesh office chairs
2. Modway Articulate Ergonomic Mesh Office Chair
Modway EEI-757-BLK Articulate Ergonomic Mesh Office Chair in Black
ERGONOMIC OFFICE CHAIR - Featuring reliable ergonomic support, Articulate comes with a breathable mesh back,...
RELIABLE COMFORT - Designed with productivity in mind, Articulate is perfect for everyday use. Sturdy and...
ADJUSTABLE SEATING - Articulate is a computer chair that easily adjusts to your needs with height adjustable...
The Modway Articulate Ergonomic Mesh Office Chair is one of the reasonably-priced office chairs that has great stability and durability. It comes with a thick seat padding and lumbar support.
If you're not keen on spending a lot of money on an office chair, then the Modway Mesh Office Chair is a great choice. For its price, it feels heavy-duty and it comes with high-quality parts.
We immediately knew that this was a different kind of affordable chair because its armrests have thick padding that gives extra comfort to your arms and elbows. The cushion is contoured, which is a subtle design improvement from other cheap alternatives.
However, the mesh doesn't have any unique design to it. At first glance, you may think you can easily create a hole in the mesh because it doesn't have a lot of fibers.
This does not mean the mesh is of poor quality. It is actually comfortable and durable. Considering the low price of this office chair, the mesh is quite good.
This office chair also has several adjustments that will help you achieve the most comfortable sitting position for your height. Some adjustments include tilt tension, seat height, and armrest angle adjustments.
Unfortunately, the Modway Articulate isn't for everybody as there are complaints that the seat depth isn't enough for tall people. To add to that, there are cases when the seat's height keeps going down after a few hours of sitting on it.
Overall, this mesh office chair is a good enough choice for its price point, but it would definitely be better if it has more range to accommodate other sizes and heights.
Modway Desk Chair 💺 Unboxing - Assembly - First Impressions - 2020 Best
What we like
Great for heavy-duty use and can carry a maximum weight of 331 lbs
Has a simple and modern design
Reasonably priced for a good quality chair
What we don't like
Not ideal for tall people as the seat doesn't have enough depth
3. Herman Miller Sayl Ergonomic Office Chair
One of the most affordable chairs in Herman Miller is the Sayl Ergonomic Office Chair. This office chair uses a rubber-like mesh for its backrest.
The first time we saw this, we could easily say that Herman Miller went out on a limb to design a very modern-looking office chair. It looks like it's plucked straight from an ultra-modern home gallery.
That's not all, unlike the other office chairs here, the Herman Miller Sayl has a unique mesh backrest. Instead of using mesh fibers, the Sayl uses a slightly tough rubber-like material to provide additional stability to your back.
But despite my assumptions of a rubber-like material being too uncomfortable, the Sayl's backrest is snug to lean on. The form of the backrest itself is ergonomic, reinforcing your pelvis to lean forward – which is its natural posture.
What the Sayl has that others don't is a seat adjustment. Yes, you can slide your seat forward or back.
However, there are some lapses in this chair in terms of quality and noiselessness. The chair can be squeaky and some of its parts (like the armrests) tend to stop functioning after a few years.
But since this is a Herman Miller chair, problems and defects of the Sayl can be replaced under its 12-year warranty.
Sayl Gaming Chair from Herman Miller - ABSOLUTELY ESSENTIAL!
What we like
Has a modern and unique mesh design
Firm and sturdy lumbar support
Comes with a 12-year warranty
What we don't like
Still a little pricey despite being a more affordable option to the Herman Miller Aeron
4. Humanscale Diffrient World Task Chair
The Humanscale Diffrient World Task Chair is an aluminum-made mesh office chair. It comes with standard seat adjustability, but you can customize it to add more features.
Of all the office chairs we've used, the Humanscale Diffrient World office chair is the most customizable chair. You can pick added adjustability features that will make the chair more aligned with your size and height and your working style.
Its mesh design is also a notch better than generic mesh office chairs. Instead of net-like holes, the mesh has a linear design making the chair look modern and sleek.
The same mesh design is used on the seat. Although the seat and backrest don't have any padding, they feel very soft and flexible.
What we like about the Humanscale Diffrient World Task Chair is how perfect it fits your preferred tilt. Instead of adjusting the tension, you only need your body weight to recline the backrest.
However, the downside with this concept is that the basic Task Chair only has two adjustments – the seat height and the seat depth. Other than that, you have to pay extra fees to have more adjustable features.
It also lacks lumbar support adjustments. Instead of having an additional feature that will help position the curvature right where your lumbar area is, you only get a fixed backrest.
Nonetheless, the Humanscale Diffrient World Task Chair has a great design. It's simple and sleek and it's ideal for small spaces.
The make is very durable too. Despite having a thin network of mesh, the seat and backrest can withstand hours of sitting with a max capacity of 300 lbs.
Humanscale Diffrient Smart Mesh Chair Review
What we like
The support and foundation is durable and sturdy
The seat uses flexible mesh and has no hard edges for maximum breathability and comfort
The mesh comes with a 12-year warranty and the padding and armrests have a 5-year warranty
What we don't like
If you don't want to pay extra for additional adjustable features, you only get seat height and seat depth features included
Sale
The Gabrylly Ergonomic Mesh Office Chair is a breathable mesh chair that has easily adjustable features. It comes with a headrest and armrests and great lumbar support.
If you're looking for a breathable office chair, the Gabrylly chair is one of the most lightweight and cooling chairs you'll find today. Its mesh isn't so tightly knit which makes it cool even when you're leaning on the backrest for a long time.
It also comes with a neck rest and padded armrests. The neck rest can be tilted to fit your resting or working position, and you can also adjust the height.
As for the armrest, the soft padding is great for additional comfort. And if you want to flip the arms up, you just press the button and push it towards the side of your backrest.
The Gabrylly Ergonomic Mesh Chair is very affordable, so it's a good choice for price-sensitive people. But despite its affordability, the Gabrylle Ergonomic Mesh Chair is durable and heavy-duty.
We won't advise carrying this chair around because it's heavy. We would have wanted to think that the heaviness meant that it was heavy-duty, but unfortunately, it can only carry up to 280 lbs.
What we wish this chair could improve on is the lumbar support. It's not as comfortable to the lower back because it's pushed too forward.
There's also no adjustment for the lumbar support. Despite having a plastic frame behind the backrest, this doesn't do much to help maintain proper posture when working.
Mesh Chair (Office and Gaming) by Gabrylly - Worth a buy? | REVIEW
What we like
Features are easily adjusted by a push of a button
Very easy to assemble thanks to the clear instructions
The backrest is breathable
What we don't like
The chair is heavy but does not relate to being heavy-duty (max load is 280 lbs)
Final Verdict
These are great mesh office chairs, but the best one would be the chair that fits your needs and preferences. Mesh chairs are mostly ergonomic in nature, but some have special adjustability features that make them better for your sitting position.
So when picking a mesh office chair, don't forget to consider the adjustability, padding, mesh quality, and design. And with those things, we hope you find the right chair for you.